Article
Natural Snacks for Wellness
Snacks are a super way to fill the gaps in between meals, or simply treat yourself now and then. As children, a snack was always embraced as an indulgence, a special treat for good behavior may be…as adults, snacks have lost that sense of indulgence, they are often considered "naughty", convenience food or just bad for you, but you can bring the goodness back!

The important thing is to be mindful of what you are snacking on. If it's a giant-sized pastry every day with your favorite flavored coffee, then the calories can stack up to the equivalent of an actual meal- yet you will still feel hungry or in need of an energy boost!
High sugar snacks and treats daily can affect your energy levels, blood sugar, and your mental alertness (to name but a few). There is also the risk of type 2 diabetes that comes along with high fat, sugar, or high salt diet. That's the bad news.
The good news is that snacks can and are healthy for you and if you are following a fairly restricted diet, they can make a big difference to your day. Even if it's just by putting a smile on your face!
Natural snacks for wellness
Natural snacks don't always come in a packet, although on rare occasions you may stumble upon a super snack that has the bonus of being natural, good for you, and tastes great. With such high demand in the health world for super tasting snacks, there is plenty to choose from. Look for snacks that are roughly no more than 100 calories, and contain natural, wholesome ingredients, remember less is often more!
Here are some ideas, natural snacks for wellness!
Flapjacks. They aren't as unhealthy as you may think. It all depends on the ingredients! Flapjacks are so simple to make, you could easily research a healthy version and bake them yourself. Great with a tea or a coffee, flapjacks rarely disappoint! Try using a natural sweetener such as stevia; jumbo oats can add texture, and shop around for a healthy butter. You can spice them up by adding some cinnamon or ginger… the choice is yours! 

Banana and nut loaf. Bananas are great for giving you a steady energy boost and are also high in potassium. Nuts are naturally high in antioxidants and vitamin E. Put these two ingredients together and you'll have a powerful snack that tastes more like an indulgent treat. Again, look for healthy recipes with natural ingredients and sweeteners. A banana and nut loaf is straightforward to make, you can get the kids involved too; they may have some creative cooking ideas also! 

Healthy cookies. Cookies are a go-to snack for tea time or coffee time. Who doesn't love a cookie or two?! There are many healthy cookies and breakfast biscuits on the market, and although these may suffice for a quick sit down with a friend or colleague for tea, they rarely measure up to a home-baked cookie! Sometimes, a home recipe or one that has been handed down through parental figures can make it taste extra special.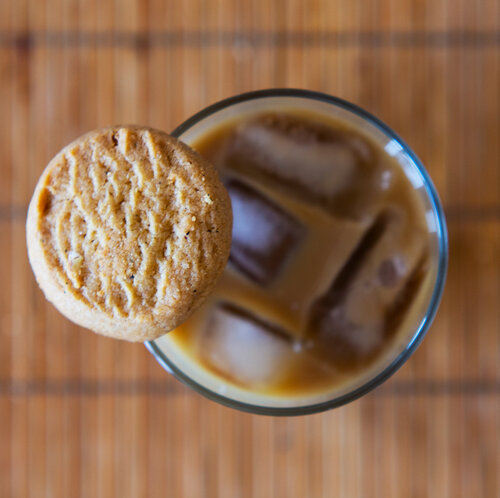 With fewer of us baking at home, old-time recipes from our childhood or days have gone by can be inspiring! In the case of Unna Bakery, the founder Ulrika was inspired by her grandmother's baking- and a good thing too! She now makes great cookies as treats or healthy snacks for the masses to enjoy.
Unna Bakery specializes in Gourmet cookies made with simple, high-quality ingredients and real butter. These great bakes are Non-GMO and Kosher certified.
 "My Swedish Grandmother Rut's love of baking inspired me to start Unna Bakery. She made the best cookies and she taught me how to make them in my early childhood. We stay true to her recipes and my Swedish roots by using few, high quality ingredients and real butter. We never use palm oil, soy, or preservatives. The cookies are packed in the perfect snack size, 2 cookies per pouch. Enjoy them like Swedes during a daily "fika". Fika means time for friends and colleagues to share a cup of coffee (or tea) and a little something to eat!"- Unna Bakery
With Unna Bakery, the secret is in the name; unna means to treat yourself in Swedish, and these healthy snacks do not disappoint! They are healthy, lovingly produced, and naturally yummy!
Raspberry Jam Drop cookies 3.4oz 
Raspberry Jam Drop is an Unna Bakery classic! It's a buttery and rich shortbread cookie filled with a sweet & tart raspberry jam. These luscious cookies are baked just long enough for the butter and sugar to caramelize and get the golden color that adds to their deliciousness. There are 8 cookies in a box packed in pouches with 2 cookies to keep the freshness; the pouches make them super-convenient to carry around with you as a snack!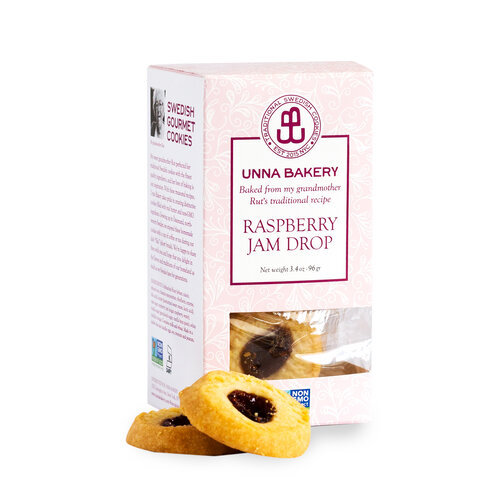 INGREDIENTS: Unbleached flour, cane sugar, raspberry jam, vanilla sugar, sea salt, white distilled vinegar.
Coconut Oat 3.4 oz
Unna Bakery's Award-winning Coconut Oats cookies are beautifully crunchy and have a great, distinctive texture thanks to the well-balanced mix of coconut and oats. They are unlike anything else on the market and perfect with a cup of tea!
They are wholesome, tasty, and of course, healthy without skimping on the flavor: light and crisp with a buttery feel. Coconut Oat Cookies are like a cross between an old fashioned coconut macaroon and a good old-fashioned tasty shortbread. Straightforward and honest without any superfluous ingredients and have the right balance of healthy oats (visible oats!) and coconut.


INGREDIENTS: Unbleached flour, cane sugar, butter, oats, unsweetened shredded coconut, Non-GMO expeller pressed canola oil, baking powder, white distilled vinegar.
"Unna has seven gourmet cookie flavors, which is significant for us Swedes. In the mid-18th century, women gathered at kaffereps, to enjoy cookies, coffee, and company. The homemade cookies were the centerpiece of a beautifully set table, with crocheted tablecloth, fresh flowers, and nice porcelain. According to custom, you should have coffee or tea, and a cookie, at least once a day. In Swedish, Unna translates to indulge, and I invite you to do just that when you delight in the flavors and traditions of my homeland"- Ulrika Pettersson, founder Unna Bakery, NY
* In partnership with our friends at Unna Bakery, NY  * Photo courtesy of  Unna Bakery, NY
* The information available on ewellnessmag.com, including text, graphics, and other materials are for informational purposes only. Reliance on any information in ewellnessmag.com is at the user's own risk. Sponsored product placement may appear in the article. The visitor of this website acknowledges that the information available on or through ewellnessmag.com is not and is not intended to be a substitute for professional medical advice. Copyright © 2020
---