Article
Inspiring Natural Living for Better Health
Our health tends to suffer and sometimes collapse under the weight of convenient living. As we struggle to keep up, certain things often take a back seat and more often than not, it is our well being that we shove to last place. This is something we must deeply know and be subconsciously aware of- yet we don't always take the right action to correct the balance. Our health is not something we pick up at the vitamin shop; it is something that needs to become a way of life for us. In essence, we need to enhance our awareness, acknowledge what we need to change or tweak to feel a little better, and then outline positive action to move forward. This is no easy feat…it takes time to extract ourselves from well-worn habits and behaviors. We can be kind to ourselves through the process, and embrace our lives with a 'long-term' frame of mind. Here are some tips to help you inspire natural living!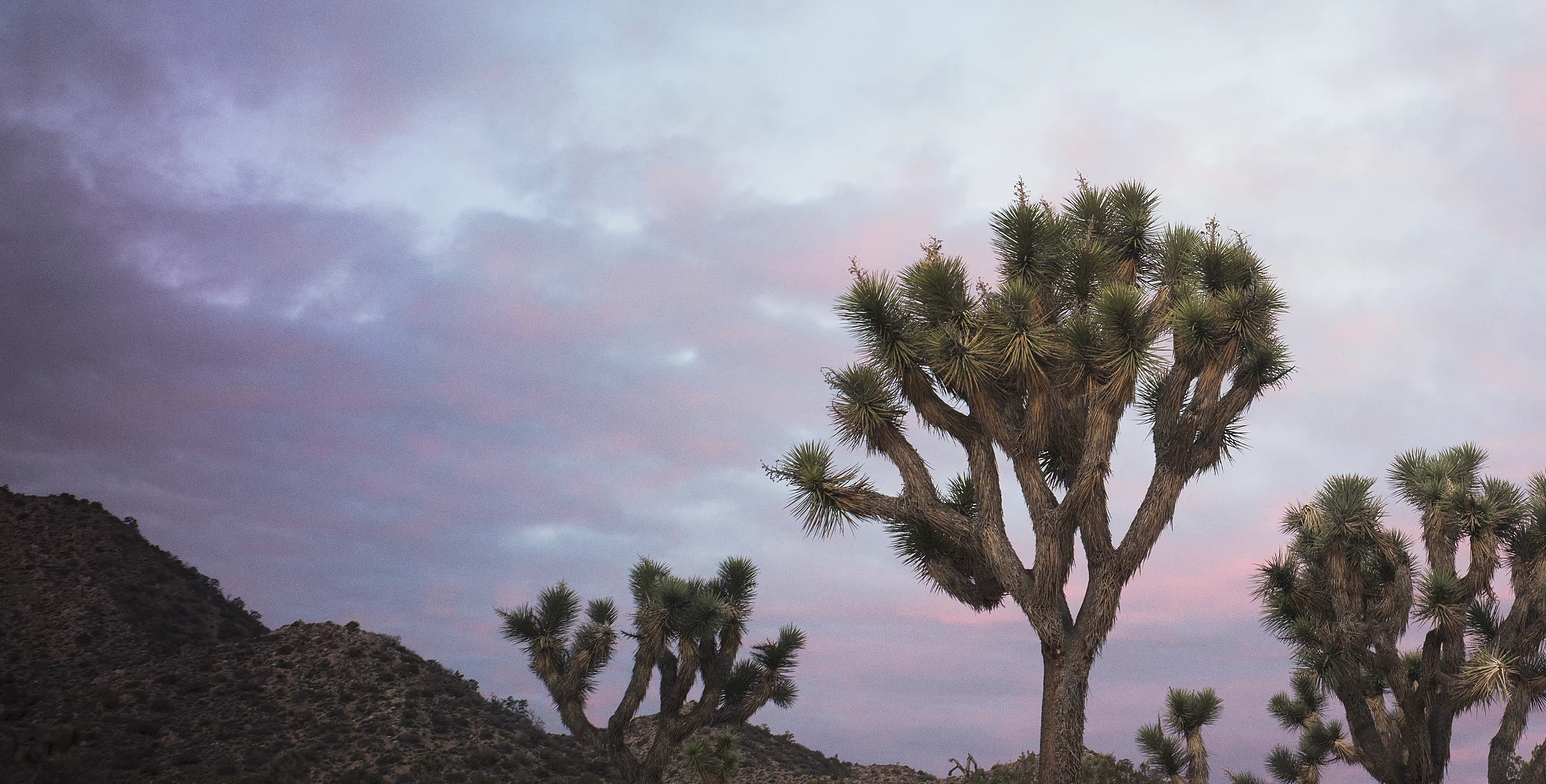 1.    Listen to your body
We live from our mind-space and that often overrides our heart and intrinsic wisdom. When we listen to our body we encourage a dialogue that enables us to tap into our intuition, our natural rhythm, and subtleness. Our physical world is always a mirror to what we hold within. When we work on the inside and flourish, this subsequently impacts our external lives. We can switch our minds off from time to time, and focus a little more on our inner being as a route to holistic wellness. 
"When you are in vibrational harmony, your body produces whatever it needs to remain in perfect balance."- Abraham-Hicks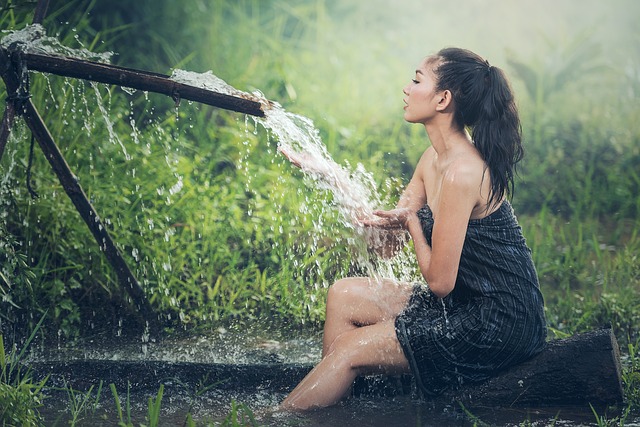 2.    Embrace the whole
We are our own worst critics- and we needn't be. When we perpetuate negative thought patterns this affects everything that we do on a daily basis. It stops us from setting and reaching goals, eats away at our inner beauty, and moves us further away from finding joy in all the little things that make up the whole. We are perfectly imperfect and this is something we should embrace. Our mental and emotional well being direct affects our physical health- this is a fact. When we love and appreciate ourselves we naturally make better lifestyle choices, commit to our own health and happiness, and by extension inspire others to do the same.
3.    Keep things simple!
We don't need to over complicate things. Our world can be a very confusing place, so adding to it with further complexity only loops us into more of the same. We can choose to keep things as simple as possible. Here are some ideas.
•    We can be honest with ourselves and others
•    We can find something positive in each day (even if it was a 'bad' day)
•    We can strip back our own perplexing limits and create new habits that inspire us to grow and evolve
•    We can value ourselves more so we treat ourselves with more grace in all aspects- from the food that we eat to the way we take care of our inner being and body as a whole.
M + A Naturals share a love for simplicity and holistic health. Their honest, natural and effective product range inspires holistic living. They believe in ethically sourced materials and ingredients that can be trusted and harness the power of nature. It's M+A Natural's aspiration that their products enhance our lives as much as they have theirs.
"Our mission is to inspire people to live holistically. We believe in caring for yourself through actively listening to your body and intuition. It has been our experience that when you listen to your body and nurture it, you begin to work in harmony with the oneness of all that is and accelerate the positive flow of life. We created our organic skincare line using essential oils, minerals, and other ingredients from the earth that offer your body what it needs throughout the day to achieve just that. Whether you are tired, anxious, excited, or calm, we have carefully selected and crafted products to restore your mind, body and spirit " - said M + A Naturals.
Here is some information on M + A Natural Products!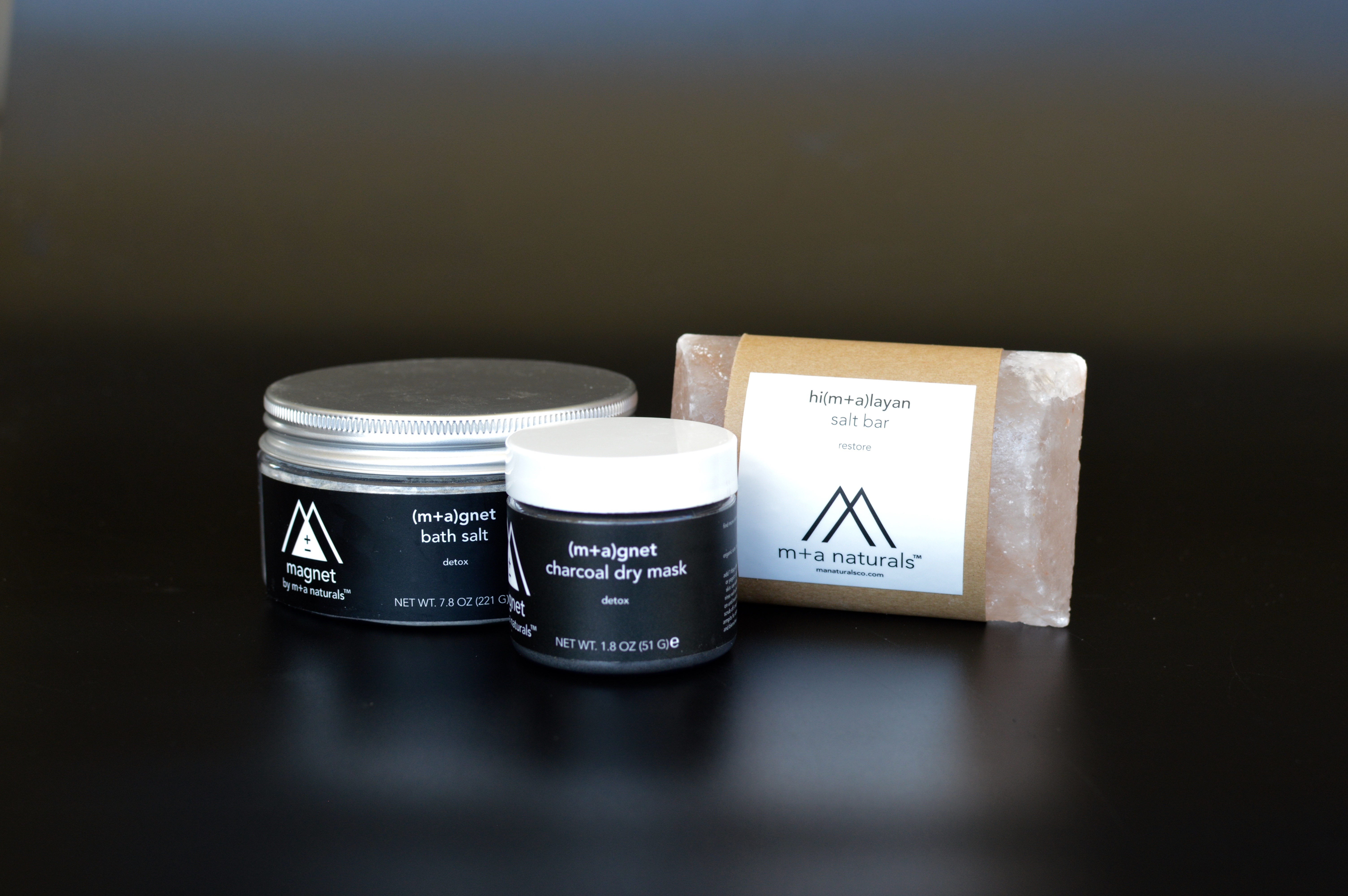 A 'Detox' Bath Salt: Our bath salts pull toxins out of your body so you can utilize the nutrients you consume through your daily intake.
•    Our pores become clogged with toxins from what we eat, pollution, and everyday life. We need to break up those toxins. A nice warm bath opens up the pores and draws the toxins to the surface of the skin. When the water starts to cool, the toxins are pulled into the water. It is suggested you stay in the bath for at least 30-45 minutes for the detox process to occur.
M+A Naturals detox bath salts help aid your detox process.
•    Baking soda is known to help with swollen glands, sore throat, and an irritated stomach. Now add Epsom Salt. According to the Epsom Salt Industry Council, a simple soak is beneficial to the heart and circulatory health, can lower blood pressure, helps ease muscle pain and eliminates harmful substances from the body. It also improves nerve function by encouraging proper regulation of electrolytes.
•    Our skin is the largest system in our body and it can weigh up to 20 lbs! Why not detox it?! Clay literally pulls the toxins, bacteria, and oils out of your skin. Bentonite clay is negatively charged. Think of a magnet: the positively charged heavy metals are then drawn to the negative charge of the clay. While the clay is at work pulling the toxins out of your body, it is also nourishing it with calcium, magnesium, silica, sodium, copper, iron, and potassium.
(M+A)gnet dry mask:
"Our face mask is similar to our detox bath salt. It is an ultra-purifying mask that deep cleans and visibly reduces pores. It's our solution for dull, uneven texture, oiliness, and large pores. It helps flush out environmental toxins, dirt, and debris that can often clog pores. Air toxins can cause the skin to look dull, but after use, your skin will be clarified, refreshed, and healthier-looking" - said M+A Naturals.
Himalayan salt bar:
A Detoxification and Minerals Infusion:
Salt bars can be used as a natural alternative to a salt bath because more often than not, we don't have much time in our busy days to bathe in a salt bath. It can also be used as a natural deodorant, a massage stone, or a moisturizer.
•    When dissolved in warm water bath, the Himalayan crystal salt becomes a powerful detoxifier as this helps to extract the toxins out of your skin and tissues.
•    At the same time, the 84 natural-occurring minerals and elements in the Himalayan pink salt penetrate your skin, leaving you refreshed and nourished. This helps balance out your bodies' acidic levels and balances the pH of your body and skin.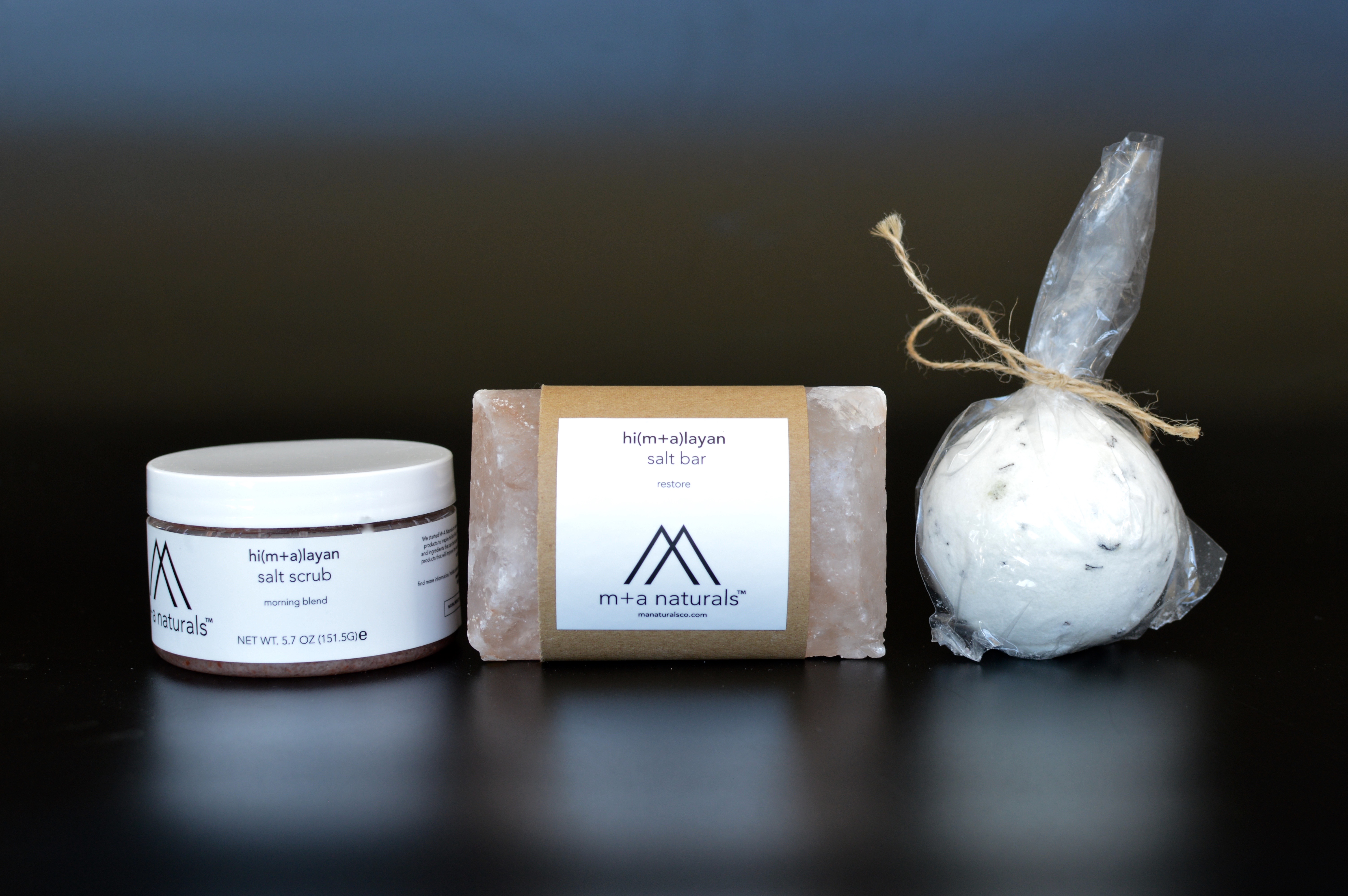 "Our bath kit comes with our new rosehip bath bomb, Himalayan salt body scrub in our favorite morning blend and our Himalayan salt rock bar. This kit will have you cleansed, detoxed, nourished and feeling pretty amazing!" - said M+A Naturals.
Rosehip Bath bomb:
•    A vital ingredient in our rosehip bath bomb is Rosehip seed oil. This oil is full of vitamins, antioxidants and essential fatty acids that are known to correct dark spots and hydrate dry, itchy skin, all while reducing scars and fine lines. It's full of antioxidants and it really works on a cellular level too, to rejuvenate the skin.
Himalayan Salt body scrub:
•    Is extremely invigorating and refreshing to the skin. When using a salt scrub you exfoliate the top layer of your skin and essentially remove dry and dead skin cells. This process brings fresh new skin to the surface, giving it a more youthful
appearance. The exfoliation process also helps remove impurities and toxins from the skin, unblocks pores and reduces inflammation.
•    Is a great way to exfoliate, re-mineralize and moisturize your skin.
Using a salt scrub can help to increase blood circulation, hence assisting in the rejuvenation of your cells, leaving your skin looking ever-more radiant.
Whether you are tired, anxious, excited, or calm, M+A Naturals have carefully selected and crafted their products to restore your mind, body, and spirit!
*The information available on ewellnessmag.com, including text, graphics, and other materials are for informational purposes only. Reliance on any information in ewellnessmag.com is at the user's own risk. Sponsored product placement may appear in the article. The visitor of this website acknowledges that the information available on or through ewellnessmag.com is not and is not intended to be a substitute for professional medical advice. Copyright © 2017 Brawo Press, Inc. All rights reserved.
---