Article
Enhancing Beauty and Wellness Wintertime
When we think of a healthy person or what it means to be healthy, we imagine a vibrant person with the picture of natural beauty and good health, youthful-looking skin, great hair, energy and stamina, and a body that is well equipped to deal with life's daily demands.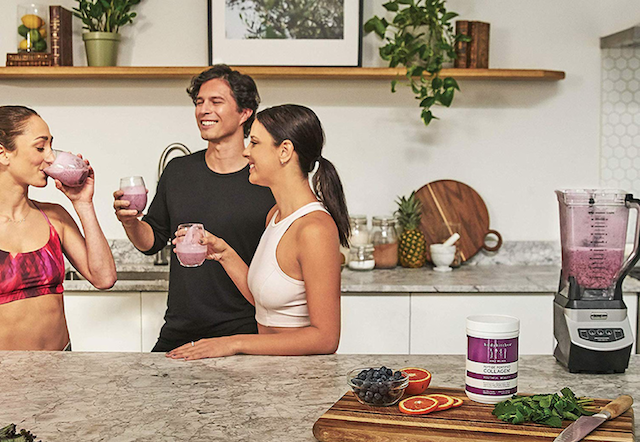 The summer sun energizes us but as winter creeps in, we may begin to feel the effects of a not so healthy body. One that is tired, fatigued, and struggling to meet the day head-on. Wintertime can affect us not just physically but mentally and emotionally too. As sunlight and physical activity decline and consumption of comfort foods increases, our skin, energy levels, and immune systems pay the price.
Practicing Wellness
Looking after ourselves is the starting point for beauty and wellness goals. A depleted body needs care, nurture, and nourishment to feel well again. 
Thankfully, it is not all doom and gloom. Sometimes, we just need to reset so we can restore our health, and we can only do this through small changes to your daily routine that make a big difference.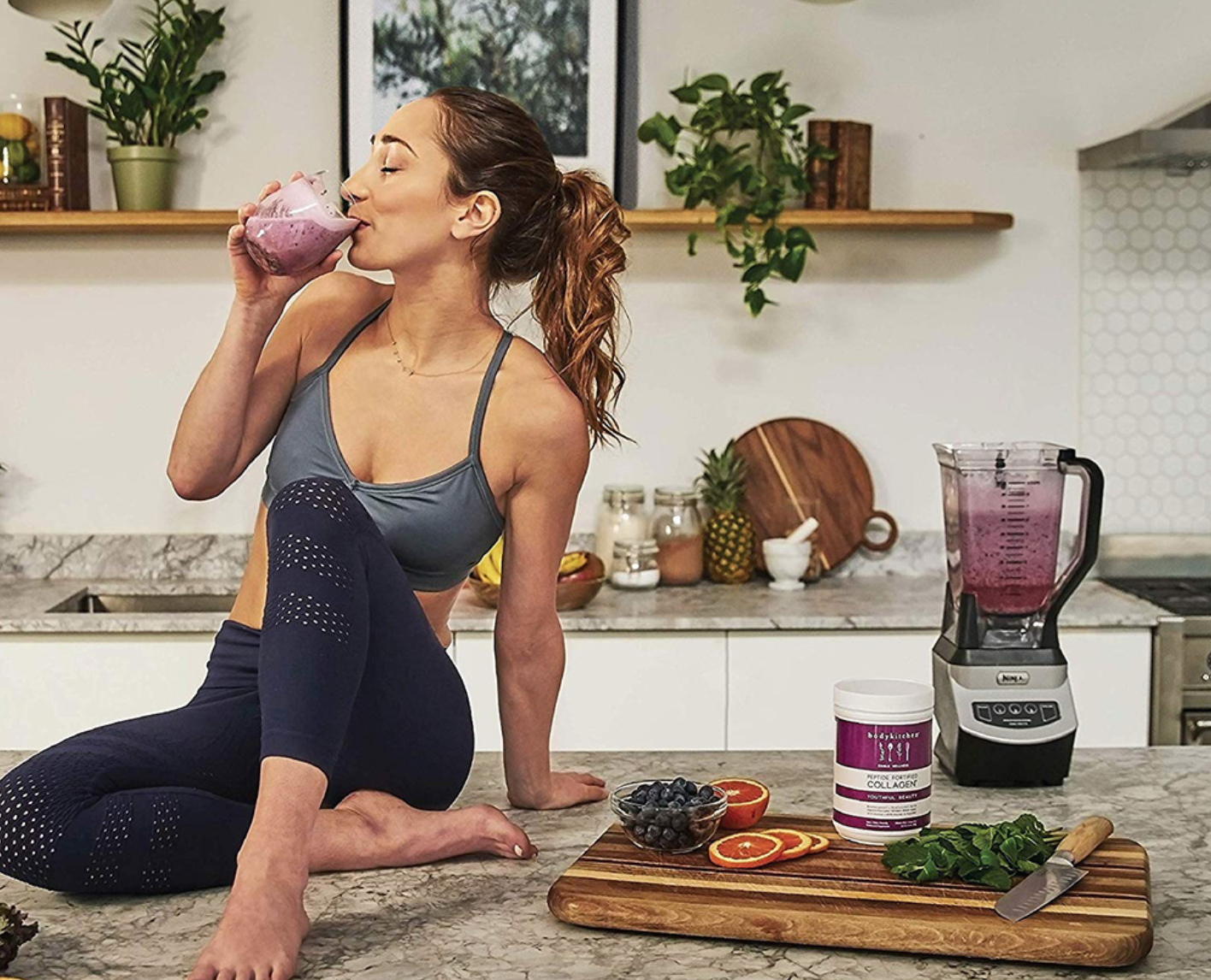 Here are some ways you can begin to take better care of yourself, helping you toward a healthier body, mind, and spirit! 
As we age, levels of certain proteins and minerals become less abundant within the body. Collagen is one of these. Collagen levels naturally decline as we get older, and so replenishing our levels of collagen enables us to hold on to youthful skin, joints and bones a little while longer. There are many supplements with collagen that can help to provide the boost you need. Check for natural supplements and add good sources of food that stimulate collagen production to your diets, such as fatty fish, chicken, eggs (egg whites in particular), avocados, and bright vegetables such as peppers. 

Probiotics and Prebiotics enhance your digestive function. The better equipped your digestive tract is, the better it can absorb nutrients and remove toxins. This can help you to obtain greater energy through food and boost your immunity. 

Over winter, it is common for our exercise motivation to dwindle. Colder days and darker nights are hardly inspiring! However, maintaining your fitness regimen through winter can help you to stay focused, remain energized, and provide a much-needed boost to your mental health also. Exercise can also be great for naturally boosting collagen production and supporting good circulation. 
Care begins with you, so take time to nourish your health and wellbeing. If you are looking for inspiration and simple self-care solutions, look no further! Body Kitchen is an extension of your kitchen, where a healthy body and beautiful mind start to take shape.
Here, comprehensive nutrition is the main ingredient of ageless skin and hair, the building block of strong muscles and bones, and the core of every health system designed to keep you well. 
"At Body Kitchen, we serve up innovative supplements just the way you want it—made with healthy, wholesome ingredients in their purest form and endorsed by modern-day science. Body Kitchen is the product of a health-minded team of nutritionists and cellular biologists."- Body Kitchen
With this ethos in mind, Body Kitchen developed three self-care solutions to help boost your inner health and outer glow.
Youthful Beauty Collagen: This is Body Kitchen's best-selling skin beautifier 
There's collagen. And there's
Youthful Beauty
collagen. Specially formulated to fight visible aging from the inside out, Youthful Beauty is a daily skincare must-have that works in 3 ways:
Promotes smoother, firmer skin from deep within

Boosts hydration, radiance, and suppleness 

Combats wrinkle-causing free radicals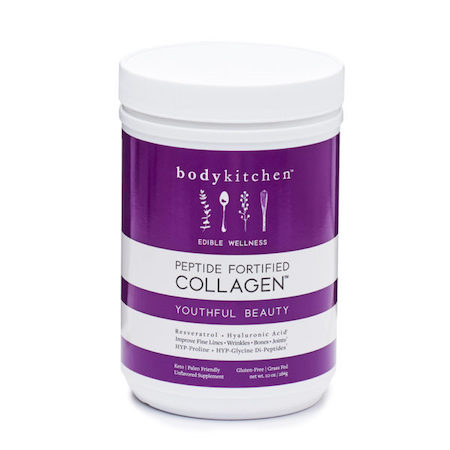 Collagen is the deep nourishment your skin needs
Collagen is the support structure of the skin and other connective tissue and accounts for 1/3 of all protein in the body. In youth, the skin is especially thick and plump because the natural production of collagen is at its peak. However, between the ages of 20 to 25, a downward trend begins (at a clip of roughly 1% annually).
After 40, the decline of collagen and the synthesis of collagen mean that your skin becomes thinner; this may prompt an increase in wrinkles and fine lines for instance. However, Youthful Beauty helps to kick-start your skin's collagen with an ultra-advanced formula that's 30 times more concentrated than ordinary collagen ingredients.
Through a patent-pending process developed in Japan, it uses natural enzymes to isolate two tiny di-peptide molecules found in collagen—proline-hydroxyproline (PO) and hydroxyproline-glycine (OG). PO and OG make up 57% of total amino acids; these are the "bricks" that form collagen tissue.  
"Our most popular formula, Youthful Beauty features our exclusive collagen ingredient, Peptide Fortified Collagen™ which delivers a high-quality combination of grass-fed and marine collagen peptides. Their composition allows for optimal absorption in the body. Our easy-to-mix powder formula is also packed with a mega-serving of protein to support healthy hair, nails and muscle tone, too"- Body Kitchen
Because Youthful Beauty is uniquely designed just for skin, it's boosted with powerful hydration and plant-based age-fighters.
Hyaluronic acid- skin's best friend!
Hyaluronic acid is a natural compound found in skin, it locks in moisture at the surface to revitalize dull, dry skin and restore a visibly supple appearance. To slow the roll of wrinkle formation, this advanced collagen formula revitalizes skin with two potent antioxidants—resveratrol and black currant extract. Together, they fight free radicals that break down collagen and age skin prematurely. (Plus, black currant extract has been shown to boost collagen absorption)
Youthful Beauty is flavorless, dairy-free, and keto- and Paleo-friendly.
Immune Shield: A natural and effective defense boost 
Airborne bugs, microbes, and other pathogens are no match against a healthy immune system. And with the winter sick season upon us, boosting the body's natural defenses is priority #1.  
There numerous vitamins and minerals that support healthy immunity, but Immune Shield works differently. It activates the GI system—the epicenter of strong immunity—to help:
Enhance the immune system's response to harmful threats

Support healthy sinuses and respiratory health

Promote a nourished gut microbiome, where 70% of the immune system lives
Immune Shield features Epicor®, a powerful ingredient made through a closely held trade secret—an advanced fermentation process that yields a gut-boosting postbiotic so well balanced, it's considered a whole food.
This post biotic is bionic: it is choked full of proteins, antioxidants, fiber, minerals, and other nutrients. It creates a nurturing environment in which the gut's army of healthy, immune-boosting bacteria can thrive.
Backed by multiple human studies, this pathogen-fighting fermentation is clinically shown to boost immune system activity in just 2 hours.
Advanced Immune Support
Immune Shield includes olive leaf extract for its potent antioxidant protection and ability to stimulate healthy activity in a class of immune cells that help control immune system health. Plus, beta-glucan, a type of fiber shown to help the immune system fight off bacteria and other health threats.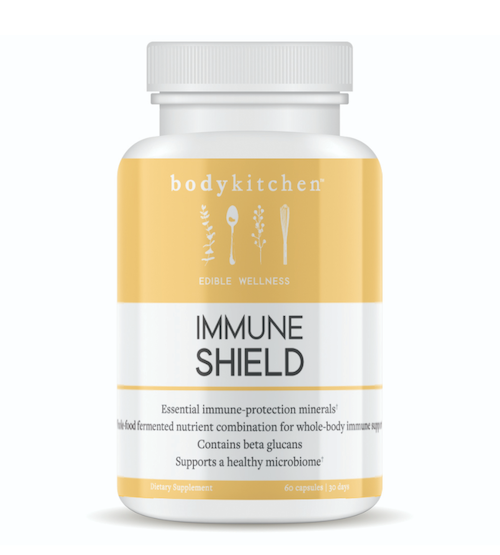 Immune Shield is also enriched with essential minerals, zinc, and selenium, which play a vital role in supporting your stay-safe system. 
"We believe that vitamins, minerals, and antioxidants are not just bundles of molecular compounds. They're game-changers, life enhancers and they give us better days. From farm to kitchen, we strive for a higher standard of excellence so that our formulas can deliver a higher standard of wellness"*- Body Kitchen
*These statements have not been evaluated by the Food and Drug Administration. This product is not intended to diagnose, treat, cure, or prevent any disease.
* In partnership with our friends at Body Kitchen * Photo courtesy of  Body Kitchen
* The information available on ewellnessmag.com, including text, graphics, and other materials are for informational purposes only. Reliance on any information in ewellnessmag.com is at the user's own risk. Sponsored product placement may appear in the article. The visitor of this website acknowledges that the information available on or through ewellnessmag.com is not and is not intended to be a substitute for professional medical advice. Copyright © 2020 Brawo Press, Inc. All rights reserved.
---