Article
The Benefits of a Mediterranean Diet

Supporting ourselves toward better health can be a difficult task because of all the information available nowadays. There are new diets to try, supplements, fresh perspectives on fitness routines and what works better to keep your body in shape. It is easy to get confused.
Sometimes, a step back is all that is needed to progress. There will always be new and innovative ways to improve your health, and these can be valuable because it helps us to stay motivated for a single constant of life which is...change!
That being said, sometimes the old and trusted methods of keeping healthy can be just as beneficial to you. If we look at the Mediterranean diet, it is one of the healthiest on the planet. The Mediterranean way of life includes plenty of fresh fish, healthy oils such as Olive Oil, fresh fruit and vegetables. It is a cornucopia of healthy eating and heavenly for taste buds that love food in all its glory. And the food is something that we are meant to enjoy!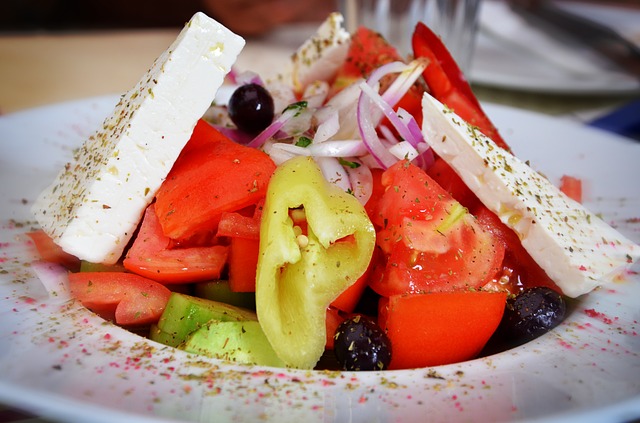 Here are some classic staples in the Mediterranean Diet and a glance at how they can help you toward improved well being.
Tomatoes
Tomatoes are so good for you and versatile too. They contain lycopene, a powerful antioxidant that has many health benefits; tomatoes are full of vitamins and minerals. And surprisingly, tomatoes are around 90% water! Tomatoes are high in fiber and can aid in better digestion, improved heart health, inflammation, as well as improving your immune system as they are so high in Vitamin C. If you don't like tomatoes as they are, you can still gain from their health benefits by ensuring you include some fresh tomatoes as a base to your pasta sauces for instance.
Fish
The benefits of eating fish at least twice weekly have been well documented. Fish are rich in protein, vitamins, minerals and the all-important Omega 3 fatty acids that support healthy brain and heart function. Fish is rich in many nutrients that the body commonly lacks such as Iodine and vitamin D.
Olive Oil
Olive oil… where would the Mediterranean's be without it?! Olive oil is one of the best natural oils you can eat. It is extremely high in mono-unsaturated fats, Oleic acid being the main one which makes for approximately 70% of the oil. Olive oil is very rich in Vitamin E and other anti-oxidants. It can help to reduce oxidative stress, inflammation, and protect against heart disease. It is one of the healthiest oils on the planet. You can cook with it, or drizzle it onto your salads, and, of course, the purer it is- the better it is for you. Always look for a high-grade extra virgin olive oil!
And for the times when you need to boost your body by way of a supplement, there are ones that can offer you the goodness and support you need! Ever heard of Olive Leaf? Here's some info for you!
Olivus 
was established in 1998 when founder Jeff Hotchkiss was so impressed by olive leaf's impact on his health, that he created a company to market it. Olivus first debuted their products in local fairs and farmers markets, but soon entered the world of e-commerce. The company took off, and Olivus became the nation's #1 brand selling olive leaf health products.
Olivus and their Products
The company developed innovative products like OliveLeafMax- an olive leaf extract line. At that time the powder extract standardized for 20% oleuropein (Oleuropein is a compound found in olive skins, seeds, and leaves, the name is derived from the botanical name of the olive tree, "Olea europaea") In 2008, the company was purchased by current owners Wayne and Heike Powell, who have continued to develop and improve the Olivus brand. Under their leadership, Olivus has grown into a trusted brand by consumers and health professionals alike. 
Olivus products are made with the highest quality olive leaf available. This means that they exclusively use certified organic olive leaf from Mediterranean countries.

Their olive leaf capsules and tea products are made from certified organic Spanish olive leaves. All leaves are tested for safety and quality and manufacturing is contracted out to cGMP compliant facilities. 

Olivus offers olive leaf in a variety of forms: capsules, tincture, non-alcoholic liquid extract, tea, skincare, and extra virgin olive oil (EVOO) chosen for containing high amounts of polyphenols.
So, what are the basic benefits to your health by way of Olive Leaf
The Mediterranean diet has strong links to health, well-being, and vitality. It is a diet that is rich in Olive Oil and Olive leaves, and Olive based foods have been used for medicinal purposes throughout the Mediterranean for centuries. The Mediterranean diet shows powerful links to a decrease in chronic diseases, and particularly in terms of heart-health.
Primarily, olive leaf is consumed because of its ability to boost the immune system. Studies support olive leaf as a herbal remedy to fight bacterial, viral, and fungal infections. Other benefits include its hypotensive and cholesterol-lowering effects which help to improve your heart-health. Olive Leaf can also prove helpful in fighting Type II diabetes, harmful free radicals, and it is a powerful anti-inflammatory also. Olive Leaf can aid in improved digestion and help to support weight loss or simply maintain a healthy weight.
Olive-based products are rich in anti-oxidants and can be powerful and protective for your skin and external appearance. Olive leaf, olive oil, vitamin E, hydroxytyrosol (highly antioxidant), and olive squalene are shown to have protective, anti-aging and nutritive benefits for the skin.
Here's a closer look at these amazing Olive Leaf Products!
Both ingredients are made exclusively with certified organic olive leaf and contain no fillers. 
The formula is a pure 50/50 split between olive leaf extract, which contains a high amount of oleuropein (now 25%), and olive leaf powder, which provides a wider spectrum of beneficial compounds found in the olive leaf.
The increase in oleuropein content to 25% makes these capsules the highest quality olive leaf capsule supplement on the market. All materials are imported to the U.S. and manufactured domestically.
One bottle contains 60 vegetarian capsules - 500 mg each - with NO FILLERS or flow agents

High Strength Olive Leaf Extract (Standardized for 25% Oleuropein) plus Certified Organic Olive Leaf Powder sourced from Spain

Wide spectrum protection of organic olive leaf powder plus MAXimum immune system boost from standardized olive leaf extract
Try Olive Leaf as a Tincture
Olivus is a private labeler for this product. The manufacturer was carefully vetted to ensure that the quality matches their other products.
This tincture is made with a certified organic olive leaf. However, it is important to note that the final product is NOT certified organic due to non-organic alcohol used in the extraction process. The herb strength ratio is 1:4.3 and contains approximately 50% alcohol from batch to batch.
Great for heart health

Easy to use, simply mix with food or drinks

 
How about some Olive Leaf as a Tea!
There are many wellness teas on the market, anything from Green Tea to a simple Fruit Infusion. A well-being tea that is based upon Olive Leaf as the main ingredient can be a great way to receive benefits to your health. Olive leaf tea is one of the healthiest teas you can drink and it has been used in the Mediterranean for centuries! Olivus was the first to market it in the US. The taste is pleasant and often compared to green tea.
Olivus is committed to differentiating itself by providing the highest quality products to help customers achieve health and well-being.
They are proud to offer superior olive leaf supplements, skincare, and tea. Many of their products are certified organic. The capsules contain no fillers and Olivus certified organic olive leaf is sourced from Mediterranean and California growers only.
* In partnership with our friends at Olivus * Photo courtesy of Olivus
* The information available on ewellnessmag.com, including text, graphics, and other materials are for informational purposes only. Reliance on any information in ewellnessmag.com is at the user's own risk. Sponsored product placement may appear in the article. The visitor of this website acknowledges that the information available on or through ewellnessmag.com is not and is not intended to be a substitute for professional medical advice. Copyright © 2019 Brawo Press, Inc. All rights reserved.
---