Article
Great Skin in 3 Simple Steps
Looking after your skin is just as important as the rest of your body. Your skin acts like your body's shield. It's your suit of armor! Look after it well and it will work its wonders for you!
Sometimes we can get so hung up on our dress size, our paunch belly, and other parts of our body that we forget about our skin. And this is not just for females! Men need to care for their skin too. Especially as the cold season comes about, our skin can really take a hit with dryness, a lack of moisture, and looking dull. So, as 2022 rears its head, commit some changes so you can protect the skin you live in.



 
Here are a few reminders/tips for great skin- in 3 simple steps, so no excuses!
The skin is composed of layers. The better we serve those layers of skin, the greater our skin will look and feel. The 3 main layers of your skin are the dermis, epidermis, and deeper hypodermis. Replenishing your skin from the inside to out offers the best results for skincare. Vitamin C for instance has the power to penetrate to the dermis (the layer beneath the epidermis) and this can help to promote the natural production of collagen. Collagen is an abundant protein within the body that goes into decline from around the age of 30. Collagen can help to maintain skin elasticity and a more youthful complexion.

When strategizing about your skincare regimen, look at serums. Serums can be absorbed more efficiently than creams as they are composed of smaller molecules that can penetrate and replenish the skin far more efficiently. Thick creams can actually clog your skin and form a barrier. What you need is quality skincare that can go just that little bit deeper and avoid clogging your pores!

Remember! Any topical creams, potions, lotions, or serums that you apply onto your skin are absorbed into your bloodstream. What you want to avoid is using too many chemically-enhanced skincare products that can damage you over time. Seek out natural or plant-based skincare that will work with your body rather than against it. Toxins are so easily absorbed into your body - don't add to it!
 
Use these little reminders well! Your body is a complete and interconnected system. And a very smart one at that! If you notice any type of reaction after using a product on your skin- stop using it!
Quality comes first, that's why we look to Layers Probiotic Skincare line to aid in our 3-step process. 

Layers 

honors the interconnectedness of your body's systems to boost skin's natural health. They match potent probiotic supplements with science-based topical formulas, nurturing the microbiome and delivering clinically-proven glowing results, without dullness or irritation. So users can radiate strength, vitality, and confidence from within.
The idea for Layers came to founder Rachel Behm when she learned of the human microbiome project and the profound connection between gut health and skin health. This connection, lead to 

the creation of a brand that delivers visible skin results beyond what users thought possible, or what they're used to from their skincare routines. And Layers does this in a holistic way that is rooted in the latest, forward-thinking science, while also feeling indulgent and special to use.

"The Human Microbiome project was conducted over 10 years and studied the interactions between humans and their microbiomes to health-related outcomes. Ranging from obesity to mental health to skin health, it produced 4 terabytes of data that is available to the public to continue to advance this field (much like the human genome project did almost 2 decades ago). 50% of the cells in and on your body are bacteria…and this project taught us a lot more about their importance in human health."- Layers Inc
 



Renewing Probiotic Serum ($89)
This probiotic serum renews skin +244% vs. placebo for softer, smoother, and more radiant skin. Importantly, it does so without the irritation and disruption to the microbiome that can happen with other efficacious ingredients.
 





The Key Ingredients include:

Cell turnover is the continuous process of shedding old skin cells and bringing new ones to the surface; a process that slows as we age. Layers Probiotic Serum was developed to speed your skin's replenishing cycle for continually vibrant and glowing skin.
 
Measured at 14 and 28 days of use, Layers Probiotic Serum is clinically shown to*:
"Our highly concentrated, ultra-absorbing serum delivers probiotics, Orobanche rapum plant extract, and meadowfoam oil deep within your skin's active layer. This potent blend accelerates skin cell turnover while protecting your microbiome for dramatic results without irritation. Our gentle but incredible serum protects healthy skin cells and increases their ability to replicate and rise to the surface to reveal visibly plumped, hydrated and luscious-feeling skin"- Layers Inc.
Daily Glow Probiotic Supplements ($49)
Daily Glow is a potent, dual-sided supplement with a 5-strain probiotic blend + ceramide extract.  It is a real game-changer for skincare!
"They produce visible results at 15 days with enhanced results at 30 and 60 days: Increased hydration and elasticity for skin that snaps back, reduced roughness and dullness for a brightened glow, minimized fine lines and wrinkles for a smoother appearance. And…we offer home compostable refill pouches!"- Layers Inc.







The amazing ingredients in this supplement include:
Measured at 15 and 60 days of use, Layers Daily Glow Probiotic Supplements are clinically shown to*:
Healthy-looking skin is revealed from the inside out by nourishing your gut and skin microbiome. Layers' potent, dual-action supplements balance your microbiome diversity and activity to optimize the gut-skin axis, restore the skin water barrier, and preserve collagen and elastin fibers. 
"These supplements contain a proprietary blend of five clinically-proven probiotic strains and skin-supporting ceramides. They support your barrier function and enhance collagen strength and production for renewed skin that feels healthy, hydrated, and looks radiant from the inside out"- Layers Inc.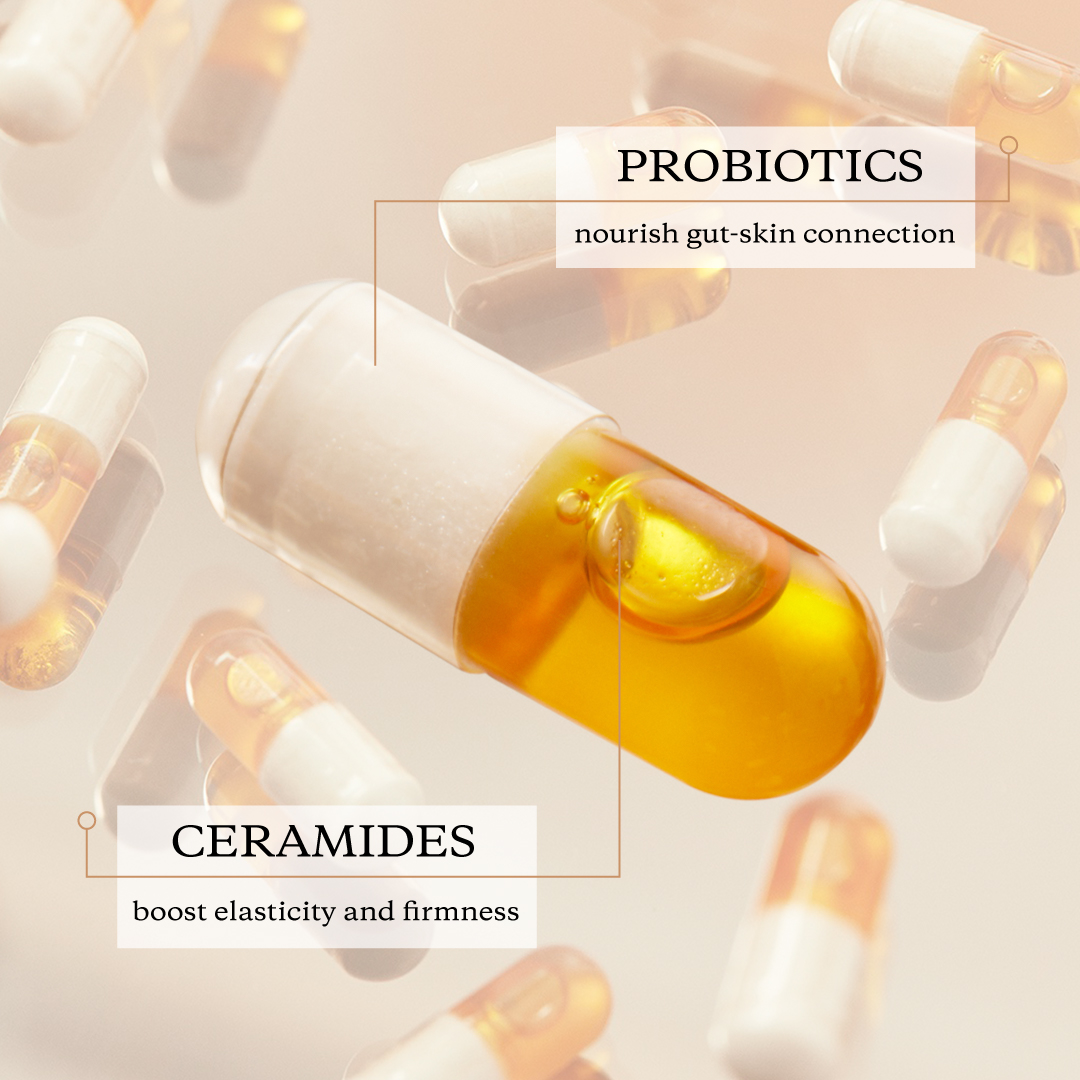 Why should people use microbiome-based skincare products?
Our skincare routines can impact our skin microbiome in positive and negative ways.  And when you do damage to your microbiome, a lot of the supposed benefits of skincare (hydration, smoothness, wrinkle reductions) can be countered by the fact that a damaged skin microbiome can lead to accelerated water loss, aging, and irritation.
"The microbiome plays a large part in our overall skin health and appearance. It's like an invisible army on top of our skin and in our gut.  Creating the right environment for the microbiome to be diverse and balanced, while also protecting it, leads to improved skin resilience from all stressors thrown at it, from aging to weather"- Layers Inc.   
For decades, skincare products have ignored this integral layer to your skin's health and appearance. Many products have even caused damage to your skin's microbiome by using overpowering preservatives, antibacterial ingredients, and harsh exfoliants.
LAYERS believes in and advocates for, a microbiome-based approach to a healthy appearance of the skin.
"Our clean, scientifically proven formulas will help your microbiome flourish, both inside and out, so these amazing bacteria will work harder than ever before, giving you clear, hydrated, and glowing skin"- Layers Inc.
* In partnership with our friends at Layers * Photo courtesy of Layers
* These statements have not been evaluated by the Food and Drug Administration. These products are not intended to diagnose, treat, cure or prevent any disease. 
* The information available on ewellnessmag.com, including text, graphics, and other materials is for informational purposes only. Reliance on any information in ewellnessmag.com is at the user's own risk. Sponsored product placement may appear in the article. The visitor of this website acknowledges that the information available on or through ewellnessmag.com is not and is not intended to be a substitute for professional medical advice. Copyright © 2021 Brawo Press, Inc. All rights reserved.
---