Article
Finding More, Healthy Moments
Health and becoming healthier isn't always about upping the pace and continually pushing yourself, sometimes it's about slowing things down and knowing when you need to take a step back. 
At the very core of health is the fundamental need for balance. Achieving balance means finding a happy medium between activity and rest. After all, the body we live in heals restores and regenerates itself during times of rest, such as when you are sleeping or having a well-deserved nap. If you are constantly feeling tired, run-down, and overwhelmed with your daily routine then it's a signal to invite some change and healing into your life. No one is invincible. Be respectful of the human being that you are and know that you cannot keep your foot on the pedal all the time!


Focusing on the "now"
As human beings, we are finding it increasingly difficult to focus on the here and now. With schedules maxed out, we have made finding some rest and relaxation in the present time a sheer luxury to have. And perhaps that means we value our downtime more, however, it is important for mind, body, and spirit to rejuvenate through rest regularly.
When we live more presently we can find calm, peace, and happier times in the moments that we have to ourselves or share with the people we care about most.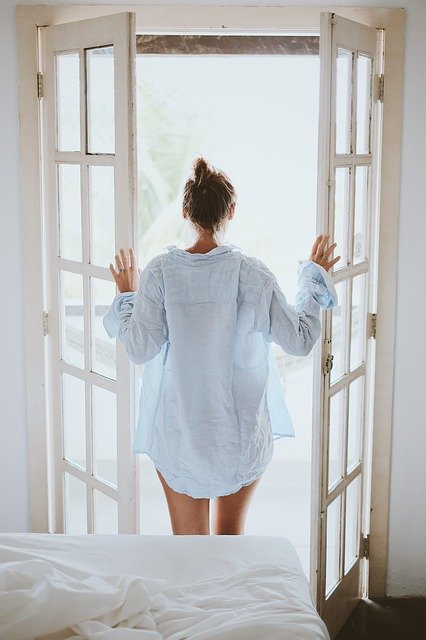 Here are some tips to help you find more, healthy moments!
Learn when to say "No". At the heart of human nature lies a need to please others, but you cannot be all things to all people at the expense of negatively impacting your own health. Burden and overwhelm create anxiety and stress, and this often occurs because we keep trying to do more instead of having a bit of a time-out to embrace "less". Don't bite off more than you can chew!

Plan out some time through your week to have some time away from the usual hustle and bustle of work or family life. Even if this is just 15 minutes spent on a walk around the block or to sit down with your favorite tea or beverage in a space of quiet and calm. Sometimes just doing something we enjoy a few minutes each day is enough to create more inner peace and balance.

Listen to your body. When things are getting too much for you, don't be afraid to have some time off. Sometimes, we fear missing out on things and so we are constantly on the go. Your body will give you warning signs, such as feeling increasingly low on energy, getting headaches more frequently, or having issues with your immune or digestive system. Whatever the case may be, your body is highly intelligent- when you start having any cause for concern with your health, listen to your body and take some action to heal.
 Just as you create a schedule or ritual around your health, fitness, or skincare routines- aim to do the same for your rest and regeneration. For instance, since ancient times, people have created rituals around their tea. From picking your tea to the ritual of brewing it, and the moment you sit to take a sip; you draw in calming energy and a much-needed break from the hustle of life!
The Healing Power of Tea!
Tea is good for you as it contains numerous antioxidants, pair this with some healing herbs and it takes your morning/lunch/evening tea to a whole new level!
Rabbits Pantry love blending beautiful teas filled with remedies and memories. In fact, their motto is "Indulge in Your Moment"!
"We believe in the healing power of ourselves. From what we put in our bodies, to how to talk to them, and how we feed our souls. This might be yoga, gardening, cycling. Or it could be taking breaks and spending time with friends and family, and allowing for all the other things to fade away. Listening to your body and what it needs will change the way you approach your day and your life!"- Rabbits Pantry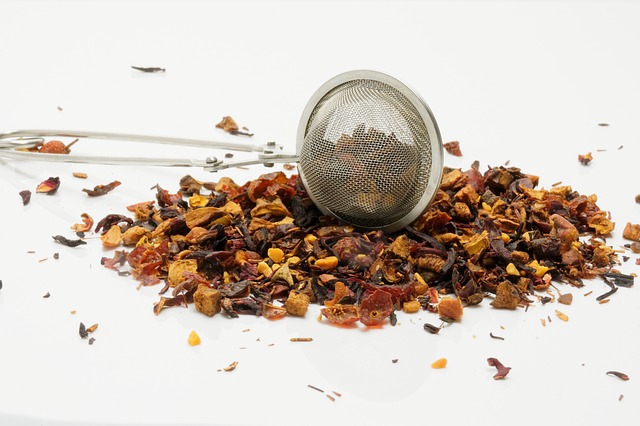 Total Body Health- Heart, Mind and Spirit
Rabbits Pantry has a passion for whole-body healing. This has led the company onto a journey of helping others to find the same. No matter the walk of life someone is in, Rabbits Pantry believes we should all know how it feels to be vivacious and whole body healthy.
They are opening their first location soon and already have thousands of people who share their stories with them each week. Rabbits Pantry aim to connect with people and transform their lives for the better.
"Some experience a beautiful cup of sweet tea with a loved one and make it a tradition. While others tell us the blend we made them improved their mind, body, or spirit. We read peoples astrological birth charts or listen to their needs to best understand the right teas for you and your loved ones. This is how we have expanded our line to such a robust offering. We are excited and blessed with the opportunity to open a Tea House and Healing Center filled with practitioners, healers, and tantalizing herbals, teas, and scrumptious offerings; to help others come to find their journey"- Rabbits Pantry.
Here's a peek at Rabbits Pantry creative range of teas!
London Fog tea might quickly become your favorite! It's full of a bright flavor, caffeine and calms the nerves! Rabbits Pantry loved this tea so much - there are actually two blends! 
This tea is offered as an Earl Grey. It's a classic beautiful black tea filled with bergamot and lavender mix. Rabbits Pantry took this tea innovation a step further by adding vanilla beans.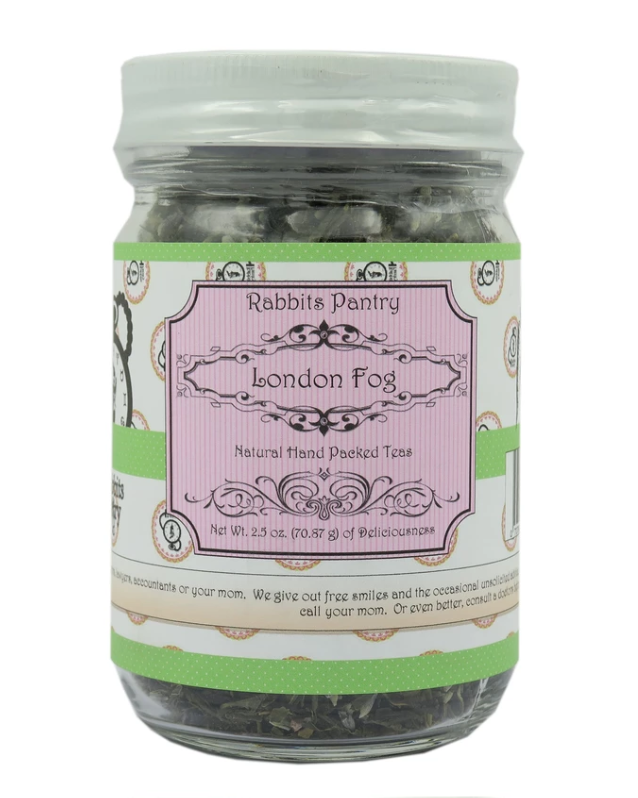 Knowing the additional suggested benefits of Green tea, Rabbits Pantry also added a Green Earl Grey to create their unique "Green London Fog" tea.
And for Lights Out Time…
Sometimes it's a challenge to relax, wind down and lull off to sleep. This problem is duly solved with Rabbits Pantry "Lights Out" tea!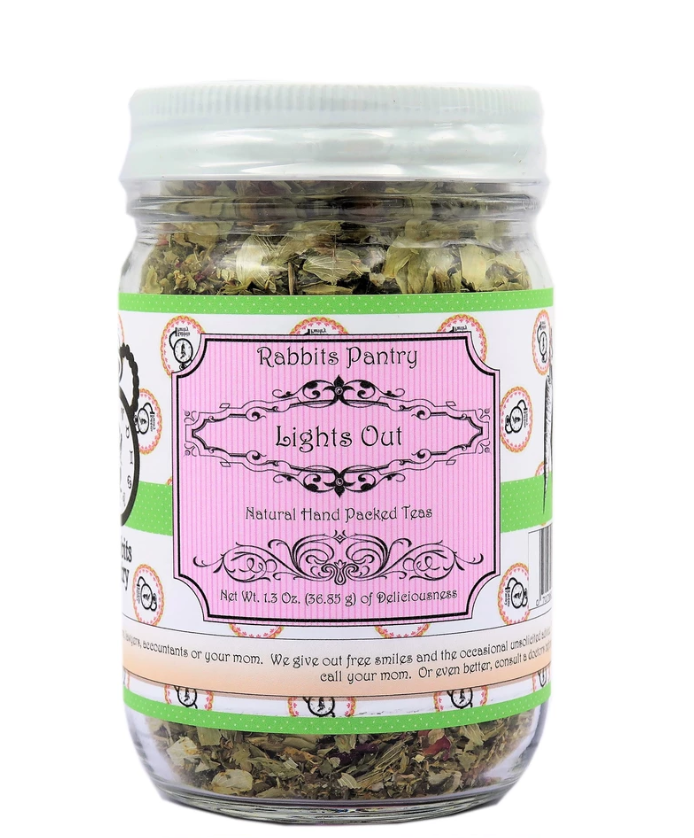 The flavors mingle into a beautiful bouquet of fresh, aromatic and calming indicators.

Raspberry is known for creating balance and improving your sleep quality.

Chamomile is another herb used to improve sleep and digestion while creating a sweet flavor.
You might not even notice the Hops after looking at this colorful blend, but the Hops is added for the suggested benefits of sleep and relaxation.
Indulge in Your moment by taking the time to care for the whole you and share a cup of tea with others...connect to and feed your soul!
* In partnership with our friends at Rabbits Pantry * Photo courtesy of Rabbits Pantry
* The information available on ewellnessmag.com, including text, graphics, and other materials are for informational purposes only. Reliance on any information in ewellnessmag.com is at the user's own risk. Sponsored product placement may appear in the article. The visitor of this website acknowledges that the information available on or through ewellnessmag.com is not and is not intended to be a substitute for professional medical advice. Copyright © 2019 Brawo Press, Inc. All rights reserved.
---