Article
A Journey Toward Great Skin!

Great skin and amplified beauty needn't remain a far-fetched hope, dream, or the chore it can often seem like. There are natural methods used since ancient times that can assist you on your journey to looking and feeling better. The secret often lies in the simplicity and overarching wisdom of nature, and the many faces that took advantage of what was available.
As the smallest of rocks on a forgotten road, there is a trail that can help you move toward happier and healthier skin. And if you have experienced issues and problems with your skin, that is all the more reason to carve a new route to better skin!
Caring for your skin
Caring for your skin is just as important as caring for your cardiovascular, digestive, or immune health. Generally, if you eat well, exercise, and get enough rest, your body is well-equipped to find the inner balance to create and regenerate great skin. However, sometimes, even with the best of intentions, your skin may suffer from breakouts, dryness, or just looking dull overall. If this occurs, it usually means that there is some kind of issue with a balance that needs to be rectified. Natural methods are one of the best ways to deal with problematic skin because they work more effectively with your body...and who wants more nasties and toxins in their body?! No one!
Here are some tips toward showing off great skin!
Go back to basics! Don't over-complicate your skin care routine. Remember that the key to better skin lies in balance and simplicity. Look for natural products that do not contain any harmful ingredients.

Know your skin type. It is a common mistake to buy the wrong product for your skin type. Get to know your skin. What triggers a breakout or a change in its feel and appearance? Do you have oily, dry, or combination skin? Always shop for your skin type. Many natural products have benefits for all skin types.

Be consistent! Sometimes we do things in spurts. We have a spurt of exercising almost every day. Or for a week or two, we go all out to eat well only to dive into old habits and eating patterns once more. The changes you decide to make for your skin or overall health should be consistent. New habits aren't created by erratic efforts; they are formed by consistent ones!
Essential Oils for Better Skin
Essential oils have been used for hundreds of years for health, beauty, and great looking skin. For instance in Morocco, Berber women have used and enjoyed the many benefits of Argan Oil for centuries.
Argan Oil is one of the most valuable beauty and anti-aging essential oils in the world due to its high antioxidant properties. The oil comes from the Argan tree, commonly known to natives as the tree of life, and it has nourished the Berbers for centuries. It is like liquid gold for your skin, and Argan Oil Essentials specialize in offering you the best quality Argan Oil.
Argan Oil Essentials
The whole process of extraction and selling Argan in Morocco is done sustainably. As a company, Argan Oil Essentials are dedicated to preserving and promoting both the culture and environment that Argan originates from. They work with one of the oldest Argan Oil co-operatives in Morocco. Their product is USDA and Eco-Cert approved and produces the highest quality, 100% pure organic oil.
Argan Oil Essentials strive to be a leader in wellness and natural beauty for men and women of all skin types.
"We provide our Argan Oil in its purest form – 100% Pure Organic Natural. Argan Oil has incredible health and aesthetic benefits. It has been shown to improve skin elasticity and hydration, and reverse the harsh effects of time on the skin. The tree yields a kernel that is cold-pressed to extract the precious oil renowned for its anti-aging properties and wondrous nourishing and healing effects on hair and skin alike. Rich in unsaturated fatty acids, antioxidants, and vitamin E, Argan Oil can be used as a remedy for acne, wrinkles, stretch marks, cellulite, and psoriasis."- Loubna, Argan Oil Essentials
Here are 6 Amazing Argan Oil Benefits!
Face Moisturizer
After cleansing, morning and/or night, massage a few drops of pure Argan Oil directly onto your face and neck. Argan Oil absorbs nicely into the skin without leaving an oily residue. If you want to use it as a serum, apply your night cream after the oil absorbs into the skin.
Leave-on Hair Conditioner
After the shower, while your hair is still wet, add a few drops of Argan Oil to your hair, including the ends and scalp to condition, hydrate and moisturize. It is especially nourishing if your hair is dry from daily use of a blow dryer, straightening-iron or curling iron.
Argan Oil for Acne
Where many oils and moisturizers can exacerbate skin conditions such as acne, Argan oil actually soothes afflicted skin and effectively promotes healing. Acne is often the result of oily skin. Since Argan oil is non-greasy, it helps to balance skin by providing natural moisture. Argan oil also contains anti-oxidants which help to heal damaged skin cells and reduce inflammation. Rubbing in gently and repeating twice daily can help clear up mild acne as well as balancing oily or dry skin.
Argan Oil for Anti-Aging
Not only does Argan oil act as an effective moisturizer, it can also give skin a youthful glow and reduce the visibility of wrinkles. Its anti-oxidant properties make Argan Oil the ideal anti-aging product. It restores elasticity and leaves skin feeling plumper and softer. The best way to apply Argan oil for the most prominent anti-aging effects is to massage a few drops into your face and neck before bed. It acts as a moisturizer and anti-aging all in one.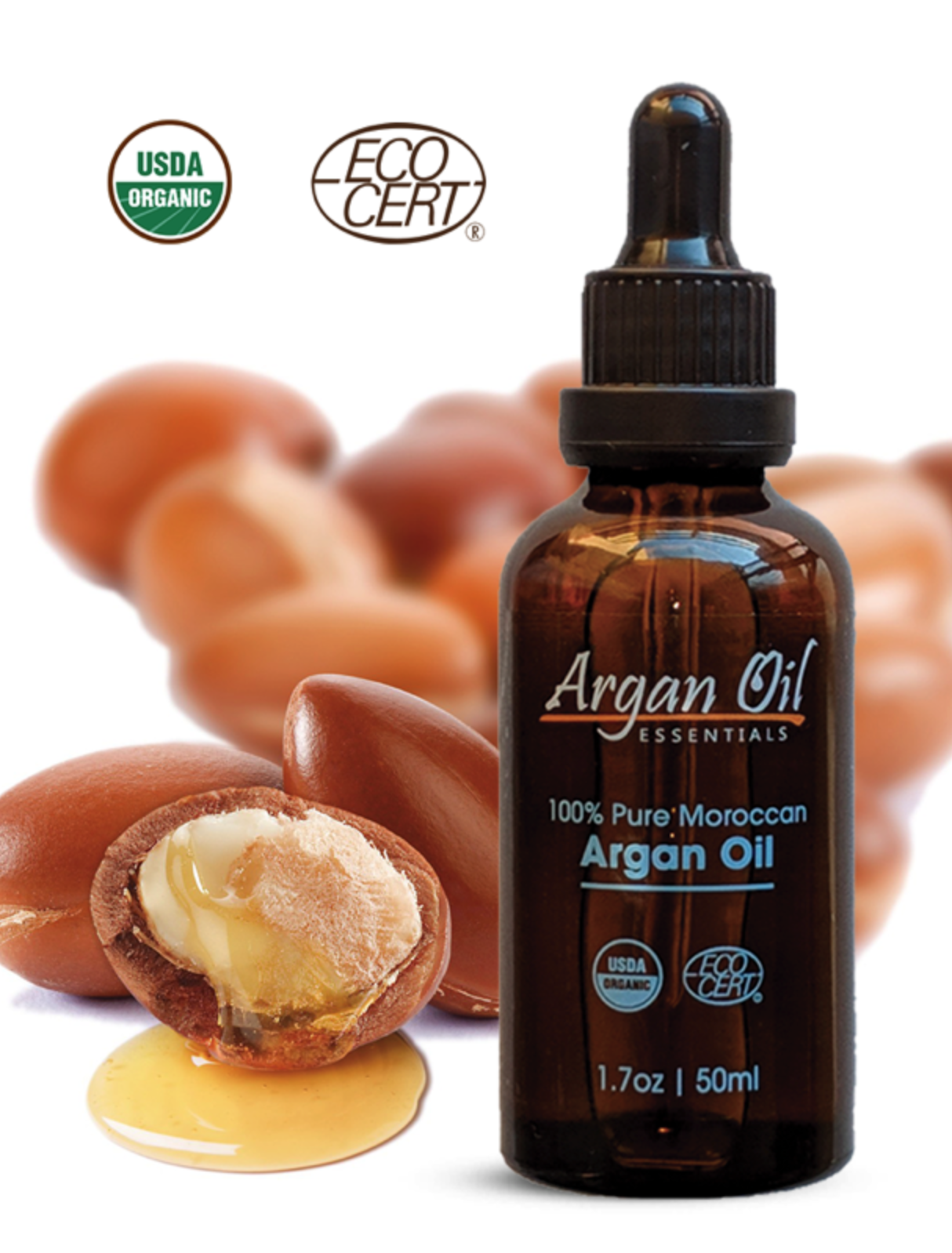 Eczema and Psoriasis
Argan oil helps alleviate inflammatory symptoms associated with psoriasis!
​Argan Essential Oils provide you with the highest quality available Argan Oil. They pride themselves on using safe, humane and natural ingredients, and all the while being very affordable. Embrace the liquid gold journey to great skin with Argan Oil!
Why You Should Use Argan Oil!
Argan oil is recommended for all skin types (oily, dry, and sensitive). It is non-comedogenic, therefore, it will not cause blocked pores. It absorbs smoothly and easily into the skin without leaving an oily residue.
In just 4 weeks, 100% Pure Argan Oil is clinically proven to improve the appearance of your skin. This miracle oil is the ultimate luxury for your skincare. It is formulated without GMOs, formaldehyde, sulfates, parabens, phthalates, fragrance, or mineral oils. The best thing about Argan Oil is that it can be safely used in its pure form and doesn't need to be bought as an ingredient in lotions, conditioners, and moisturizers. One bottle of Argan Oil is extremely versatile and can be used for all these benefits.
* In partnership with our friends at Argan Essential Oils  * Photo courtesy of Argan Essential Oils
* The information available on ewellnessmag.com, including text, graphics, and other materials are for informational purposes only. Reliance on any information in ewellnessmag.com is at the user's own risk. Sponsored product placement may appear in the article. The visitor of this website acknowledges that the information available on or through ewellnessmag.com is not and is not intended to be a substitute for professional medical advice. Copyright © 2019 Brawo Press, Inc. All rights reserved.
---