Article
3 Steps to a Better Smile
As we look to a whole new year ahead of us, many of us are taking the time to review our goals. While others are taking leaping steps to actually get them going, especially in the category of health, one area of great concern may be oral health, especially if all is not as should be. Be the one taking that leaping step and read on for more info!
Dental work is notoriously expensive and uncomfortable too! Hands up, who enjoys visits to their dentist? Not many of us, right? So rather than waiting until things have gotten out of hand, it is always best to be proactive. And this applies to all aspects of health.
In terms of dental or oral health, think about it this way: you only get one set of adult teeth. That is it. So the better you can look after them, the longer they will last and avoid painful dental work down the line.

Here are 3 Steps to a Better Smile to help you:
Watch for cavities! Cavities are also known as dental caries. These are normally caused by a bacterial imbalance on the teeth. This imbalance occurs based on each individual's oral environment and the things that may affect bacterial balance include the following: dietary habits and hygiene habits. When dentists drill and fill cavities they are only treating the result of the infection and not the imbalance itself. This means that inevitably the decay returns. So the solution to your oral health is to focus on bacterial balance!

Choose a great, better than standard toothpaste. Some varieties can be quite abrasive on your tooth enamel. Once your tooth enamel is damaged, it can create big dental health issues. Ideally, you need a great, anti-bacterial formula that is also kind to your tooth enamel. Many of us tend to not put too much thought into our dental products but it is time for a change if you have some oral health goals on your New Year agenda!

Think long-term! Much of what we do is born from a short-term solution or quick fix state of mind. It is truly important to focus on longer-term objectives for the best results.
Additionally, until recently, dentists were taught that if you remove bacteria with good oral hygiene, you'll be free of decay. The problem is that it's just not that simple! However, CariFree elevated pH products neutralize decay-causing acids and fix your decay problem at its source.
Safe to use every day, CariFree's non-abrasive products are highly effective and scientifically proven to prevent cavities through remineralization. Their cavity prevention blueprint includes:
Antibacterial & Acidity Reduction

pH Neutralization

Fluoride for Remineralization

Enamel Building Technology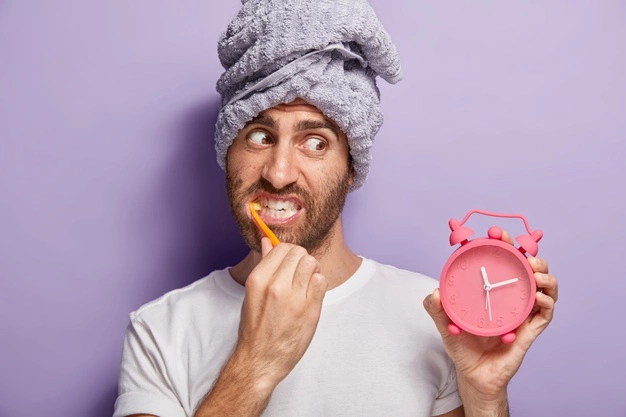 Dentists support and recommend CariFree Dental products- it is a Science-Based Treatment!
CariFree elevated pH products neutralize decay-causing acids and fix your decay problem at its source. Safe to use every day, our non-abrasive products are highly effective and scientifically proven to prevent cavities through remineralization. 
CariFree pH elevated products have the power to change the chemical balance of your mouth, and better yet, they are scientifically proven to prevent cavities. We offer affordable, science-based solutions to common dental health concerns for you and the whole family. We make it easy to banish cavities so you can welcome a healthy smile. Caries is another term for tooth decay and dental cavities, hence the brand name "CariFree"!
Welcome to a new model for oral health and cavity prevention! CariFree offers a complete blueprint for remineralization and cavity prevention, including:
pH Neutralization

Antimicrobial

Nano Hydroxyapatite

Xylitol

Fluoride


CTx4 Gel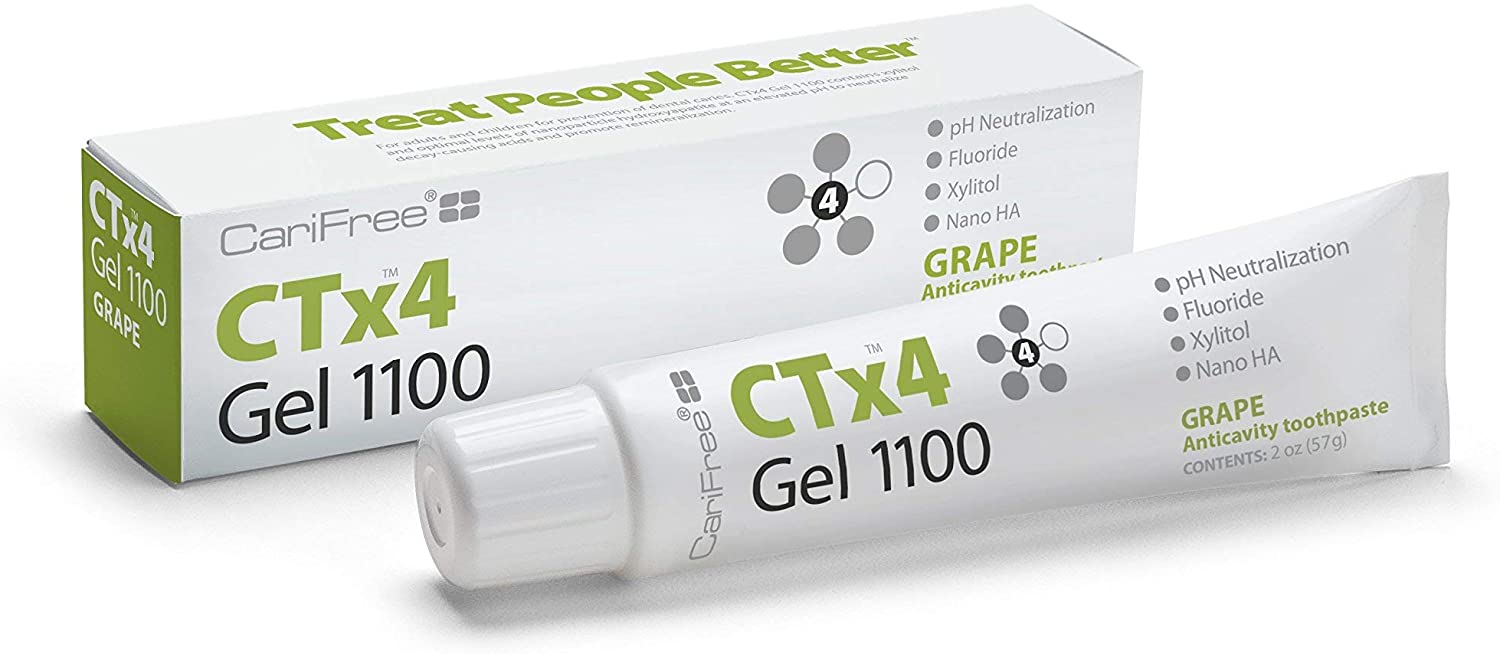 CTx4 Gel acts as a toothpaste replacement. It is intended for all (dental) risk levels and suitable ages 6 and up. There are other options in the CariFree line for younger ages. (See the CTx3 Fluoride-Free Gel). This means the whole family can benefit!
This low abrasion tooth gel combines CariFree's unique pH+ technology with bioavailable nano-hydroxyapatite, xylitol, and 24% neutral sodium fluoride.
This CTx4 Gel has a pH of 9, 15% nanohydroxyapatite, 25% xylitol, and 24% sodium fluoride, and each box contains one 2 fl oz (57g) tube. It is an approved size for airline travel so you never need to leave it at home! It provides approximately one month of use when used as suggested twice daily.
This gel also comes in a prescription-strength formula which is only available for purchase from a dental provider. It is called CariFree CTx4 Gel 5000 and it contains prescription-strength fluoride!
Great news! You can save 10% on all products using code WELLNESS10
Here are the main benefits of CTx4 Gel:
Anti-cavity

pH neutralization

Reverses bacterial selection pressure

Neutralizes decay-causing acids

Fluoride for remineralization

Optimal levels of nano-hydroxyapatite
 
CTx3 Rinse


CTx3 Rinse contains xylitol, fluoride (.05% sodium fluoride), and CariFree's unique, patented pH+ technology to neutralize acidic oral pH.
It's intended to lower patients' caries risk and support oral health-longer term!
It is PH balanced! This product has a pH of 8, .05% sodium fluoride and 3g xylitol 

Available in a variety of flavors including mint, citrus, or grape and alcohol-free

Each 16 fl. oz. bottle (473 mL) offers 47 doses. This is approximately one month of use if used twice daily as recommended.
This mouth rinse is designed to specifically control oral environmental factors that lead to a cariogenic biofilm.
CTx3 Rinse is an anti-cavity formula that helps to reverse bacterial selection pressure and neutralize decay-causing acids. It can also assist with:
Fluoride for remineralization

Long term prevention

Maintaining a healthy oral environment
Great news! You can save 10% on all products using code WELLNESS10


 
Through understanding what can cause an imbalance in your oral environment, and by making adjustments, the bacterial imbalance can be controlled. This means a patient's cavity rate can either be reduced or eliminated. This process is known as Caries Risk Management™; it will allow you to tailor treatment based on your personal risk.
Other methods like P4 Dentistry™ ensure that the CRM™ process is predictive, preventive, personalized, and participatory. With this approach, healthcare starts with predicting possible problems and utilizing tools like a risk assessment form. This simple surveillance can find the earliest signs of a problem to allow for treatment
Are you ready to take better care of your oral health? Try the CariFree Quiz NOW!
* In partnership with our friends at CariFree * Photo courtesy of CariFree
* These statements have not been evaluated by the Food and Drug Administration. These products are not intended to diagnose, treat, cure or prevent any disease.
* The information available on ewellnessmag.com, including text, graphics, and other materials is for informational purposes only. Reliance on any information in ewellnessmag.com is at the user's own risk. Sponsored product placement may appear in the article. The visitor of this website acknowledges that the information available on or through ewellnessmag.com is not and is not intended to be a substitute for professional medical advice. Copyright © 2021 Brawo Press, Inc. All rights reserved.
---