Article
Keeping Clean for Health and Hygiene
The year 2020 has pushed the boundary on our thoughts, behaviors, and actions surrounding cleanliness and personal hygiene. Throughout the pandemic, the focus and importance placed on sanitizing have forced us into adapting new behaviors and rituals that we may have taken for granted previously.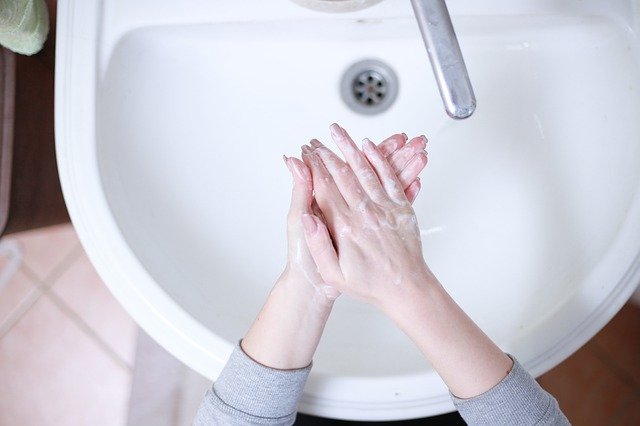 Yes, of course, we all washed our hands but needing to do it more frequently, for longer periods, and after each entry or exit from an establishment or mode of transport took things to a whole new level. 2020 gave us a lot more to think about. As well as our cleanliness and hygiene, we relied upon the same from other people and establishments too. 
As we move into 2021, we progress to newer ways of maintaining cleanliness and hygiene. For many people with skin sensitivities, the onus on sanitizing would have been difficult to contend with as many sanitizers needed to be around 60-70% alcohol to clean away bacteria and virus particles. These high alcohol levels would have dried out the skin and caused redness at the very least. 
Maintaining mindfulness around hygiene
However harsh these chemical cleaners and sanitizers and cleaners have been on the skin, we need to be mindful that we still need precautions as the pandemic continues. 
Armed with improved intelligence and awareness around cleaning and hygiene we can seek out better, kinder ways to keep ourselves and our spaces clean and hygienic without damaging or hurting our skin. Here are some tips for you! 
Natural products including plant remedies and essential oils can be an ideal way to protect your skin as well as keep it clean and sanitized. For instance, Aloe Vera, lemon, and tea tree oil have high anti-bacterial and anti-viral functions. Many cleaning and hygiene products contain these types of natural remedies. Choose products that rely more heavily on their natural rather than chemical content.

The wonder of wipes! Anti-bacterial wipes have never been more popular. Having a pack of wipes to hand can make the constant cleanliness and hygiene less of a bugbear. They are far less messy and fiddly than your traditional bottled sanitizer or soap and they still do a great job at keeping things clean. And even better, wipes are convenient and versatile; they almost take all the effort of cleaning and hygiene away! Look out for wipes that are purer, they may not be 100% chemical free but they may have a higher content of natural cleansers and moisturizers that are kinder to the skin.
Whichever way we look at it, things in our world will be different for a long while to come. If we make the most out of natural products and remedies then we can move into 2021 with kinder options to keeping skin, spaces, and surfaces clean!
Scrubzz Bathing is a brand that wants to help you stay well and stay clean! 




Scrubzz Bathing specializes in personal care products that can make a difference to your day. Their product range is ideal for a wide array of uses including eldercare, baby care, health, and fitness hygiene, and use while hiking or camping.
In particular, their "no-rinse bathing wipes" are incredibly popular. This truly versatile product has been making the lives of many significantly easier when it comes to staying clean and sanitized. Scrubzz is so simple to use! Just add water to the soap-infused sponge and a generous lather is formed. Scrub your body clean and then towel dry as usual!
"Imagine being able to experience the feeling of taking a shower or bath, without having to step in one. With just a few ounces of water, our innovative product, Scrubzz, can clean one's entire body from head to toe in a matter of minutes. The best part; there is no rinsing required. Just a towel dry and you are good to go!"- Scrubzz Bathing




Scrubzz works because the concept is simple, practical, and effortless, for this, it is widely appreciated. These wipes were originally distributed in nursing homes and hospitals, however, Scrubzz Rinse-Free Bathing Sponges has recently become direct to consumer product helping those who need a bathing or hygiene solution at home or on the go as well. 
Scrubzz Disposable No Rinse Bathing Wipes
These wipes contain 25 single-use shower wipes in each pack. Simply Dampen, Lather, and Dry Without Rinsing! 
Scrubzz no-rinse bathing sponge is a unique bathing product designed to give you that clean and fresh feeling whenever and wherever you may need it! Simply put a little water on the "feather-lite" sponge, work it into a lather, cleanse, and towel dry! No need to rinse! 

This no-rinse shower sponge is hypoallergenic & ph. balanced: the ingredients in the special formula ensure that your skin does not dry out or break out. It is also ideal for people with sensitive skin or other allergies. 

Great for Hikers and campers and also anyone hitting the gym! No-rinse wipes are a travel essential for anyone going hiking or camping in places where there may not be a shower nearby, or even after a gym session to avoid the queue at the showers. 

This all in one lathering sponge can be a lifesaver in emergencies and regions where water is scarce or not safe for use. Simply dampen the cloth to activate and easily sponge yourself clean. 
Scrubzz Bathing Wipes are Versatile and Safe
For anyone who is bedridden or disabled, Scrubzz has been tremendously helpful for them and their caregivers. 
This product is fantastic for those who just got out of surgery or are in recovery as well. Many who suffer from COPD stated that this was a lifesaver for them as showering can be very difficult. It takes a lot of the effort out of the bathing experience and yet helps you to get clean and refreshed! 
While eldercare is by far Scrubzz most popular category, the company has gained positive interest from industries such as camping & outdoors, fitness, travel, and much more!
"Within the healthcare industry, we have seen our product be helpful in a wide array of scenarios. One of the most popular reasons why someone purchases Scrubzz is because they have a fear of falling in the shower or tub. This, unfortunately, happens much more often than we know and we are thankful that Scrubzz has been receiving their concerns and gives them the ability to stay clean and refreshed without the stress"- Scrubzz Bathing
Scrubzz cleansing sponge is a must in any bathing and hygiene essentials kit, at home or away! 
25 sponge economy pack

New resealable Ziploc style bag to keep the wipes fresh

Towel Dries instantly and leaves no sticky residue

Rich & foamy lathery soap so you do feel clean after use

Anti-bacterial

Perfect for elder care, post-surgery, baby care & so much more

Buy a pack now and start enjoying the convenience of Scrubzz no-rinse wipes 
In March 2020, at the onset of the pandemic, Scrubzz launched a nationwide TV commercial. The response was overwhelmingly successful. People were calling stating that they were in their 90s and have been looking for a product like this all their life! 
"The current situation with COVID-19 has increased the sales of our business as well given that one of our ingredients is an anti-bacterial agent. Scrubzz has plans to grow by adding a scented version as well as others for sensitive skin"- Scrubzz bathing
 
* In partnership with our friends at Scrubzz bathing * Photo courtesy of Scrubzz bathing
* The information available on ewellnessmag.com, including text, graphics, and other materials are for informational purposes only. Reliance on any information in ewellnessmag.com is at the user's own risk. Sponsored product placement may appear in the article. The visitor of this website acknowledges that the information available on or through ewellnessmag.com is not and is not intended to be a substitute for professional medical advice. Copyright © 2020
---