Article
The Goodness of Greens
​Greens don't tend to be very exciting; many of us may recall being told to "eat our greens" as youngsters, at best we may have shoved and "shimmied" the green stuff around the plate so it at least looked like we had tried some…!

Even as adults, as taste buds mature with time, we may still struggle to get in our quota of healthy super greens. Yes, those celebrity "green" smoothies look great, but it's not always convenient to whip up a bottle of the green stuff at the start of a busy day.
However, eating green foods comes with many benefits, not just for physical health and wellbeing, but mental too. Green foods are great for your brain function! In fact, they are jam-packed with vitamins, minerals, antioxidants, and flavonoids that help to repair and protect your brain and body. Green foods such as leafy greens, fruits, and vegetables contain powerful nutrients that fight free radical damage at a cellular level.
Here are some "super greens" and green foods that you can add to your diet, whether you pack them into a smoothie or find a way to mix them into a meal for your plate, the benefits are plentiful!
Avocados. Avocados are great for Vitamin E which has anti-oxidant and immune system benefits. They are also very high in fiber. The good thing with Avocados is that they are so versatile, and as they are so nutritious, you don't need that much to get the benefits! 

Edamame. These soybeans are known as plant protein. Edamame can be added to salads and they have potential benefits to your heart health, they may assist in lowering the levels of LDL cholesterol. 

Green Tea. Green tea is one of the purest and most potent teas. It has a very high anti-oxidant value; it can help to maintain your weight and can help to stabilize blood sugar levels. 

There are so many greens that are great for you. Many leafy greens work well in a salad; you can also try different ways of cooking your green veg so that they taste better and retain more of their nutrients. If your aim is to super-charge your health, make way for the green army! And for the times when you fall a little short, supplements are an ideal gap-filler! Bright Horizon Health believes in better bodies and they want to help you toward yours!
Bright Horizon Health's supplements are designed to enhance your health through better immune function, energy levels, and overall wellbeing.
 "We use an exciting and innovative assortment of products designed to boost the immune system, increase energy, and halt the progression of ailments, we remain loyal to the old-fashioned ancient recipes using all-natural ingredients. We do not use any artificial additives, gluten, artificial flavors, colors, sugars, or starches. Our products are handmade in small concentrated batches with high-quality family standards"- Bright Horizon Health
Pure Super Greens: A Raw, Super Greens Powder Mix! 
This super greens powder is made with seven of nature's finest superfoods.
This premium green powdered superfood mix will naturally alkalize your body due to its dynamic formula of alfalfa, chlorophyll, wheatgrass, vitamin C, and amino acids. Alkalizing the body aims to bring it back to an internal balance which extends to the external benefits too, for example, stronger hair and better skin.
"By choosing our delicious and natural, herbal green superfood powder mix, you can help promote nutrient absorption, reduce inflammation, help prevent tooth decay and enhance your overall sense of well-being!"- Bright Horizon Health
Blended, these ingredients can help you to enjoy many health, skincare, and wellbeing benefits. Pure Super Greens is blended with lots of the "green" good stuff, such as moringa leaf, alfalfa sprout, chlorella, spinach, barley, and wheatgrass.
Bright Horizon Health's green superfood powder mix can also help oxygenate your body and boost your metabolism; this is especially helpful if you are trying to manage weight whilst still maintaining energy levels. (Many of us know that lethargic feeling that comes with a restrictive diet!). 

Pure Super greens is a nutritionally complete and dense superfood that can help you to regulate blood sugar levels and improve digestion; this is primarily due to the chlorophyll and vitamin C content of this blend. 

Alkalize & energize with Super Greens! The extraordinary properties in each of the 7 super greens naturally balance your body's pH levels for an overall energy boost and stress relief. Strengthen and support your system with a daily superfood greens drink! Pure Super Green can even help regulate digestion and encourage weight loss!

Pure Super Greens is gluten-free, dairy-free, and GMO-free. It is a whole spectrum supplement that is suitable for vegans too. 

Bright Horizon Health's formula is naturally full of vitamins, minerals, amino acids, fiber, protein, and more. Your mind, body, and soul will be singing its praises!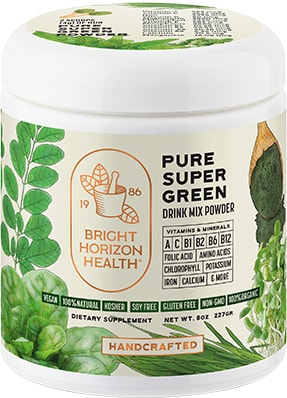 "Our super greens powder is made with seven of nature's finest superfoods. Enjoy skin rejuvenation with moringa leaf, alfalfa sprout, chlorella, and broccoli powder. Find inner body benefits with spinach, barley, and wheatgrass. We chose these particular ingredients because and they are potent and concentrated. This carefully selected batch of greens in one formulation is superior when compared to other leading formulas that have fruits, sweeteners, and added flavors but have the potential to cause an upset tummy!" Bright Horizon Health
Here is what customers have to say about it! 
No more fatigue, plenty of energy, and immune support in the morning with a Green Shake or Iced Drink that actually tastes good!!! You get More Veggies in one dose of this Super Green Powder mix than you could possibly put down regularly on a daily basis (and you don't have to worry about fresh veggies withering away in the veggie drawer of the fridge)!!!

I REALLY appreciate it that they did not add stevia as so many other products do. Then they just taste gross. We can all add our own sweetness if need be. So that is a HUGE selling point with this powder. I really, really like it.  

I mixed this into my fruit and Kefir smoothie and it was absolutely delicious! It isn't really sweet by itself, but it's a great nutritional boost to add to other things that already taste good. I love how healthy it is. It comes with its own scooper. I feel so good inside after drinking it.
Pure Raw Garlic Allicin Extract
Garlic has been considered a super-food with healing properties since ancient times. It is known to promote healthy blood pressure levels, improve heart health, support normal candida levels, support stabilized bowel function, help relieve joint pain, and regulate blood glucose levels.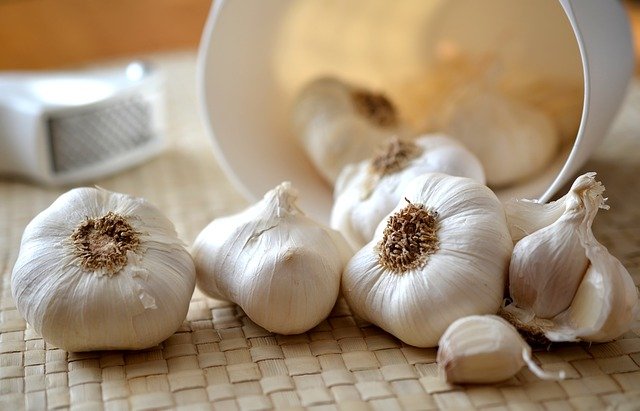 Garlic is certainly one of Nature's best for health and wellbeing- it is widely used for its extensive health benefits. This formula comes in a tincture and is easy to take for both kids and adults.
"Bright Horizon Health has been extracting, bottling, and distributing pure garlic for more than three decades. Our formula recipe was first crafted in 1986 with a pile of the highest quality garlic on the table and knowledge of the traditional hand pressing extraction methods that have been used for centuries. Originally, we bottled the natural supplement for our close friends, family, and community and were fulfilled and inspired by the stories of hope and transformation in their health and nutrition. Thirty years later, we are driven by the same results!"- Bright Horizon Health 
Here's a little on why garlic is so great for you!
Rich in Potassium, Zinc, Selenium, Magnesium, Calcium, Manganese, and Vitamin C, this Pure Garlic Extract with Allicin is the ideal way to support your immune system, cleanse your body and promote a healthy heart and cardiovascular activity. 

Besides, Bright Horizon Health's liquid formula is 100% cold-processed and never comes into contact with any source of heat. This will ensure the rapid absorption of these nutrients.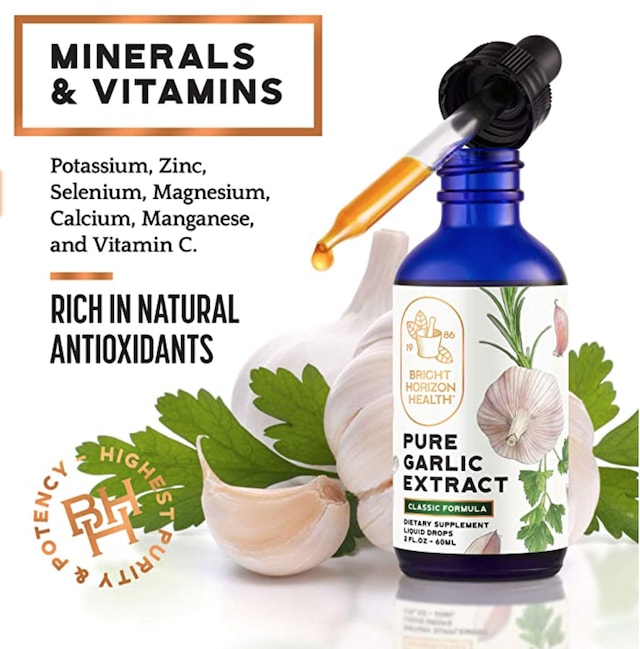 "This supplement offers a generous 576 gm of a full garlic bulb in 30 drops. This means there are no pills to swallow or powder to mix, Garlic Extract with Allicin is the perfect way to start every day! The alcohol-free version is 11X stronger than the classic version"- Bright Horizon Health
Here is what customers have to say about it!
I had a psoriasis flare-up and the holistic healing place around my work seemed to just call out to me. I went in, and after talking to the lady she suggested that I get some garlic extract. Needless to say, it's pretty much the most effective thing against my psoriasis I've ever found.

I was stage one hypertensive before I started taking this extract. I was pleasantly relieved of my back and neck pain even though I started it for my high blood pressure.

I've been experimenting with garlic extract for both respiratory and skin issues respiratory and skin issues and while the others are so-so, this one is the one I've had the best results with.

This is the brand that I've had the most success with. I can swear by this stuff. I mix this into tea whenever I start feeling my ulcerative colitis kicking back in. It clears it up or to a lesser extent lessens the symptoms.
"Our mission is to bring you essential healing nutrients that many people lack in their diets. What sets us apart is that our ingredients are NOT subjected to harmful preserving, heating, or treating processes. We keep conditions exactly the way Mother Nature intended; with carefully selected ingredients that work wonders for your health!"- Bright Horizon Health
Bright Horizon Health takes a holistic and extensive approach to health. They are committed to improving the lives and well-being of men, women, and children and their supplements endeavor to cater to all. Their supplements are all raw, natural, and unprocessed; they contain no sugar or any type of sweeteners so they are great for kids too! Made in the USA, they remain loyal and true to old-fashioned ancient recipes using all-natural ingredients! 
* In partnership with our friends at Bright Horizon Health Photo courtesy of Bright Horizon Health 
* The information available on ewellnessmag.com, including text, graphics, and other materials are for informational purposes only. Reliance on any information in ewellnessmag.com is at the user's own risk. Sponsored product placement may appear in the article. The visitor of this website acknowledges that the information available on or through ewellnessmag.com is not and is not intended to be a substitute for professional medical advice. Copyright © 2021 Brawo Press, Inc. All rights reserved.
---