Article
Great Things for Your Skin
Your skin is always worthy of some love and extra care. Even more so through winter as the cold sets in which can deplete your complexion and leave your skin feeling dryer. Our skin produces natural oils to keep it moisturized; however, the harshness of winter can strip these natural oils and compromise the protective barrier of your skin. 
There are many ways to take care of your skin; naturally, eating well and exercising are two biggies that serve your skin well. Adequate sleep and rest also really help to keep your skin looking and feeling at its best.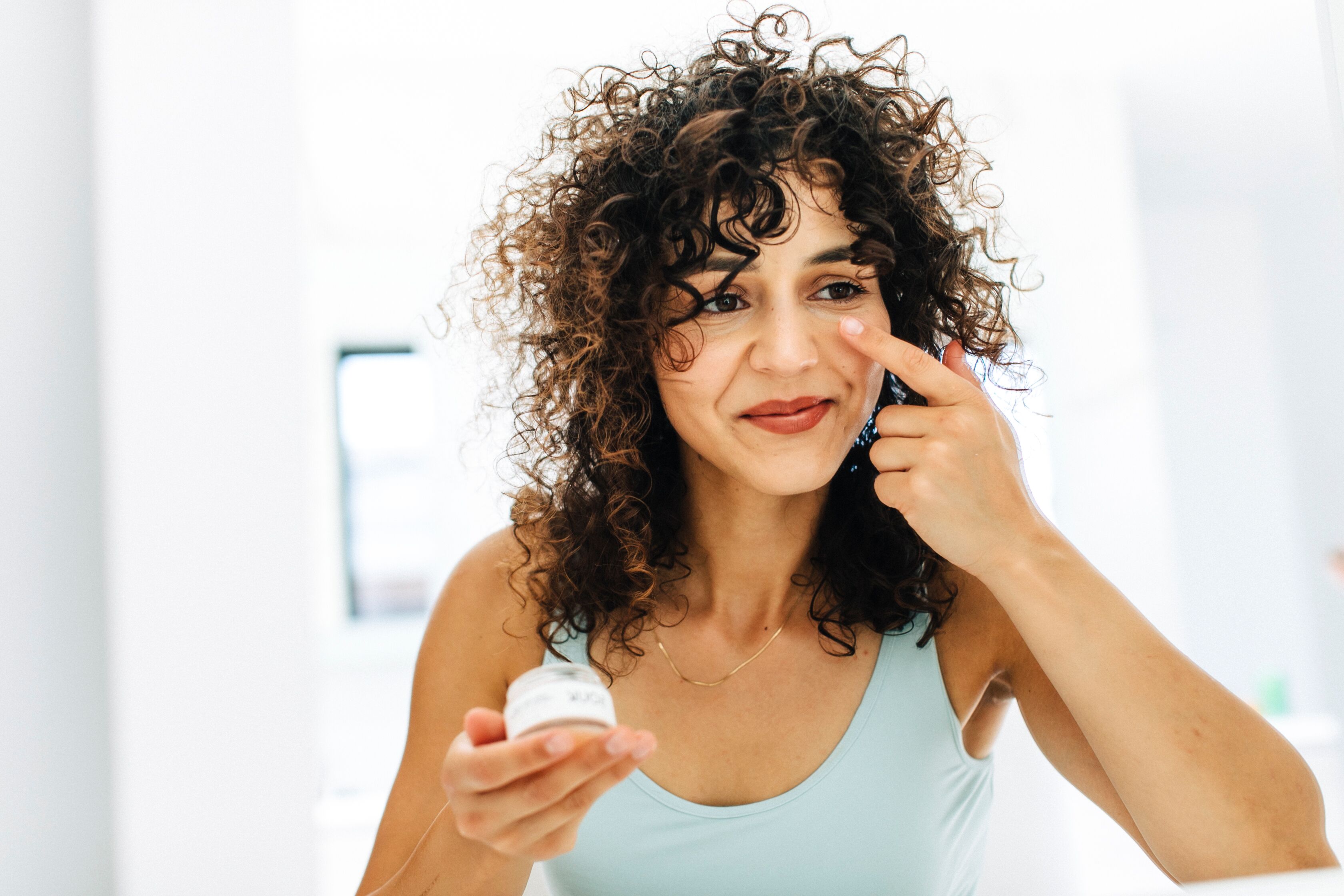 Great things for your skin
If you have noticed signs of aging like fine lines, wrinkles, and less elasticity in your skin, it is never too late to take some action! Aging skin needs TLC throughout winter and all year through. 
And it needn't be such a chore either. For instance, applying a deep cleansing facial mask takes seconds and you can leave it on whilst you make yourself a drink or a snack to eat. Or you can invite some friends over for a pamper evening- what better way to indulge in some quality time with friends and focus on your health also?!
There are many great things for your skin. As well as the nutrients from the food you eat, topical treatments like creams, oils, facial masks, and serums can give your skin the added oomph it needs. If you are wary of chemical-based skin care and desire cruelty-free products, look around for what is available, affordable, and of course- effective!
There are some natural home-made treatments you can try- these can be helpful for anyone with sensitive skin or allergies. These are also handy if you are all out of what you normally use, want to treat your skin as naturally as possible or just fancy getting a bit creative with remedies for your skin!
Oatmeal 
Oatmeal can be incredibly hydrating for your skin. It contains antioxidants and anti-inflammatory properties that can help to soak up excess oil in the skin as well as treat dry skin and remove dead skin cells. Oatmeal is also great at exfoliating the skin and clearing clogged pores. Try mixing oatmeal with a little good quality honey; you can add water to get the right consistency for a face mask. Once it's all mixed up, leave on your skin for perhaps 10-15 minutes and then wash away with warm water. To exfoliate, gently rub into your skin in a circular motion and then rinse off.
Coconut Oil 
Coconut oil has many benefits for your health and your skin. It is greatly used as a moisturizer as it absorbs so effortlessly into your skin. It can be great during the cold spell to add some extra moisture and soothe your skin.
Avocado
Avocado is very high in Vitamin E which is super for strengthening and protecting your skin. You can use avocado with a touch of olive oil for a powerful moisturizing face mask. Vitamin E helps to fight the effects of free radicals; it is a great defender against the signs of aging overall.

Essentially, the possibilities are endless when it comes to natural skincare. And your skin is not something you should skimp on- especially over winter! SOUK Skincare prides itself on what they have to offer in terms of natural remedies for the best-looking skin.
" 

SOUK was created to bring natural, effective, and cruelty-free skincare to their customers. They believe that every woman deserves to love the skin they're in, so they sought to create products that are effective without the added chemicals, and that are still affordable.
"We launched our product line earlier this year with 7 main products, and have plans to add more serums and cleansers to our range of products in the Spring. The entire brand is inspired by the Sahara from a trip I took to Morocco. Most of our initial product line contains ingredients that come from elements found in the desert to protect and nourish the skin."- SOUK Skincare
Here's what some customers have to say about SOUK Skincare!
"

I've been searching for natural products that actually work, and don't irritate my skin. Souk is by far my favorite! I've been using the rosewater moisturizer and the cranberry turmeric mask, and my skin has become noticeably clearer and brighter just within a few weeks!" - Brynne B.
"

I love Souk!! You can feel the quality of their products as soon as you use them. I have really dry, sensitive skin and the Vitamin C serum and Aloe Eye Cream have worked wonders for me. Plus they smell amazing!" - Natalie C.
Herb & Aloe Eye Cream:
Reduce the appearance of fine lines, puffiness, bags and crow's feet.
This cream provides intense hydration without leaving any excess residue. Defy the test of time and stay forever young with SOUK's Herb & Aloe Firming Eye Cream. You can use this cream under and around the eyes to reduce the appearance of puffiness, dark circles, and under-eye bags.
Aloe is known for being a natural remedy to immediately combat inflammation and fight aging properties within the skin. It almost instantly reduces the appearance of fine lines.

Vitamin E in this cream helps to protect the skin from UV damage and other environmental irritants.

Use this cream with the Jade or Rose Quartz Facial Roller to massage into the skin for added benefits.

This cream is light-weight and melts into your skin for deep hydration. It is perfect for the cooler/colder holiday season when skin often gets dry, chapped and irritated.
Illuminating Rose Gold Serum:
The perfect multi-tasking addition to your skincare routine!
This illuminating serum makes for the perfect beauty gift to have your favorite people glowing in no time – just don't be surprised if people start asking them where they just came back from vacation!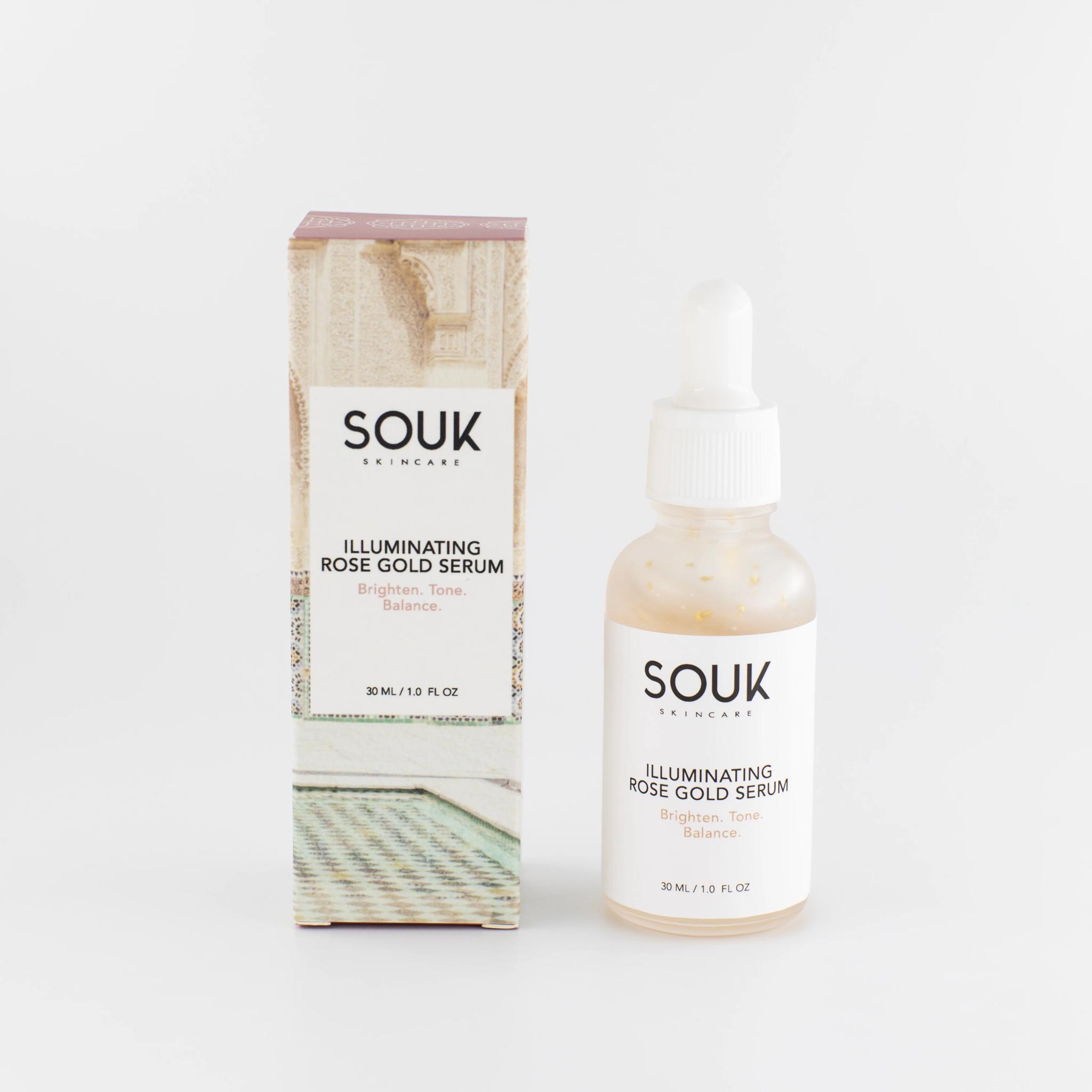 It can be used as a highlighter to help you get the glow you've been craving, or use it as a moisturizer on makeup-free days.

This serum works well as a base for makeup or as a replacement for a moisturizer for days where you have 5 minutes to get ready and need to get out the door! It provides an instant glow and dewy finish to the skin.

Provides much needed quick, deep hydration during winter months when the air is cooler/dryer.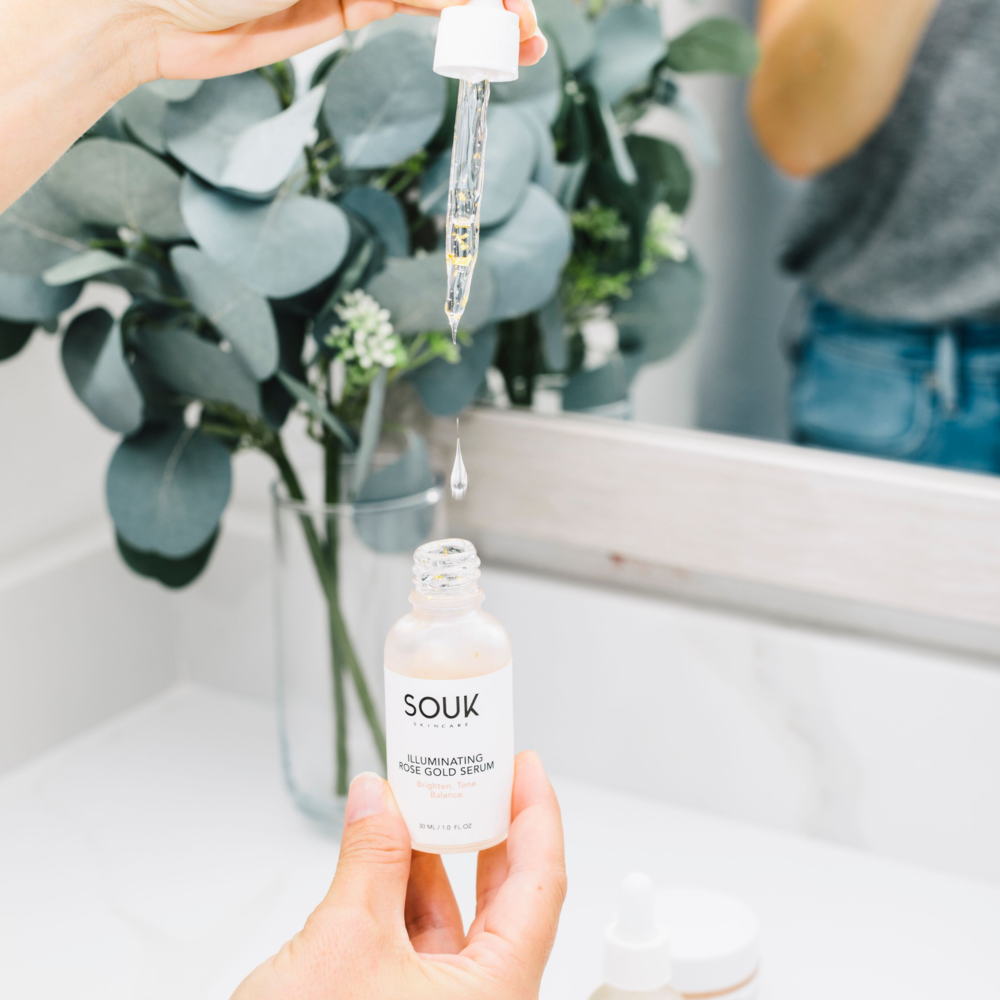 French Rose Clay Mask
Stop and smell the roses for a quick 15 minutes using the French Rose Clay Mask.
You can calm irritation and inflammation with the French Rose Clay Facial Mask. Ideal for all skin types, this mask will effectively exfoliate without stripping the skin of extra moisture.
This mask is great for deep cleansing. It does so without stripping the skin of its natural oils and keeps the skin hydrated and nourished to prevent excess irritation from environmental elements.

Perfect for a night in, curl up with your favorite movie, a cup of hot cocoa and apply this facial mask to give yourself a nice at-home spa night.


 
Almost all SOUK Skincare products are under $40 and last between 45-60 days- this gives their customers great value for money! All products (except the Seaweed & Rosehip Cleanser) come in glass jars to either be recycled or repurposed. They also offer free shipping within the US and a 30-Day Money-Back Guarantee!
*

 In partnership with our friends at SOUK 

* 

Photo courtesy of SOUK
* The information available on ewellnessmag.com, including text, graphics, and other materials are for informational purposes only. Reliance on any information in ewellnessmag.com is at the user's own risk. Sponsored product placement may appear in the article. The visitor of this website acknowledges that the information available on or through ewellnessmag.com is not and is not intended to be a substitute for professional medical advice. Copyright © 2019 Brawo Press, Inc. All rights reserved.
---