Article
Great Cooking Oils for Wellbeing
It is not just about the food- it is about how it's prepared and how you cook it (and what you cook it in). It can make a significant impact on the taste, texture, and appearance of the food, so if you want to know more about great cooking oils, simply keep reading!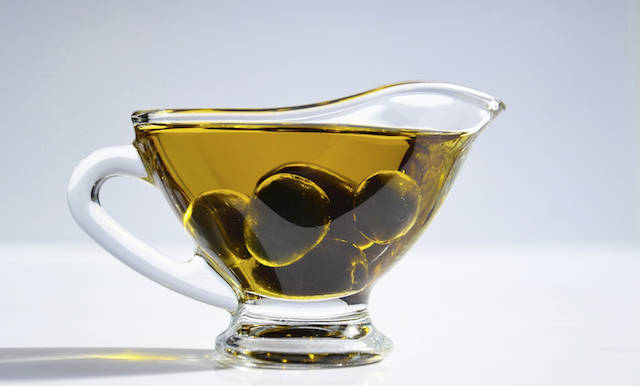 Numerous oils have been noted for their specific qualities and how these can positively affect your wellbeing. The world of oils is immense; there is now more choice than ever on the type of cooking oil you use, and not just for cooking! Many healthy oils can be drizzled on salads, baking, and some varieties are also flavored. You really can be spoilt for choice. 
Always opt for virgin oils, or ideally extra virgin oils. These are far purer and better for you. That's the pre-cursor to a great oil- pure, or as pure as you can get. 
If you are seeking to add some new healthy oils to your collection, or just want a bit more info on what's good for you in the world of oil… here are 3 great cooking oils for wellbeing! 
Coconut Oil. Coconut Oil has become increasingly popular over the past 10-20 years or so. And with good reason. It is a highly versatile oil, it tastes amazing, and it has many benefits for wellness. In the world of keto, coconut oil is commonly used for meals and snacks- even spooned into the coffee. Generally, you can use it in food, bakes, smoothies, and it is super when used as a moisturizer for skin or a conditioner for your hair. Coconut Oil can also have amazing advantages for your heart and brain health. The majority of fats in Coconut oil are medium-chain triglycerides (MCT's). This makes it saturated fat, but a far superior type. It is not your typical (and not good for you) Trans Fat. 

Grapeseed Oil. Grapeseed Oil is ideal as a substitute for olive oil or sunflower oil. It is high in polyunsaturated fats and super-high in Vitamin E. It is great when used for pan-frying or sautéing. It is a light, cooking oil, whereas coconut oil is bounding with flavor and the lovely smell of coconut, grapeseed oil is odorless. It is high in Omega 6 fatty acids (linoleic acid). Omega 6 fatty acids play a crucial role in brain health, promoting a strong immune function and contributing to normal development. 

Olive Oil. Olive oil is probably one of the most popular oils; there are many to choose from and so it's important to pick the right one for you. As stated earlier, always opt for extra virgin oils. They are of a higher grade, purer, and by extension, better for you. The Mediterranean diet is rich in extra virgin olive oils. This may be what their low rate of heart disease (in comparison to other countries and nations) may be partly attributed to their love of Extra Virgin Olive Oil. It is wonderful cooking oil, aromatic, and it works well on cold foods and salads also. Try drizzling it on warm bread just out of the oven with a sprinkling of salt- it is yummy! Extra Virgin Olive Oil has numerous benefits to wellbeing- it is one of the best you can get. 
The world of oils can be confusing, so do your research. If you tend to cook a lot at home, Extra Virgin Olive Oil is a great choice to complement your meals. If you tend to be quite sporadic in your cooking or baking endeavors, it can't hurt to have a small range of extra virgin oils to choose from.  
And for Extra Virgin Olive Oils, Mr. Papou's makes the best. Here's more on Mr. Papou and the Extra Virgin Olive Oil they take great pleasure in producing!
Mr. Papou's story begins with a grandfather and his father in the hills outside of Corinth, Greece. Through their love of the land, they began a quest to produce some of the finest natural products that Greece had ever seen. They began small with only a few orchards and vineyards in the village of Poulitsa. Over the years, their quality product and honest characteristics became well known within the Corinthian region. They began growing their operations and producing more fresh fruit and olive oil each year. A hundred years later, the family now owns thousands of olive trees and produces ample amounts of extra virgin olive oil every season.
"The meaning of the company name "Papou" is grandfather, and the company was started by the three grandsons of a world-renounced farmer in Corinth Greece. The three young men, born and raised in the United States, began this company to honor their Greek grandfather, Dimitrios Tzanavaras. He was a farmer who had been cultivating the world's finest extra virgin olive oil for over 75 years"- Mr. Papou 
He gave his life to the devotion of two things: family and farmlands. He was a farmer who indulged in politics. Senators, governors, and presidents of Greece sought his guidance; the opinions of a humble farmer whose words carried throughout the land. Dimitrios Tzanavaras made a significant impact during his time in Corinth Greece and it was always his dream to bring his famous extra virgin olive oil to the consumers of the United States.
Mr. Papou's Extra Virgin Olive Oil: 
This product is a Greek extra virgin olive oil that is produced in the hills of Corinth, where the finest olives have been cultivated for thousands of years. Not only are there no preservatives or other substances in this natural olive oil, but the product itself is also pressed from the most desirable olive variety: the Koroneiki olive.



8.45 FL OZ (250 ML)
With over 2,000 varieties of olives, it can be difficult to select the most nutritional, delicious, and pure. Mr. Papou's has studied these varieties and carefully selected the perfect olive. With its purity and dense nature, the Koroneiki variety has become well known as the most desirable in the world. When consumed as a delicacy, and olive can taste bitter, and this bitterness has become a staple of fine dining olive oils.
Mr. Papou's combines this bitterness with a strong fruitiness that fills the pallet. 

The relatively small size of these olives also results in a high concentration of natural nutrients. 

You will find this olive oil to be very rich, with a pleasant herbaceous hint. 

Their innovative "early season harvest" approach, coupled with a traditional Greek first-cold pressed methodology, enriches both the aromas and the sought-after appetizing hue. 
Simply drip, drizzle, or pour this olive oil onto any dish and you will amaze those you cook for. No matter your level of expertise or passion for cooking, this extra virgin olive oil will take your cooking to the next level.



16.9 FL OZ (500 ML)
This amazing Extra Virgin Olive Oil by Mr. Papou's is available in 250 ml, 500 ml, and 3 Liters.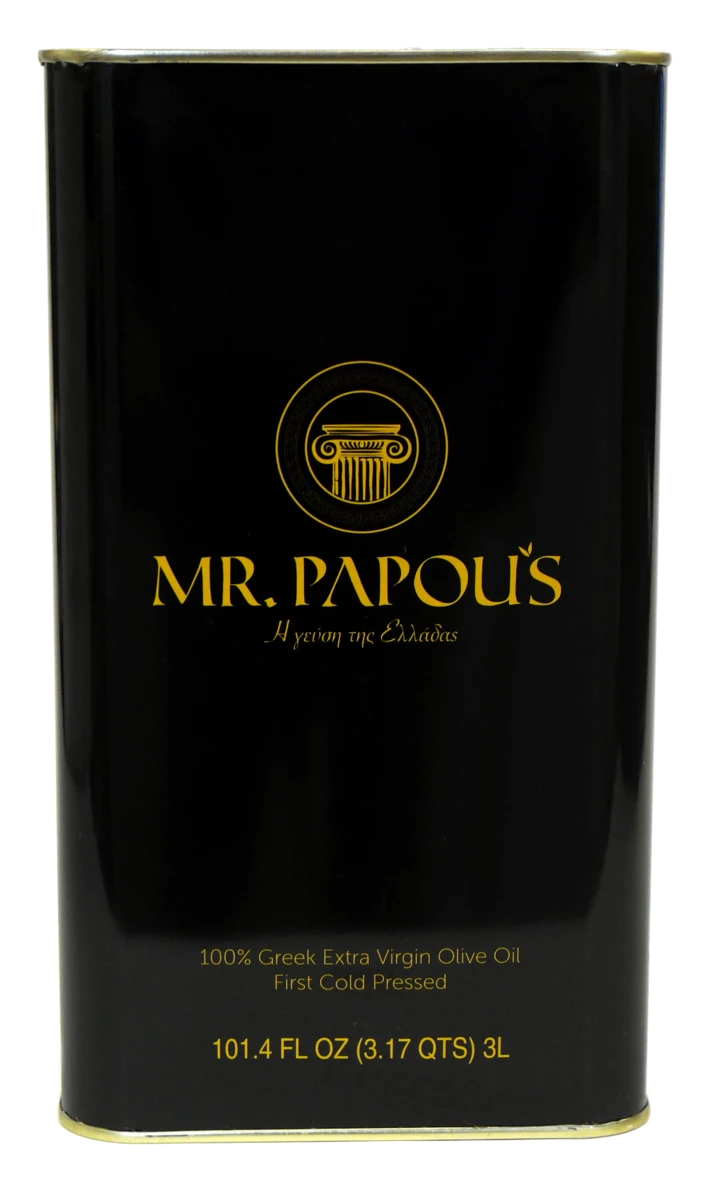 101.4 FL OZ (3 L)
"The United States operations of the company began only a handful of years ago when the three grandsons' realized the true value of the olive oil they were consuming every day. Friends, family, and eventually great chefs were fascinated by the complex flavors and overwhelming fruitiness of this great olive oil. This is when the grandsons decided to import the first shipment and start operations here in the United States. It didn't take long for word to spread from chef to chef about the quality. In only a few short years, the company had established restaurants, grocery stores, and distributors all over New England. Today, the product is offered across the nation and remains amongst the highest rated extra virgin olive oils in the world"- Mr. Papou

 
* In partnership with our friends at Mr. Papou * Photo courtesy of Mr. Papou
* These statements have not been evaluated by the Food and Drug Administration. These products are not intended to diagnose, treat, cure or prevent any disease.
* The information available on ewellnessmag.com, including text, graphics, and other materials is for informational purposes only. Reliance on any information in ewellnessmag.com is at the user's own risk. Sponsored product placement may appear in the article. The visitor of this website acknowledges that the information available on or through ewellnessmag.com is not and is not intended to be a substitute for professional medical advice. Copyright © 2021 Brawo Press, Inc. All rights reserved.
---