Article
Kick Off Picnic Season with This Healthy and Delicious Menu from The Mediterranean Diabetes Cookbook
Warm weather is here at last, and that means it's the return of picnic season! Picnicking is the perfect way to relax and socialize with your loved ones, says Amy Riolo. And when you fill your basket with delicious dishes from the Mediterranean region, you're not only in for a great tasting meal but a healthy one as well!
 "Most Mediterranean-inspired foods go hand in hand with picnics," says Riolo, author of the American Diabetes Association's The Mediterranean Diabetes Cookbook, 2nd Edition: A Flavorful, Heart-Healthy Approach to Cooking. "Dishes from this region of the world are made up of fresh, simple, and bold-flavored ingredients that fill you up without weighing you down in hot weather. And in addition to tasting great, these foods promote a healthy lifestyle too."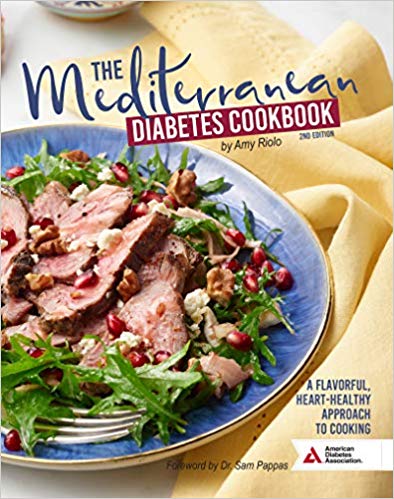 You may have heard that the Mediterranean diet has been named the best overall diet of 2019. It's been shown to prevent diabetes, heart attacks, strokes, certain cancers, and reduce inflammation. But you may not know that the Mediterranean-style eating pattern is more than a diet. It's part of a lifestyle that revolves heavily around social connections and lots of physical activity. People in the Mediterranean region prioritize strong relationships, and one of the main ways they foster these close ties with friends and family is by enjoying frequent communal meals, often outdoors.
"Eating together is part of the Mediterranean culture and promotes a sense of community and well-being for everyone involved," says Riolo. "It is even believed to contribute to remarkable longevity in the region. For example, residents in Sardinia are ten times more likely to live past 100 than people in the United States. And picnicking with your friends and family is a fun, low-key way to practice this healthy lifestyle habit."
Ready to enjoy a tasty and healthy alfresco meal? Read on for a tempting menu of perfect picnic foods from The Mediterranean Diabetes Cookbook, 2nd Edition.
Peach, Black Bean, and Citrus Salsa

 


Gluten-Free, Vegan
Serves: 10 | Serving Size: approximately 2/3 cup | Prep Time: 10 minutes, plus time to chill 
Cook Time: none

This extremely chunky salsa could also be considered a finely chopped salad. It makes a stunning accompaniment to grilled fish and chicken and is a nice alternative to ubiquitous tomato salsas when peaches are in season. Since this recipe can be made ahead of time, it's a great choice for entertaining.
2 cups cooked black beans 
2 peaches, chopped 
2 red bell peppers, finely chopped 
3 cloves garlic, minced 
1 jalapeño pepper, minced 
1/4 cup fresh lime juice 
2 Tbsp red wine vinegar 
1 tsp cumin 
1 tsp ground coriander 
1 Tbsp extra-virgin olive oil 
2 Tbsp chopped fresh cilantro
Combine all ingredients in a bowl, then let chill in the refrigerator for several hours to allow the flavors to blend. Serve.
Choices/Exchanges

 
½ Starch, 1 Nonstarchy Vegetable, ½ Fat
Calories 80 
Calories from Fat 20 
Total Fat 2.0 g 
Saturated Fat 0.3 g 
Trans Fat 0.0 g 
Cholesterol 0 mg 
Sodium 0 mg 
Potassium 270 mg 
Total Carbohydrate 14 g 
Dietary Fiber 4 g 
Sugars 5 g 
Protein 4 g 
Phosphorus 65 mg
Healthy Living Tradition

 
Use chickpeas instead of black beans if desired, or try adding leftover grilled chicken to this spicy salad. I also like to toss it into cold quinoa for a nutritious lunch on the go.
Roasted Beet, Tahini, and Greek Yogurt Dip

 


Gluten-Free, Vegetarian
Serves: 16 | Serving Size: 2 Tbsp | Prep Time: 5 minutes | Cook Time: none
Beautiful, fresh beets of any color take center stage in this unique vegetarian dish. To prepare raw beets, peel them, cut them into quarters, and boil or roast them until fork-tender. I always like to prepare a triple batch of beets at a time—some to use in this recipe, some for salads and others to eat by themselves, drizzled with a little bit of extra-virgin olive oil and sprinkled with a bit of fleur de sel on top.
1 cup cooked beets 
1/3 cup tahini* 
2 tsp extra-virgin olive oil 
1/2 tsp unrefined sea salt 
1/4 cup fat-free plain Greek yogurt
*Tahini can be found in the international aisle in most supermarkets, or near the peanut butter.
Place beets in a food processor. Add the tahini, olive oil, salt, and Greek yogurt to the food processor. Pulse the food processor on and off.
Add water, tablespoon by tablespoon, to get an extra-creamy consistency (you should need less than 1/4 cup in total). Scrape down the sides of the food processor, and purée for 1–2 additional minutes, or until extremely creamy. Taste and adjust seasoning if necessary.
If not serving immediately, store in a container with a lid in the refrigerator for up to a week. Otherwise, spoon onto a small, round dish. If desired, use the back of the spoon, create a smooth top on the dip and make dents in the top, filling the dents with olive oil.
Choices/Exchanges 


1 Fat
Calories 40 
Calories from Fat 30 
Total Fat 3.5 g 
Saturated Fat 0.5 g 
Trans Fat 0.0 g 
Cholesterol 0 mg 
Sodium 85 mg 
Potassium 55 mg 
Total Carbohydrate 2 g 
Dietary Fiber 1 g 
Sugars 1 g 
Protein 1 g 
Phosphorus 45 mg
Healthy Living Tradition

 
You can garnish this dip with paprika and serve with carrot and celery sticks and cucumber slices. Or try serving dips and purées as a "bed" for grilled chicken or seafood for additional flavor and nutrition.
Apple, Beet, and Carrot Slaw with Blood Orange Vinaigrette

 


Gluten-Free, Vegan
Serves: 4 | Serving Size: 1 cup | Prep Time: 10 minutes | Cook Time: none
I "discovered" this delicious slaw while volunteering at a Washington, D.C., elementary school where the children stated that their favorite food was the "ABC salad," which they made from ingredients in the school garden! It was so inspiring to see the children devour the vegetables with such pleasure that I became a fan, too! I even began including it in my "Culinary Medicine Made Easy" cooking classes and on as many menus as possible.
1 medium red beet, peeled and shredded 
2 medium carrots, peeled and shredded 
1 large Granny Smith apple, peeled and shredded 
1/4 cup chopped walnut halves 
3 Tbsp chopped fresh flatleaf parsley, or dill, or combination 
Juice of 1 blood orange 
1/4 tsp unrefined sea salt 
Freshly ground black pepper 
2 Tbsp extra-virgin olive oil
Place shredded beets, carrots, and apple in mixing bowl and mix to combine. Add walnuts and green herb(s) on top of mixture and set bowl aside.
In a small bowl, whisk together blood orange juice and salt until salt is dissolved. Add 3–4 grinds of pepper, then whisk in oil. Pour dressing over salad and mix until well combined and evenly dressed. Serve salad within 1 hour of combining with herbs and dressing.
Choices/Exchanges

 
½ Fruit, 1 Nonstarchy Vegetable, 2 ½ Fat
Calories 170 
Calories from Fat 110 
Total Fat 12.0 g 
Saturated Fat 1.4 g 
Trans Fat 0.0 g 
Cholesterol 0 mg 
Sodium 170 mg 
Potassium 300 mg 
Total Carbohydrate 15 g 
Dietary Fiber 3 g 
Sugars 11 g 
Protein 2 g 
Phosphorus 55 mg
Healthy Living Tradition

 
Using a food processor makes shredding the vegetables for the recipe much easier. To change things up, try using different-colored beets and swapping out the apples for other fruit in this recipe.
Spinach-Stuffed Bread Triangles 
(Fatayer bil Sabanikh) 


Vegan
Serves: 12 | Serving Size: 2 triangles | Prep Time: 15 minutes, plus 1-hour rising time | 
Cook Time: 20 minutes

Fatayer 

is tender bread triangles stuffed with spinach, cheese, or meat. They originated in Lebanon and can be found in bakeries, street stalls, and home kitchens. They are a delightful snack to enjoy anytime but are also served as special appetizers for holiday occasions. I always bake a large batch of these delicious little bread so that I can freeze them. Whenever I need to, I can defrost them and reheat them in the oven.
1 Tbsp active dry yeast 
1/4 cup plus 1/3 cup lukewarm water, divided 
2 cups unbleached, all-purpose flour, or barley flour, plus extra for work surface 
2 Tbsp plus 2 tsp extra-virgin olive oil, divided
3/4 tsp unrefined sea salt, divided 
1 cup frozen chopped spinach, thawed and drained well 
1 medium onion, grated and drained well 
Juice of 1 lemon 
2 Tbsp fresh mint, chopped
Combine yeast with 1/4 cup lukewarm water in a large mixing bowl. Add flour, 1 tsp olive oil, and 1/2 tsp salt. Mix well until blended. Add remaining 1/3 cup water, a little at a time, until dough is smooth.
Turn dough out onto a lightly floured work surface. Knead dough until it is smooth and elastic (5–10 minutes). Oil another large bowl with 1 tsp olive oil. Place dough in bowl, and turn to coat. Cover with a towel, and let rise in a warm place for 1 hour or until doubled in size.
Preheat oven to 350°F. Line two cookie sheets with parchment paper or grease with oil. Take the dough out of the bowl, and place on a lightly floured work surface. Lightly dust the top of the dough and a rolling pin with flour. Roll out the dough to about 1/8-inch thickness. Cut out 24 (3-inch) circles from the dough (the floured rim of glass works fine).
Make the filling by combining spinach, onion, lemon juice, mint, remaining 2 Tbsp olive oil, and remaining 1/4 tsp salt in a medium bowl. Stir well to incorporate.
Fill a small bowl with water and keep it next to the dough. Fill each dough circle with 1 scant tsp of filling. Dip your fingers into the water, and wet the outer edges of the dough circles. Fold the bottom half of the circle up to the middle. Pinch in the top two sides of the circle to form a triangle. If the dough does not seal easily, use more water to coat the edges. Repeat with remaining dough circles.
Place 12 triangles on each cookie sheet, leaving space between them. Bake for 20–30 minutes until golden brown, making sure not to open the oven during the first 10 minutes of baking. Serve warm. (Tip: If you're making these in advance, let cool, place in an airtight container, and freeze for up to a month.)
Choices/Exchanges

 
1 Starch, ½ Fat
Calories 120 
Calories from Fat 30 
Total Fat 3.5 g 
Saturated Fat 0.5 g 
Trans Fat 0.0 g 
Cholesterol 0 mg 
Sodium 160 mg 
Potassium 180 mg 
Total Carbohydrate 19 g 
Dietary Fiber 4 g 
Sugars 1 g 
Protein 4 g 
Phosphorus 100 mg
Nectarines with Mint Sugar

 


Gluten-Free, Vegan
Serves: 4 | Serving Size: 1 Nectarine (8 Slices) | Prep Time: 15 minutes, plus at least 2 hours chilling time | Cook time: none
At the first sight of fresh, plump nectarines at farmers markets and roadside stands, I get the urge to make this recipe. The flavor of mint complements the color and flavor of nectarines and elevates a few humble ingredients into an extraordinary dessert. Originally from China, nectarines are grown on peach trees, yet have smooth skin and a slightly spicier flavor. Some peach trees produce both peaches and nectarines. In this recipe, the mint must be dried well, either with a salad spinner or kitchen towels, to prevent it from discoloring.
4 large, ripe (but not mushy) nectarines 
1 bunch fresh mint, washed and dried well 
2 Tbsp natural sugar
Slice nectarines into eighths, remove pits and place slices in a large bowl.
Reserve 4 whole mint sprigs, and place the rest of the mint and all of the sugar in a food processor. Pulse on and off until a paste is formed. Stir nectarines into paste, mixing well to coat. 
Cover. Allow flavors to blend at room temperature for at least 2 hours or overnight in the refrigerator.
To serve, place 8 nectarine slices onto a plate in the shape of a sun or flower, and place a mint sprig in the middle for garnish.
Choices/Exchanges

 
1 Fruit, ½ Carbohydrate
Calories 100 
Calories from Fat 5 
Total Fat 0.5 g 
Saturated Fat 0.0 g 
Trans Fat 0.0 g 
Cholesterol 0 mg 
Sodium 0 mg 
Potassium 330 mg 
Total Carbohydrate 23 g 
Dietary Fiber 3 g 
Sugars 19 g 
Protein 2 g 
Phosphorus 45 mg
          "Don't squander a beautiful afternoon or evening by eating indoors," concludes Riolo. "In no time at all, you can turn mealtime into a fun and memorable experience that enhances your overall well-being. Grab a blanket and some friends or family members, and take your meal to the local park, lakefront, or even your own backyard for an outdoor picnic of healing foods. Breathe in the fresh air, savor every bite, and make a lasting memory for you and your loved ones."
A graduate of Cornell University, Amy is considered a culinary thought leader who enjoys changing the way we think about food and the people who create it. Amy is a food historian, culinary anthropologist, and Mediterranean Diet advocate who makes frequent appearances on numerous television and radio programs both in the United States and abroad, including FOX TV, ABC, CBS, NBC, the Hallmark Channel, Nile TV, the Travel Channel, Martha Stewart Living Radio, and Abu Dhabi Television.
For more information about Amy, please visit www.amyriolo.com 
---