Article
Activated Charcoal for Healthier Living
Activated Charcoal is a recent wonder in the health world for many reasons. It's not charcoal as we know it… activated charcoal is special because it can attract many toxins that can be harmful to well being.

How does it do this?! 
Activated charcoal has a negative electric charge which means it is super-powerful at attracting anything with a positive charge to it! Toxins, dirt, dust, and even the plaque build up on your teeth can have a positive electric charge. And this is where activated charcoal can work its wonder by trapping or isolating all the not so good stuff. You will notice that many kinds of toothpaste and natural skincare products nowadays will include the addition of activated charcoal as an ingredient...because it works! It has been used for medicinal purposes to treat cases of swallowed or ingested chemicals or toxins. The high porosity of Activated Charcoal means that it can absorb pollutants and toxins safely and effectively. 
Activated Charcoal- the health benefits
The benefits of activated charcoal are far-reaching. You can include natural products that contain activated charcoal to help improve digestion and gut health, improve the brightness and whiteness of your teeth, and when used as a topical treatment or face mask it can help improve your complexion. 
But health isn't just about what we see. We cannot see the toxins or pollutants that are drifting around through the air that we breathe. And sometimes that can be a scary thought. Especially in the modern age when there are so many environmental factors that our body and being need to contend with. 
For instance, more of us suffer from allergies and chronic conditions that affect our breathing, and these can be exacerbated by many over the counter remedies we buy in good faith. When we want to freshen up the air in the room we use an aerosol spray or candle but this just hides the issue for a while! 
"The best way we can work toward better health is by doing our utmost to heal the root cause of any issue. And the way, in which we do this is by utilizing what nature has provided us with- and activated charcoal is one of those wonders. In doing so, we stay future-focused on better health. Products4Future is resolute in finding solutions for you so you can feel confident in what's available naturally to help your health...and the environment.!" said Products4Future team
Make a difference
Products4Future is a small business that is trying to make a difference by selling products that are high-quality, attractively designed, durable and that function well. They do this so that you can live fully in the moment! 
"We aim to inspire you to help us naturally make a brighter future. So we find the inspiration in you and everyday life which empowers us with various challenges. Our community is built on passionate and open-hearted people who are connected to themselves, nature and friends. We saw that many were using bamboo charcoal to make a healthier lifestyle and also contribute to nature." - Products4Future
After extensive observation of their surroundings, Products4Future noticed that the air in living areas, cars, etc. is highly contaminated by toxins, odors, and dust. To make it even worse, many of us use room-deodorizing sprays to try and diminish them. But the problem of using these sprays is that they don't get rid of smells!
Another important point that directly affects health is that aerosol sprays release lung-damaging and volatile organic compounds into the air. 
Products4Future set to work and found away, and a product (as their company name suggests!) to solve this issue. The answer was by using air purifying bags filled with activated bamboo charcoal. 
Activated Charcoal Bamboo Bags offer an effective, natural, and simple way to eliminate malodorous scents. You don't need any electricity or specialized knowledge to use them, and they're small and discreet! 
Products4future didn't stop there though! They went a step further with the bag design and came up with a pyramid shape of bamboo bags. They offer great aesthetic design to living areas in comparison with traditional shapes that other sellers may offer.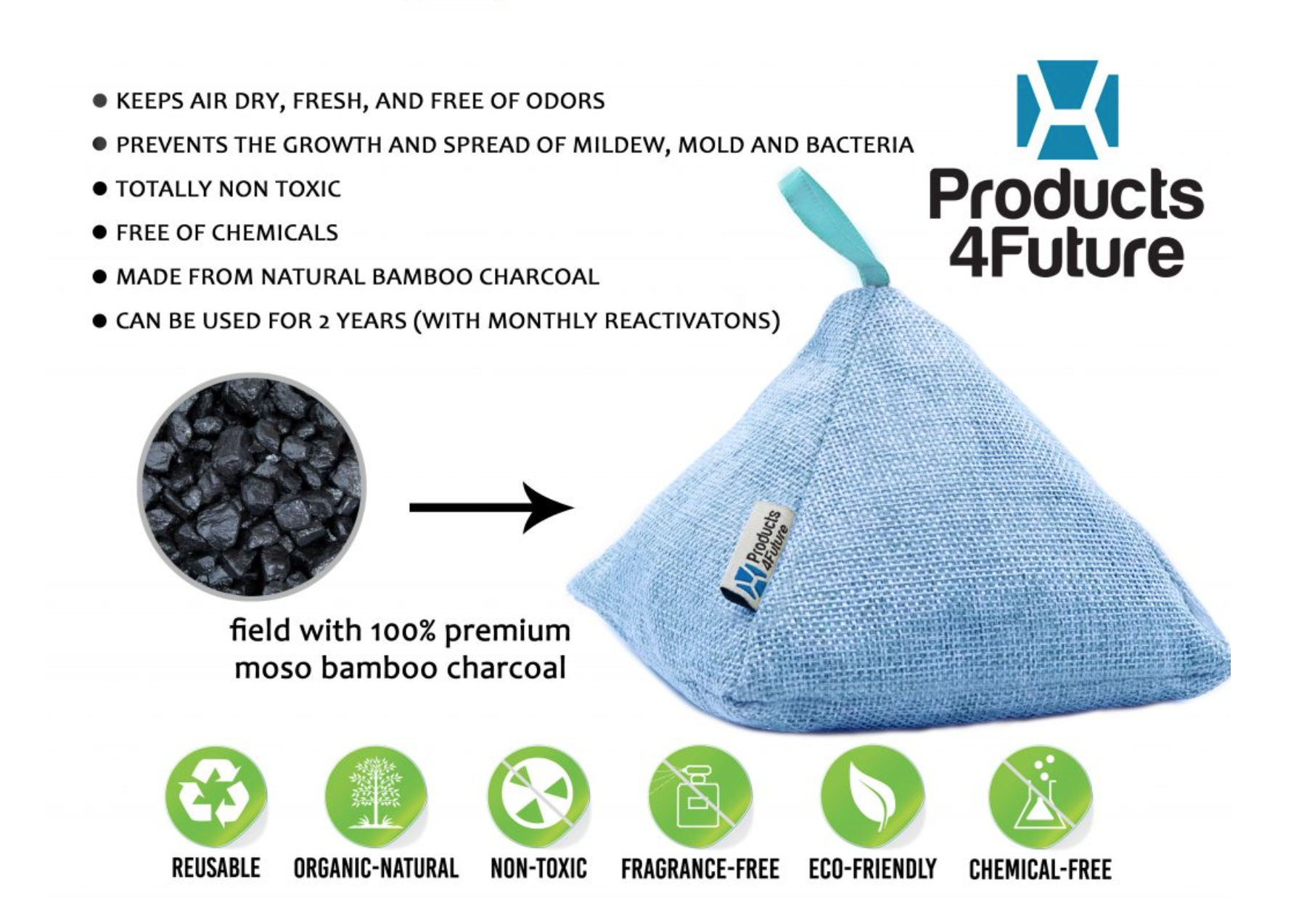 Why we need Activated Charcoal
How can bamboo charcoal freshen the air? Bamboo Charcoal is highly porous. Inside bamboo charcoal, there are numerous tiny holes. The bamboo charcoal isn't like normal charcoal; it's actually 10 times more porous than regular charcoal! 
Such small openings can easily trap many of the toxins and the odors that can affect health and trigger allergies or breathing conditions such as Asthma. It's the ability to trap and filter toxins, allergens, and pollutants that make activated bamboo charcoal truly remarkable. With the use of the bamboo charcoal bags, over time, the accumulation of particles will cause the air purifying bag to become heavier. 
"People often ask us why you use bamboo to make activated charcoal. And the reason is that material such as bamboo has enough carbon to make it a viable candidate for activated charcoal. But also bamboo is one of the best environmental sources. In comparison to tress, bamboo regrows at a much faster rate, making it the best environmental and sustainable choice. It's also more porous, which means less bamboo is required to achieve the same result!"- Products4Future


The best part of bamboo charcoal is that it will not produce fake smells and odors to mask dirt, dust, and nasties that are present in your home and surroundings. 
There are no bad after- smells with bamboo charcoal (which always tends to accompany regular household products like sprays and scented candles!) 

The bamboo charcoal air purifier bag will simply trap all the bad bacteria and the odors. And by that, they will be removed from your living area rather than being temporarily masked. 

The bamboo charcoal purifier bags will also help in reducing the symptoms of allergies and asthma that mostly happen because you inhale the air full of germs, dust, dirt, and toxins. 
Products4Future bamboo bags are middle size bags and because of that, they can be used in various areas. 200gram bags can cover up to 100 square feet of living space. They are ideal for use in a kitchen, bedroom, basement, car, closet, fridge, freezers, etc. If you have a living area more than 100 square feet simply use 2 or more bags! 
Usually, it only takes a few days to notice a difference in the way the air smells… and consequentially, how you feel after breathing cleaner air.  

How to use the Activated Bamboo Charcoal Bags! 
Before using an air-purifying bag for the first time, the bag should be placed in direct sunlight for about an hour as ultraviolet light will help to recharge the bamboo bag. They only require UV rays to recharge! 
Every month, you'll need to recharge the bag by putting in the sunlight the same way you did to initially activate the charcoal.
The average lifespan of activated bamboo charcoal is two years. After two years they make a wonderful addition to your garden. Simply sprinkle the bamboo charcoal into the soil and it will help plants absorb moisture and nutrients. This completes its lifecycle as a product that comes from the earth and ultimately gives back to the earth! 
*

 In partnership with our friends at 

Products4Future

 

*

Photos courtesy of

Products4Future



* The information available on ewellnessmag.com, including text, graphics, and other materials are for informational purposes only. Reliance on any information in ewellnessmag.com is at the user's own risk. Sponsored product placement may appear in the article. The visitor of this website acknowledges that the information available on or through ewellnessmag.com is not and is not intended to be a substitute for professional medical advice. Copyright © 2019 Brawo Press, Inc. All rights reserved.
---