Article
The dirty secret skincare companies don't want you to know
Did you know that many chemical ingredients included in your skincare products have not been thoroughly tested for safety? Harmful chemicals used in synthetic skin care products can wreak havoc on your health. Carcinogens, neurotoxins, and endocrine disruptors are all commonly found in widely used skincare products. While some governments around the world have started banning harmful ingredients, the United States is far less restrictive. There are hundreds and potentially thousands of ingredients in skincare products damaging your health.

It can start unnoticed, yet just because a product is working for you doesn't mean it's good for your health. Allergic reactions are a mild yet noticeable symptom you are slowly being poisoned by your skin care products. Even with no symptoms, harmful ingredients can gradually poison you for years! Harmful ingredients can cause neurotoxicity and even organ toxicity. Yet most people do not know this and are unaware of the consequences the products they're using can cause.  

Thankfully, companies like J's Natural Beauty have been developing healthy alternatives with all-natural ingredients to ensure the safety and wellbeing of their customers. Now that you've been informed about this, thankfully you can take action! Using J's Natural Beauty products can have a dramatic impact on your health and your life. Giving customers confidence, that the products they are using are safe not only for themselves and others but also for the environment. 
Here are three of
J's Natural Beauty favorite products: 
God's Gift Day and Night Collagen Moisturizer


Few skincare products are healthy. Many skin products contain harmful chemicals, synthetics, or toxins that often disrupt our hormones in the worst way. Exposing yourself to harmful products while sleeping can torment your body. This is why J's Natural Beauty only uses the best all-natural ingredients in God's Gift Day and Night Collagen Moisturizer. Collagen is the main structural component of our connective tissue and the most abundant protein. Get younger, plumper, brighter, and more beautiful-looking skin without compromising your health!
•    Visibly awakens and renews cells instantly!
•    Helps eliminate wrinkles and fine lines.
•    Does away with hot flashes.
•    Is useful for uneven skin tones.
•    Is SPF 30 which helps protect your skin from damaging free radicals.
•    Penetrates down 10 layers deep!

The airless pump bottle is a great way to keep bacteria out and preserve all the vitamins for maximum benefits. It helps eliminate wrinkles and fine lines while protecting the skin against UVB and UVA rays. Get younger, plumper, brighter, and more beautiful-looking skin without the harmful toxins. J's Natural Beauty uses some of the finest all-natural ingredients God has put on this earth! They keep it real because that is the only way they know how to be. Here are a few of their hand-picked all-natural ingredients:
BORAGE OIL - Rich in gamma-linolenic acid, (an omega 6 fatty acid) it's especially suited to repair and nurture damaged skin. It has incredible hydrating benefits for your skin and is perfect for sensitive skin issues. Your skin easily dehydrates when it's unable to produce enough protective oils; resulting in inflammatory flare-ups. Borage oil is a light and easily absorbed oil, providing your skin with the essential fatty acids it's lacking.

ROSEHIP OIL - Contains Vitamin A and C or retinol, which encourages skin cell turnover. It also helps reduce the appearance of wrinkles and scars and helps to repair damaged skin and acne. Omega 3 and 6 are essential fatty acids that assist with rejuvenating, regenerating, and healing the skin! Rosehip oil is light and non-greasy.

ALOE VERA - It moisturizes dry skin with cooling and soothing properties. Aloe stimulates the production of collagen and reduces the appearance of scarring. It reduces puffiness and dark circles and helps the production of new skin cells!

MACADAMIA SEED OIL - Extracted from the meat of a macadamia nut, macadamia oil is rich in powerful antioxidants, essential fatty acids, vitamins, and other nutrients, making it a superfood for your skin!

MYRRH - Esther and many other biblical babes living in harsh dry climates used myrrh to soothe chapped or cracked skin. Due to its antioxidant properties, it's great for anti-aging and skin rejuvenation!
Not only is it a fantastic moisturizer for targeting dry skin conditions, but it's the easiest way to nab that healthy, dewy skin you've wanted for years. It's also known to have anti-inflammatory properties and can help improve the appearance of fine lines and wrinkles on mature skin, all while being suitable for pretty much all other skin types (yep – sensitive skin and oily skin included!) Other moisturizers, use man-made harmful chemicals and toxic products which harm your skin. The best ingredients are all-natural, helping you achieve the most angelic skin possible. Buy God's Gift Day and Night Collagen Moisturizer for the most heavenly skin possible!

FOAMING FACE WASH FOR ACNE-PRONE SKIN


Acne-prone skin prevents many people from living their best life. You may be using face wash products that seem satisfactory, but are you seeing the most optimal results possible? Many chemicals and synthetic products people use on their skin contribute to acne-prone skin. Would you like to get rid of acne-prone skin forever and show the world who you really are?
Foaming Face Wash for Acne-Prone Skin is the solution for you to show your best face to the world! J's Natural Beauty hand-picks every ingredient to provide you with maximum benefits! Here are just a few of those all-natural ingredients:
SUNFLOWER SEED OIL– Contains vitamins and fatty acids that act as antioxidants to regenerate new skin cells and help your skin rid itself of acne-causing bacteria. In addition, its high content of Linoleic acid makes it a great choice to prevent breakouts.
TEA TREE– Contains anti-inflammatory and antimicrobial properties. Calms redness, swelling, and inflammation.
NEEM OIL– Contains anti-inflammatory and antibacterial properties. Rich in fatty acids, such as palmitic, linoleic, and oleic acids, helps support healthy skin.
 
Thousands of beauty scholars, dermatologists, and chemists use the synthetic form of J's hand-picked ingredients without seeing the desired results. Those who study natural, organic, and authentic skin and health care have seen miraculous results! You can continue using other face wash products, which means you may never put forward the greatest version of yourself possible. Or you can treat your skin to the best ingredients available, showing the world the optimal version of what nature wants you to be! Purchase J's Natural Beauty Foaming Face Wash for Acne-Prone skin now.   
 
FOAMING VITAMIN C FACIAL CLEANSER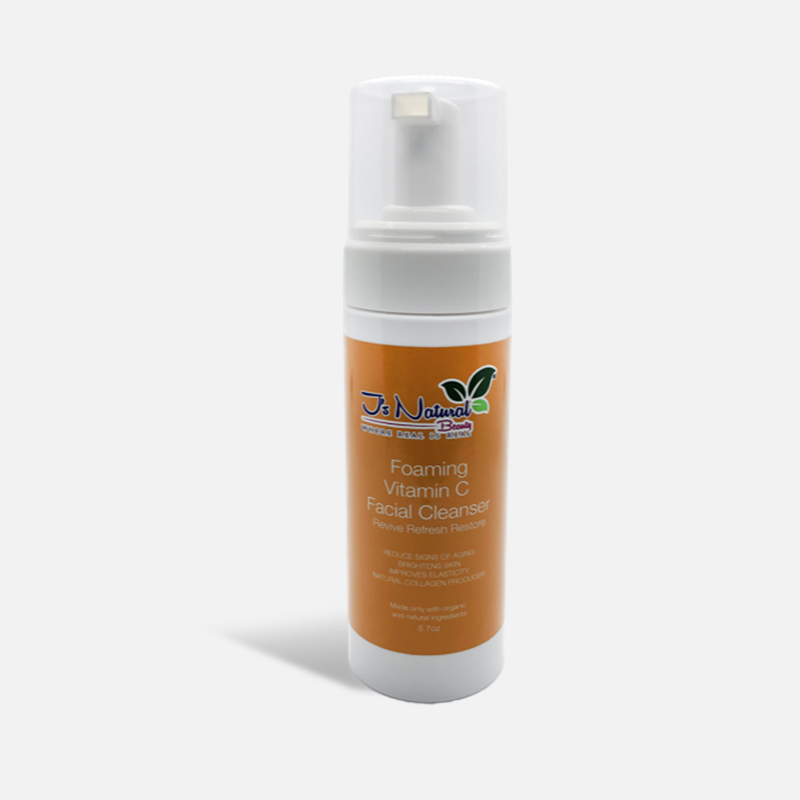 Is your facial cleanser providing you with all the essential vitamins needed for the healthiest skin possible? Many facial cleansers miss out on key ingredients such as Vitamin C, preventing you from having your best face possible. Get a refreshing boost of Vitamin C with grapefruit while safely cleansing your face. You'll get a clean face with no chemicals, toxins, or synthetics! J's Natural Beauty hand-picks every ingredient in their products to provide you with maximum benefits! Here are just a few of those all-natural ingredients:
GRAPEFRUIT– High in antioxidants that fight free radicals causing wrinkles, discoloration, and dull complexion. Grapefruit's natural acids exfoliate dead skin, keeping your pores clean and your complexion bright! It also contains Lycopene, which reduces redness and inflammation, helping to even out your skin tone for a smoother complexion.
ALOE VERA – It's cooling and soothing properties moisturize dry or damaged skin. Aloe stimulates the production of collagen, reducing the appearance of scarring. It also reduces puffiness and dark circles around the eyes and helps with the production of new skin cells.
ROSEHIP– High in vitamin A (or retinol) and vitamin C, rosehip encourages skin cell turnover, reducing signs of aging. Vitamin C also aids in cell regeneration, enhancing your complexion while boosting overall radiance.
Unfortunately, many professional beauty consultants, dermatologists, and chemists don't even know what high-quality ingredients are. The owner of J's Natural Beauty oversees the ingredients being chosen for their products which is unique in the skincare industry. Thankfully J's Natural Beauty is there to provide you with the best all-natural and safest ingredients on the planet! Choose Foaming Vitamin C Facial Cleanser now to ensure you're getting the highest quality ingredients and all the necessary vitamins to maintain your healthiest face.
Skincare products that protect you and the environment
Finding a company that seeks to preserve life and respects our planet at the same time can be challenging. J's Natural Beauty loves its customers and the planet. Their products work and they are safe for you, others, and the environment. All the products and packaging used at J's Natural Beauty are eco-friendly. Their plant-based skincare products are antioxidant-rich and strengthen your body's cells by combatting free radicals (oxidants). You can also support cell repair and help decrease the signs of aging by using J's Natural Beauty skincare products. Try J's Natural Beauty skincare products today and you'll know you've made the safest and best choice possible.

* In partnership with our friends at J's Natural Beauty* Photo courtesy of J's Natural Beauty
* These statements have not been evaluated by the Food and Drug Administration. These products are not intended to diagnose, treat, cure or prevent any disease.
* The information available on ewellnessmag.com, including text, graphics, and other materials is for informational purposes only. Reliance on any information in ewellnessmag.com is at the user's own risk. Sponsored product placement may appear in the article. The visitor of this website acknowledges that the information available on or through ewellnessmag.com is not and is not intended to be a substitute for professional medical advice. Copyright © 2022 Brawo Press, Inc. All rights reserved.
---