Article
The Best Kept Beauty Secrets
There are some essentials to great looking skin. Your skin needs to be taken care of, and the best way to do this is through a holistic approach that may involve a few different methods that work well for the skin.
Of course, we know that water, good nutrition, fresh air, relaxation, sleep, and exercise are all factors in loving care for your skin. But it doesn't need to end there! There are treatments and remedies that modern times have enabled us to be able to do at home.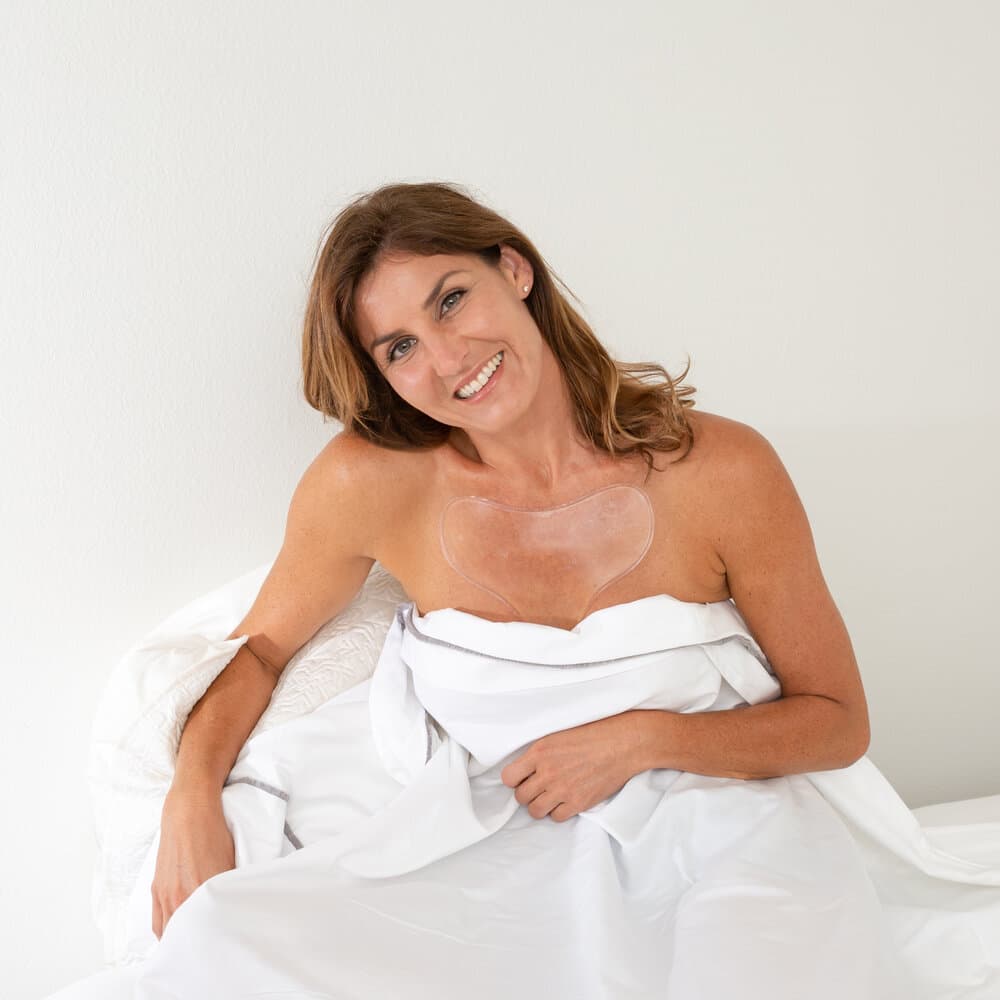 There are kits to do our pedicures, develop our natural face masks, and tools that enable us to massage and improve the circulation in our skin. The list goes on and on. So why not explore more?
The Secrets of Great Skin
Many came before us that we can learn from- both regarding health and beauty. Some of the best beauty remedies and treatments have found their origins through ancient, old times.
Nowadays, there is little need for chemical processes that can potentially harm the body further. There is so much still to be discovered from old times, and many beauty secrets that were once forgotten or by-passed in favor of chemically driven directives are making a well-deserved come-back!
Have you heard of "cupping"? Here we find out more about this ancient beauty secret!
Firstly, what is cupping?
Cupping therapy is one of the oldest traditional therapies and has been used in a variety of conditions by Egyptians, Chinese and Greeks since ancient times. The oldest medical book, Eber's Papyrus*, written in 1550 B.C., had described cupping therapy. Currently, cupping is most popular across China.
Cupping is a form of alternative medicine whereby a local suction is made on the skin. Cupping therapy is done by creating a negative pressure inside cups either by suction or fire, which are applied to the affected skin area. There are various types of cupping therapy, which includes dry cupping, flash cupping, moving or massage cupping, wet cupping, and medicinal cupping. The cups may be made of Glass, Bamboo, Earthenware or Silicone.




Reasons for Cupping
People use cupping for many reasons. Cupping can help with reducing pain, inflammation, increasing blood flow and circulation, promoting relaxation and well-being, and it can also be used as a type of deep-tissue massage. It may also assist in reducing cellulite, easing a migraine, and can be beneficial to loosen stiff or sore muscles.
Cupping works on a vacuum principle, so it sucks the skin in! Any temporary marks on the skin are where toxins have gathered and disappeared shortly after the cupping process. The cupping process is popular among celebrities and is gathering momentum across the board!
A modern version of cupping uses silicone cups to create the vacuum inside the cup, which can be moved from place to place on your skin for a massage-like effect. Cupping can be done both on the face and body, and it can be both dry or wet.
Face Cupping- Here's why your skin needs it!
Face cupping provides amazing anti-aging effects, helping to reduce fine lines and wrinkles. The facial cupping process gives a fresh boost of oxygen-rich blood to your skin. This assists in improving the skins collagen and elastin production – all the things that keep your skin looking its best!
It's great for improving circulation and boosting the flow of nutrients to the skin. Facial cupping provides a lift to your skin and also helps to reduce inflammation and puffiness.
It is natural. There is no need for laser treatments or chemical peels to keep your skin looking younger and healthier. Facial cupping is a safe, tried and tested method for skincare and radiant looking skin!
BeautySSentials have created a face cupping set that is the #1 go-to product for skincare enthusiasts.
BeautySSentials offer home spa beauty products that will help you look your best. They help you to maximize your results from simple skincare routines that you can easily maintain at home.
They combine old-world beauty secrets and time-tested solutions for skincare, using chemical-free natural products to defy aging and leave you feeling relaxed and beautiful.
They create products that promote health, wellness and beauty and they pride themselves on delivering glowing youthful skin, a toned face & body.
Angel Face Cupping Set
The Angel Face Cupping set can deliver firmer-looking skin in as little as two weeks. Hence the name "Angel face"! These silicone therapy cups are used because they are softer and more flexible which makes them easier to glide across the skin.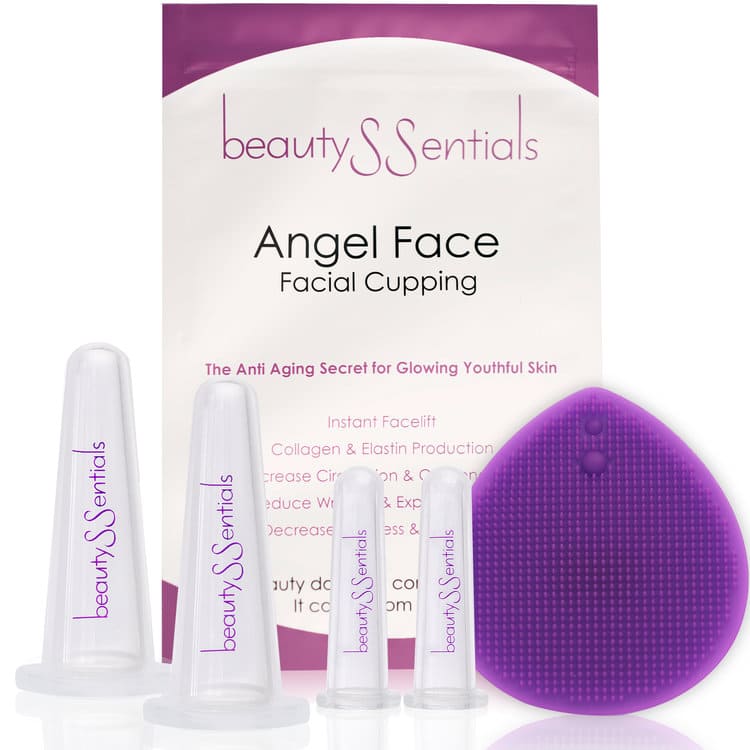 How to use BeautySSentials Angel Face Cupping
After washing your face and exfoliating with your beautySSentials silicone facial massage brush,

BeautySSentials

recommend applying your favorite oil or moisturizer before using the suction cups on your face. This ensures lubrication. This helps these high-quality FDA-approved silicone cups glide easily over your face to reduce inflammation and wrinkles. BeautySSentials facial cupping set should ideally be used every other day for the best results!
The Angel Face Cupping set is simple, comfortable and safe to use. And for the rest of your body, BeautySSentials have The Venus Body Cupping Set and the Chest Wrinkle Pads for the chest area, also known as the "décolleté" area.
BeautySSentials Chest Wrinkle Pad
Side sleeping and sun exposure are common causes of wrinkles in the décolleté area. The beautySSentials Chest wrinkle pads are the most efficient way to get rid of chest wrinkles - regardless of how you sleep!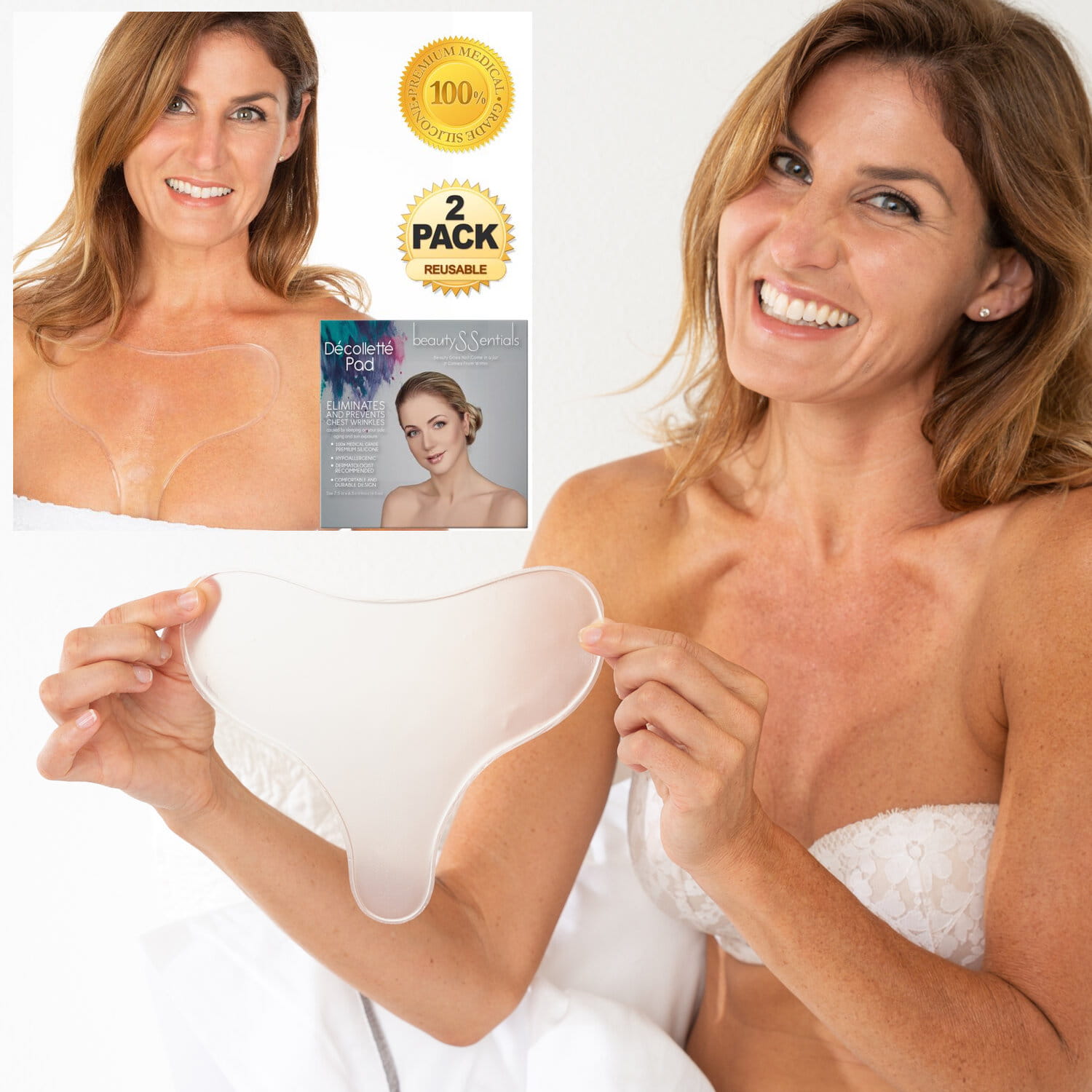 Here's why these chest wrinkle pads are so great at giving you a smoother décolleté area.
Unlike creams and lotions that end up on your clothes and sheets, beautySSentials chest pads provide all night hydration to naturally boost collagen

The chest pads stay comfortably in place in any sleeping position

The chest pads are safe to use. They are FDA Regulation 21 Tested and made with premium 100% medical grade silicone. They are a re-usable and great value!
 
BeautySSentials recommend that you use the chest pad for at least one hour through the day, and for the best results, leave on overnight. It has never been so simple to reduce chest wrinkles and wake up to smoother, happier looking skin!



BeautySSentials are on a mission to help you feel & look your best every day!
"We believe beauty does not come in a jar, it comes from within. The more love and gratitude you feel for your skin, the more your skin will glow with a healthy radiance. And we would love it if you join us in this belief! We care because we want health, wellness, and beauty for all. "- BeautySsentials
*Source: www.wrf.org
 "The Ebers Papyrus is the longest of all the known papyri and the most important, considering the physiological and medical knowledge it reveals. It is complete in 108 pages and bears the date of the 9th year of the reign of Amenophis I (1550 B.C.)"





* In partnership with our friends at beautySSentials  *Photos curtesy of beautySSentials



* The information available on ewellnessmag.com, including text, graphics, and other materials are for informational purposes only. Reliance on any information in ewellnessmag.com is at the user's own risk. Sponsored product placement may appear in the article. The visitor of this website acknowledges that the information available on or through ewellnessmag.com is not and is not intended to be a substitute for professional medical advice. Copyright © 2019 Brawo Press, Inc. All rights reserved.
---