Article
Springtime Pick-Me-Ups
Winter has been a gloomy time for many of us. It's been darker and colder, and seemed to last longer! However, it's not all doom and gloom - the fresh signs of spring are starting to become apparent- and it is a welcome relief! 
With the right mind-set, passion for change, and a touch of inspiration we can move forward confidently into spring and happier times ahead. 
Spring signifies the beginning of all things new, it is when nature naturally seems to spring back to life after winter. This is at least one reason why it is a great month to set some new goals and make fresh changes for the months to follow. 
After being cocooned for much of winter (where you may have eaten or drunk too much!) your body may be calling out for some much-needed TLC! If you have been feeling low on energy, sluggish, or just off balance- you can ring in some changes to help you move forward and feel better, both on the inside and outside. 
Whether you are looking to shift a few excess pounds or just give your body an overhaul from unhealthy behaviors, Spring season is as good a place to start as any! 
Mood Lifters! 
Here are some tips to inspire you for the arrival of spring: little pick-me-ups with potentially big results down the line! 
Prioritize some self-care time! Set aside a time each day that you can devote to yourself. You could take a little nap, sit down with your favorite beverage and read a few pages of a book, or watch a much-loved TV program or movie. It's great to choose something healthy for your "me" time but the main objective is to prioritize yourself! 

Connect with others. As much as we need our down-time, we are also social creatures that require interaction and contact with others. OK, it's not an easy thing to do presently due to the continued focus on social distancing, but you can make use of several applications and social media that allows you to communicate with your friends and family, or other social groups. 

Online fitness. The fitness world has had to adapt quite sharply to the pandemic and transfer its exercise instruction to online platforms. Make use of it! OK, you may not be able to hit the gym but you can still get a great little workout going home. Exercise is one of the best pick-me-ups and mood lifters, it can also help you to destress and get your body back into shape after holiday indulgences! Listening to music while you exercise can help you stay motivated and work-out for longer…so choose your playlist and go! 

Take a walk! Numerous studies have linked walking to many health benefits, and the benefits aren't just physical! Walking can provide a boost to your mental state and self-esteem, help to ease anxiety and stress, heighten your focus, elevate your mood and inspire your creative side. A busy, hectic mind can become overwhelmed with problems, a calm one has the freedom to search for solutions through new perspectives. 
Hopefully, these little tips can prove helpful for you! The main takeaway is that time for you is the best pick-me-up and when you choose healthy things to do with your self-care time, the benefits are even more substantial to your health and well-being. 
RedEspresso pride itself on helping people to relax, unwind and feel better with their energy-boosting beverage creations! 
In 2005,  red espresso® created the world's first Rooibos tea espresso as a naturally caffeine-free alternative to coffee for people who were unable to drink caffeine or looking to reduce their caffeine intake. The Original red espresso® became such a huge success that they continued to innovate, creating a full range of healthy alternatives to coffee. Today, they provide healthy beverage solutions that taste great and are good for your body and mind! 
In the process, they won six international awards for pioneering healthy café culture and inadvertently attracted many consumers who had no health concerns but who couldn't get enough of red espresso®s delicious flavor! 
 "Since then we have created healthier versions of many of the world's favorite drinks – from chai and matcha to iced tea – through our passion for simple ingredients and honest flavors. Whether you love the refreshing taste of Rooibos, the functional health benefits of superfoods, or the heart-warming goodness of chai, there's a red espresso® flavor to suit your lifestyle!" -  red espresso®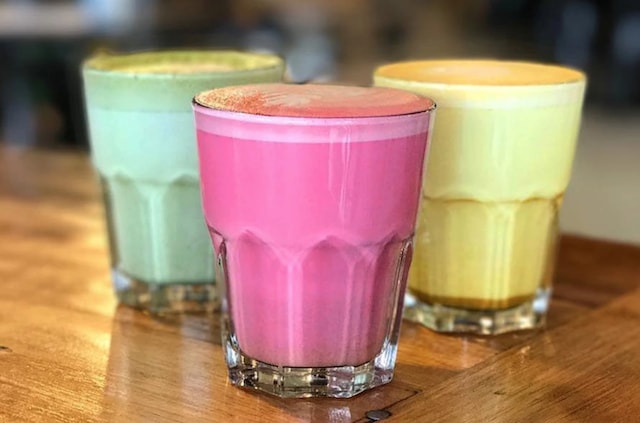 Here are three of red espresso®'s healthy and energy-boosting pick-me-ups! 
A "Superfood" Latte made from Beetroot, ginger, and a hint of organic coconut blossom sugar
red espresso® has a full range of Superfood Lattes that include Turmeric, Green Matcha, Red Matcha, and their best-selling flavor - Beetroot! This caffeine-free latte is also known as a Crimson Latte. The flavor of Beetroot Latte exceeds all expectations (even for people who are not necessarily huge fans of beets), while the drink also offers incredible health benefits. Beetroots are notable for their high content of Vitamin C and numerous vitamins and minerals such as vitamin B6, Potassium, and Iron. They are also a great source of fiber and great for improving your circulation. Beetroot contains nitric oxide compounds which help to dilate blood vessels, thus naturally lowering blood pressure, improving erectile function in men, and improving athletic performance. The red espresso® Beetroot Latte mix is a great way to get this amazing superfood into your diet on a regular basis and enjoy a delicious tasting caffeine-free café-style beverage at the same time.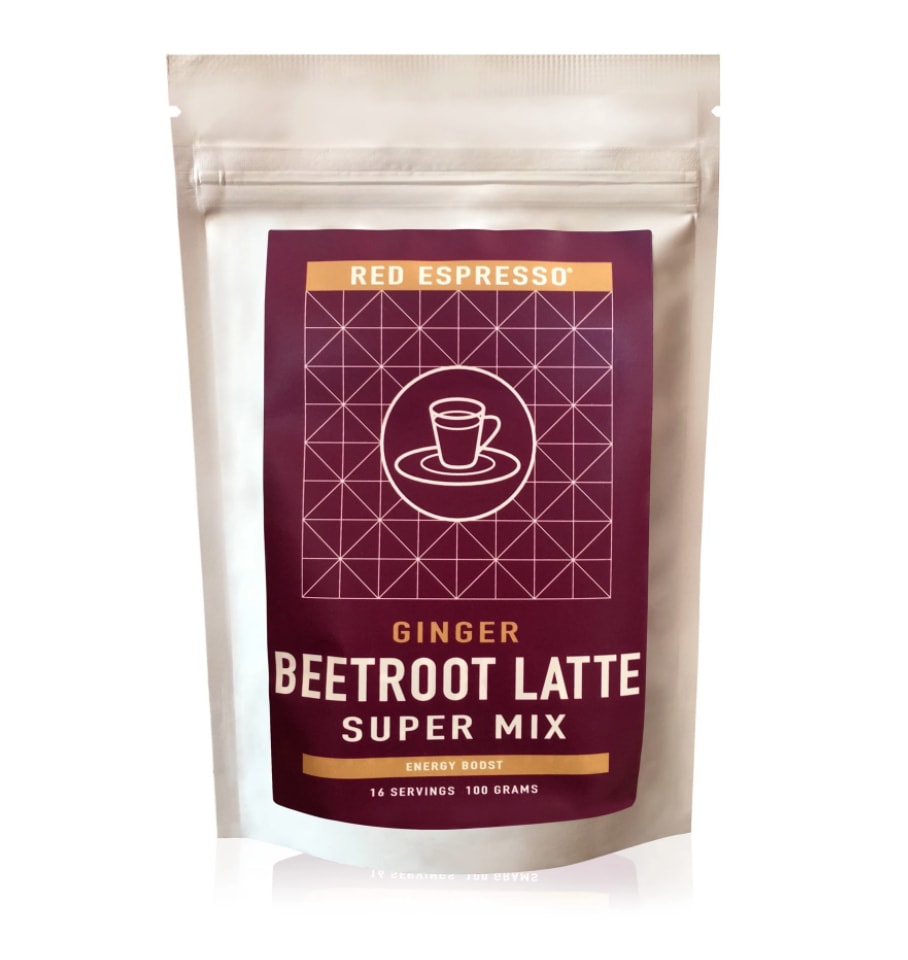 This Beet Root Latte is:
✓ energy-boosting

✓  Replenishes your body after a workout

✓  Helps fight colds and flu

✓  Non-GMO

✓  Vegetarian and vegan-friendly when made with dairy alternatives

✓  No additives or preservatives

✓  No added bulking agents like flavorings, colorants, thickeners, or emulsifiers

✓  No artificial sweeteners

✓  Refined sugar-free

✓  Less than a teaspoon of organic coconut blossom sugar per drink

✓  Non-irradiated spices

✓  Caffeine-free

✓  Gluten-free 
"We've added ginger to our Beetroot Latte Mix for extra health benefits and a touch of organic coconut blossom sugar to give you the ultimate, great-tasting latte. Use it as a booster to your morning smoothie or breakfast bowl or add it in your baking too"- red espresso®

Golden Milk - Turmeric Superfood Latte Mix 
This blend boasts Anti-inflammatory benefits! It is a blend of turmeric, ginger, and cinnamon with a touch of organic coconut blossom sugar. It is made from real pure plant-based ingredients and is caffeine and gluten-free! 
Affectionately known as the "Golden Super Spice", Turmeric has long been used in Ayurvedic practices for its incredible functional health benefits. It is a powerful anti-inflammatory, immunity booster, and digestive aid. The secret to why turmeric is so good for you lies in the Curcumin that it contains which is a powerhouse anti-inflammatory and antioxidant.
 "Our Turmeric Latte Mix is the perfect blend of spicy goodness for lattes, smoothies, breakfast bowls, and baking too. It adds colors, flavor, and health to your life!"- red espresso®

To further increase the absorption and bioavailability of the Curcumin from the turmeric, simply add a crack of black pepper and a dash of healthy fat such as coconut oil, flaxseed oil, or olive oil to your drink.
The red espresso® Turmeric Latte is:
•       Anti-inflammatory, Immune boosting and aids digestive function
•       Rich in antioxidants
•       Non-GMO
•       No additives or preservatives
•       No added bulking agents like flavorings, colorants, thickeners, or emulsifiers
•       No artificial sweeteners and refined sugar-free
•       Less than a teaspoon of organic coconut blossom sugar per drink  
•       Non-irradiated spices  
•       Caffeine-free
•       Gluten-free
Detoxing Rooibos Smoothie Powder: 100g
Rooibos tea is naturally caffeine-free and is a wonderful source of antioxidants that can help to reduce the risk of diseases such as heart disease and cancer. The most nutritious, antioxidant-rich component of rooibos tea, however, is the actual leaves. Drinking rooibos tea in the traditional way filters out the leaves and therefore only small amounts of antioxidants actually enter the hot water. The red espresso® Smoothie Powder is made from 100% rooibos tea leaves which allows you to add the delicious flavors of rooibos to your smoothie and to really get all of the health benefits of this amazing tea by consuming the whole leaves in powdered form.
This smoothie is immune boosting, detoxing, and age-defying. The red espresso® Rooibos smoothie powder is a potent antioxidant booster because just one teaspoon has the same amount of antioxidants as 5 cups of green tea, 6 cups of beetroot juice, 10 cups of regular Rooibos tea, and 20 cups of carrot juice!


The Smoothie Powder is: 
•       ✓  100% natural
.        ✓  Non-GMO
•       ✓  No additives or preservatives
•       ✓  Vegan
•       ✓  Sugar-free
•       ✓  Detoxing
•       ✓  Age-defying
•       ✓  Immune boosting
•       ✓  Healthy heart
•       ✓  Great post work out recovery
•       ✓  CANSA Smart Choice

•       ✓  Halaal and Kosher certified
RedEspresso's Rooibos smoothie powder has an extra-strong Rooibos taste and flavor making it ideal for milkshakes, baking, and gelato too.
Simply add one teaspoon (5g) of this unique Rooibos smoothie powder to your morning smoothie for all the immune-boosting, detoxing, and age-defying benefits you need!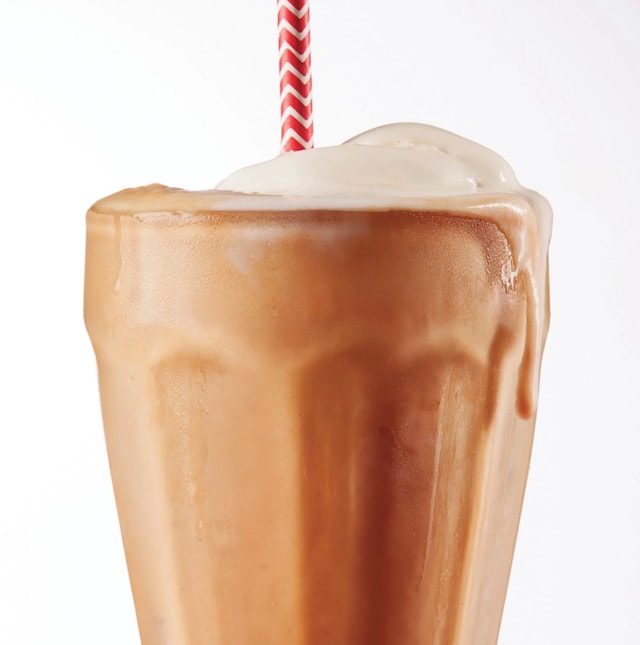 "Athletes, nutritionists, yogis, pregnant women, and children are a few of the caffeine-adverse folks who can now participate in café culture, thanks to caffeine-free red espresso®." Fresh Cup Magazine
RedEspresso has recently launched their original red espresso® in K-Cup; they now have an extensive range that includes the ground espresso, Nespresso capsules as well as K-Cup! 
* In partnership with our friends at Red Espresso * Photo courtesy of Red Espresso  
* The information available on ewellnessmag.com, including text, graphics, and other materials are for informational purposes only. Reliance on any information in ewellnessmag.com is at the user's own risk. Sponsored product placement may appear in the article. The visitor of this website acknowledges that the information available on or through ewellnessmag.com is not and is not intended to be a substitute for professional medical advice. Copyright © 2021 Brawo Press, Inc. All rights reserved.
---