Article
Smiling Skin!
We often relegate our skin health in favor of our health and fitness regimen. We just kind of assume that our skin can take care of itself. And that is the case for the most part; your skin is the largest organ in your body and it is constantly regenerating. However, it does still need attention and care to maintain it, and where needed, improve its appearance. 
Dull, tired-looking skin is a bummer because what do we see when we look in the mirror? We see ourselves in all our flaws and all our beauty. Poor-looking skin can affect our self-confidence greatly because it is something we cannot hide from ourselves or the outside world. Just like our smile. 

Skin needs to smile too
People with sensitive and blemish-prone skin can find it a hard task to find suitable and effective products to help them. This is largely due to all the chemical ingredients that can sometimes exacerbate an issue rather than rectify it. As such, rule #1 in skin care is to seek out specifics for your skin type. Remember that you are an individual! 
In recent times, the skincare industry has been transformed to provide more naturally formulated and plant-based products for anyone with sensitive skin or for people that just want to be kinder to their skin in general. And this is a great thing because with greater choice comes a bigger opportunity for finding exactly what you need and what works well- for you! Smiling, happy skin is not a pipe dream after all!
Rule #1 was mentioned earlier, and this was to shop for skincare products according to your skin type, here are a few other pointers to be cognizant of when working on better skincare! 
Just as you implement a health and wellness regimen for your body, do the same for your skin. Aim to have a morning and evening skincare focus. In the morning, you want to hydrate, balance and brighten your skin, in the evening you should focus on moisture balance and repair. 

Eat well and exercise. Any positive thing that you do in terms of nutrition and activity can encourage happier, healthier skin. Good food nourishes your skin from the inside out and exercise boosts your circulation and helps to maintain radiant, youthful-looking skin. 

If you have blemish-prone skin, the temptation is to cover it up and load it with make-up and cosmetics to hide the blemishes. This can often have a negative effect and highlight the blemishes even more in some cases! Keep a minimalistic and simple approach to your skincare regimen- especially if you have sensitive or blemish-prone skin. 
Hopefully, these little tips can help you stay on track to healthier, glowing skin, particularly as spring gets into full swing. Simple Elegance Skincare applies a minimalistic approach to their skincare products and they are here to help you improve your self-confidence through better-looking skin using simple and natural means!  
Simple Elegance Skin Care is a dual-focused self-care and skincare company. They take pride in their self-care objectives and rituals and want you to do the same! As a company, they research and test skincare ingredients looking for quality, effective, sustainable, and, of course, natural formulations. 
Simple Elegance Skin Care creates skincare products that help you feel beautiful and unique in your skin. They focus on natural products with powerful and effective, yet kind to your skin formulas to ensure you get the very best! 
"We believe that a skincare routine should be enjoyable, effective, and affordable. It is so important to take time out for yourself daily. Even if it is five minutes in the evening to wash the day away, letting your skin wake up refreshed. Currently, we offer two product lines: an anti-aging line "Elite" and our "Flawless" line for Blemish-Prone or problem skin. We are currently working on our new line that hopefully will be released Fall 2021!"- Simple Elegance Skin Care
Simple Elegance Skin Care's new line is geared toward a minimalistic lifestyle. This means a lifestyle that embraces super good-for-you ingredients, sustainable sourcing, and packaging for anyone desiring a simple skincare regimen. 
Here are two of Simple Elegance Skincare's products; these are great for blemish-prone skin! They are the Flawless Exfoliating Cleanser and Flawless Botanical Mist.  
Flawless Exfoliating Cleanser
Lovely-looking skin starts with a super, natural face wash! This Exfoliating Cleanser is a Glycolic Face Wash with Salicylic Acid and alpha and beta hydroxyl acids. It is gentle enough for sensitive skin and daily use. 


Here's a little more info! 
Brightens and evens skin and can help to reduce age spots and discoloration caused by free radicals and sun damage.

Fights acne and helps to reduce acne scars. This face cleanser gives your complexion lasting benefits. It allows and encourages your other skincare products to work more beneficially with your skin.

Offers gentle exfoliation - with this facial cleanser jojoba beads gently exfoliate the skin to prevent occlusion of pores, revealing a fresher and more youthful appearance

Suitable for all skin types, including oily, combination, and normal skin, it also works well on sensitive skin. Follow this exfoliating cleanse with the flawless botanical mist and oil-free moisturizer for a flawless look!
Flawless - Botanical Mist
Flawless Botanical Mist is scented with Lavender, Lemon, and Geranium essential oils, it provides a refreshing feeling to revive and rejuvenate your skin any time of day. It is suitable for blemish-prone skin and helps to clarify your complexion.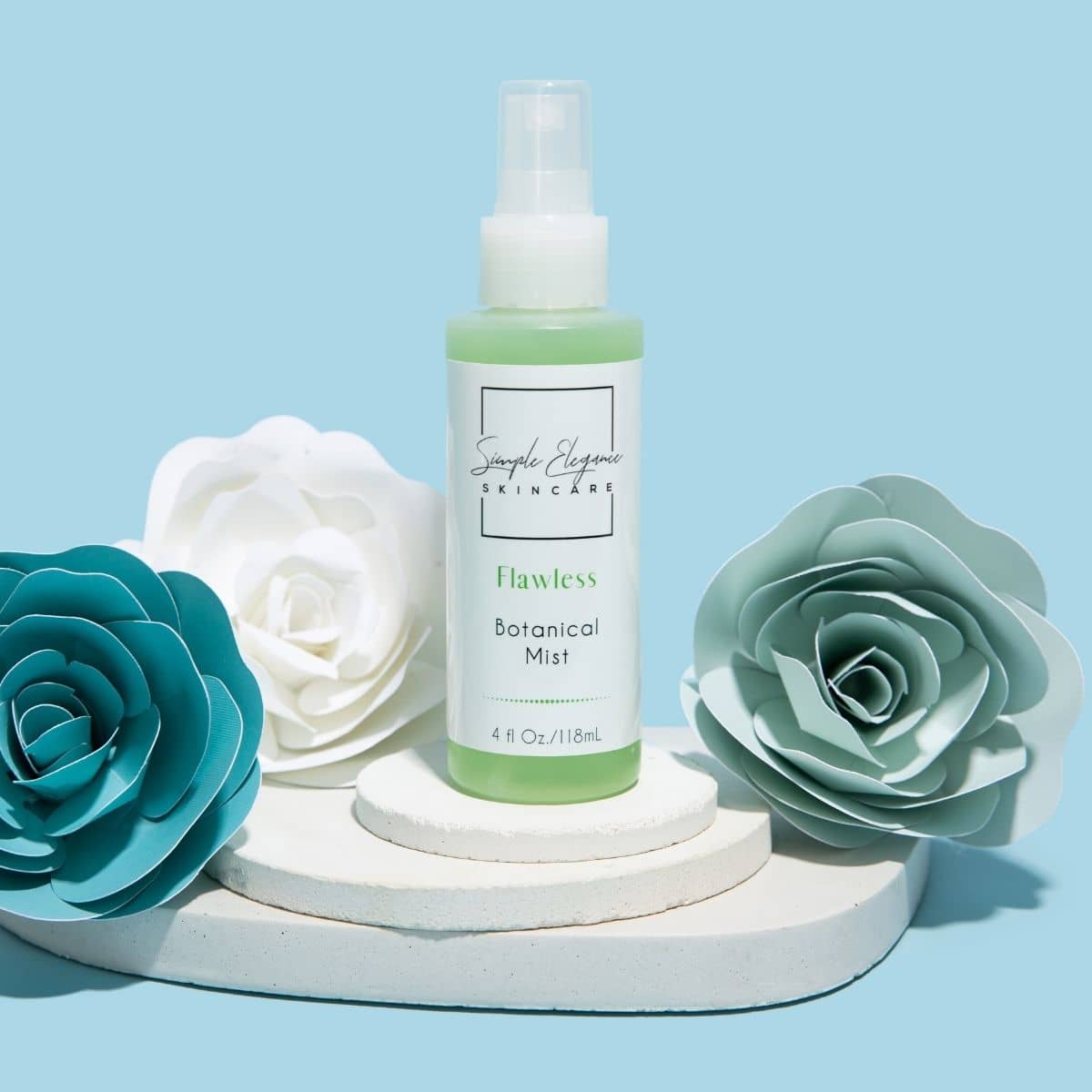 Here's some more helpful info!
Spray this mist on your body or face to refresh your skin. It is suitable for daily use! 

Flawless Botanical Mist has Acne fighting ingredients, these include organic hydroxy and salicylic acid (willow bark extract) which provide natural healing properties.

Great for normal, oily, and combination skin!
Simple Elegance Skin Care stand behind all of their products and your satisfaction is their #1 Priority! Simple Elegance Skin Care products are proudly made in the USA and created with Natural Ingredients. These products are always Cruelty-Free!
"It is not every day do we look back and give ourselves credit for just getting out there in the world. If you work, teach, care for others, create beauty with nature, share a smile, or just tried – it is worth acknowledging and being thankful for something at the end of the day. It lifts your spirits and gives you the energy to do it again.  Elegance is the quality of being pleasing, ingenious, and simple. Enjoy!"- Simple Elegance Skin Care
* In partnership with our friends at  Simple Elegance Skin Care * Photos courtesy of Simple Elegance Skin Care
* The information available on ewellnessmag.com, including text, graphics, and other materials are for informational purposes only. Reliance on any information in ewellnessmag.com is at the user's own risk. Sponsored product placement may appear in the article. The visitor of this website acknowledges that the information available on or through ewellnessmag.com is not and is not intended to be a substitute for professional medical advice. Copyright © 2021 Brawo Press, Inc. All rights reserved.
---