Article
Probiotics and Skin Protection
Your skin is an organ, the largest in your body, yet it is often taken for granted. Skin can be highly susceptible to breakouts and dryness, especially over fall and winter as the cold takes its hold. Yes, your body may be mostly covered during fall and winter, but at some point, those layers will again come off! Looking after your skin all year round helps you to feel and look better- it also can help to protect you. 

Your skin acts as a barrier against toxins and the like and so the better you look after it, the more it looks after you. 

Here are 3 ways to fresher (and stronger) skin! 
It's about what you put into your body as well as what you put onto your body. The skin's microbiome works similarly to the microbiome present within your gut. If your gut microbiome is off balance then this will likely be noticeable on your skin, for instance, you may notice more blemishes and breakouts or even develop a chronic skin condition. Basically, if you nourish your gut then you, in turn, nourish your skin! From another perspective, the skin microbiome helps to maintain balance and serves to inhibit the growth of bad or pathogenic bacteria. So it stands to reason that if the skin microbiome is affected- so too will your skin, in appearance and feel. Taking a probiotic supplement works well for your body and your skin- inside to out. 

Avoid harsh exfoliation treatments.

 Exfoliation can strip your skin of its natural oils and damage your skin barrier, this can leave it weakened and overly exposed. Chemically enhanced exfoliants with anti-bacterial properties can sometimes create a more chronic issue with your skin. Rather than using harsh products that can damage the layers of your skin, opt for natural, gentle cleansers that can support and moisturize your skin.

Vitamin C! Vitamin C supports the production of collagen within your body. Eating your recommended levels of this vitamin can help to support and strengthen your skin. Collagen is an abundant protein within the body that goes into decline (steadily) from around the age of 30. Helping to boost your levels of collagen can help to maintain elasticity, firmness, and freshness in your skin.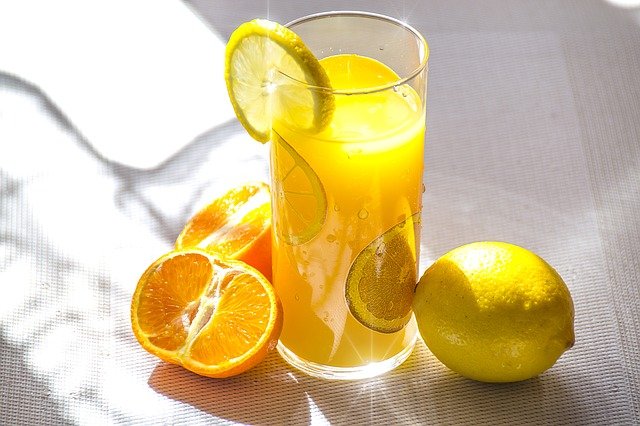 Hopefully, these little pointers can help you toward fresher, stronger skin. Layers believes in treating your skin as the organ it is. Layers honors the interconnectedness of your body's systems to boost skin's natural health. 
Layers have matched potent probiotic supplements with science-based topical formulas. In doing so, they are nurturing the microbiome and delivering clinically proven glowing results to you, without dullness or irritation. This means we can radiate strength, vitality, and confidence from within! 
The idea for Layers came to founder Rachel Behm when she learned of the human microbiome project and the profound connection between gut health and skin health. 
"The Human Microbiome project was conducted over 10 years and studied the interactions between humans and their microbiomes to health-related outcomes (ranging from obesity to mental health to skin health). It produced 4 terabytes of data that is available to the public to continue to advance this field (much like the human genome project did almost 2 decades ago). 50% of the cells in and on your body are bacteria and this project taught us a lot more about their importance in human health"- Layers
Rachel created a brand that delivers visible skin results beyond what users thought possible, or what they're used to from their skincare routines. And Layers does this in a holistic way that is rooted in the latest, forward-thinking science. As a total bonus, the products feel indulgent with a nourishing scent and smooth, creamy formula. This product is special to use from the get-go! 
Layers provide a new approach to skincare
Beautiful skin begins with a thriving microbiome- these are the trillions of beneficial microbes in your gut and on your skin. Layers harness the power of probiotics to boost the body's natural ability to bring your best skin to the surface. 
Renewing Probiotic Serum 
This serum renews skin +244% vs placebo for softer, smoother, more radiant skin, without the irritation and disruption to the microbiome that can happen with other efficacious ingredients.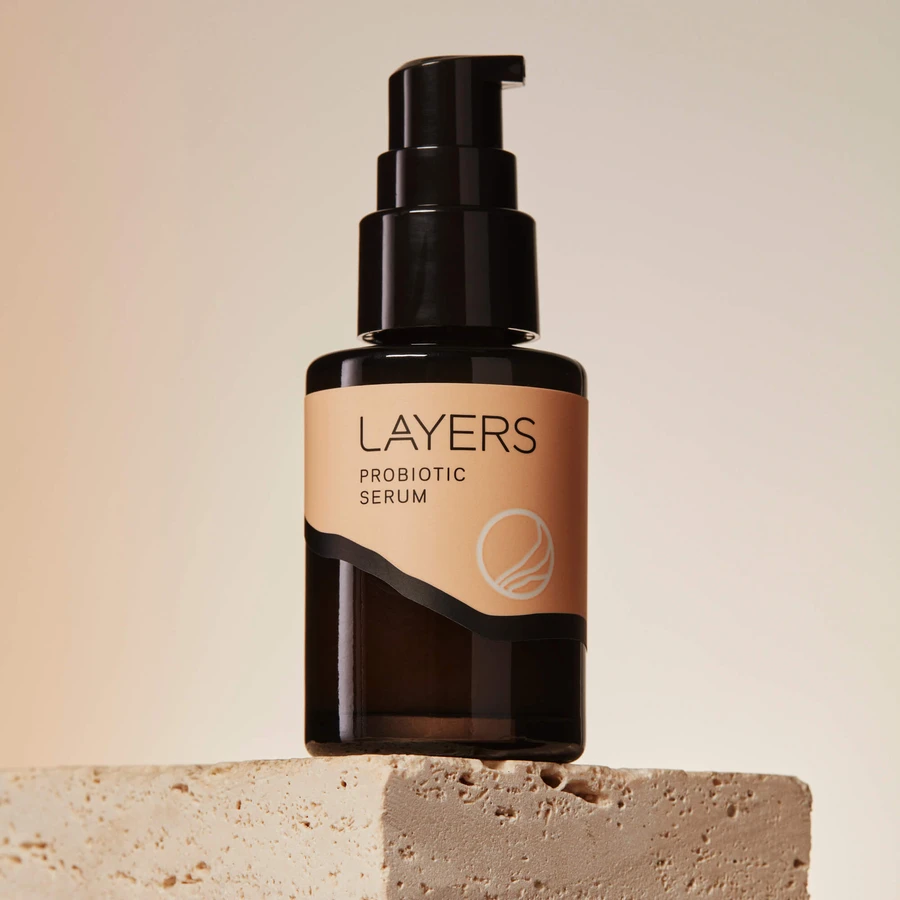 Measured at 14 and 28 days of use, Layers Probiotic Serum is clinically shown to*:
Plump and hydrate by increasing lipid and protein levels

Improve firmness and elasticity with increased density of outermost skin layer

Reduce the appearance of wrinkles both in number and surface area
How it works: 
Cell turnover is the continuous process of shedding old skin cells and bringing new ones to the surface; a process that slows as we age. Layers Probiotic Serum was developed to speed your skin's replenishing cycle for continually vibrant, glowing skin.
"Our highly concentrated, ultra-absorbing serum delivers probiotics, Orobanche rapum plant extract, and meadowfoam oil deep within your skin's active layer. This potent blend accelerates skin cell turnover while protecting your microbiome for dramatic results without irritation. 
Our gentle but incredible serum protects healthy skin cells and increases their ability to replicate and rise to the surface to reveal visibly plumped, hydrated and luscious-feeling skin"- Layers
 
Key Ingredients Include: 
Probiotic Strain: Lactobacillus Ferment: This protective ingredient fortifies your skin barrier against external stressors while soothing and hydrating. It's known to help repair damaged skin, rebalance skin flora, and reduce harmful bacteria growth.

Orobanche Rapum Extract: Grown in southern France, and well known for its antioxidant activities and biological properties, this effective extract actively protects skin stem cells and balances the microbiome.

Meadowfoam Oil: With a similar texture to sebum, and rich in vitamin E, this efficacious and lightweight oil locks in moisture, balances the skin, and enhances other skincare ingredients for softer, plumper skin.

Lactic Acid: As the gentlest of the Alpha Hydroxy Acids (AHAs), lactic acid helps improve the skin's natural moisture. And with continued use, it helps firm skin, fade spots, and smooth fine lines and wrinkles.
Daily Glow Probiotic Supplements  
This is a potent, dual-sided supplement with a 5-strain probiotic blend + ceramide extract. These are a GAME CHANGER. They produce visible results at 15 days with enhanced results at 30 and 60 days.


It offers increased hydration and elasticity for skin that snaps back, reduced roughness and dullness for a brightened glow, minimizing fine lines and wrinkles for a smoother appearance. And Layers offers home compostable refill pouches!
Measured at 15 and 60 days of use, Layers Daily Glow Probiotic Supplements are clinically shown to:
Show visible results in 15 days and enhanced results after 60 days

Reduce roughness and dullness for a brightened glow

Minimize fine lines and wrinkles for a smoother appearance
This is how they work: 
Healthy-looking skin is revealed from the inside out by nourishing your gut and skin microbiome. Layers potent, dual-action supplements balance your microbiome diversity and activity to optimize the gut-skin axis, restore the skin water barrier, and preserve collagen and elastin fibers. 
These supplements contain a proprietary blend of five clinically proven probiotic strains and skin-supporting ceramides. They support your barrier function and enhance collagen strength and production for renewed skin that feels healthy, hydrated, and looks radiant from the inside out.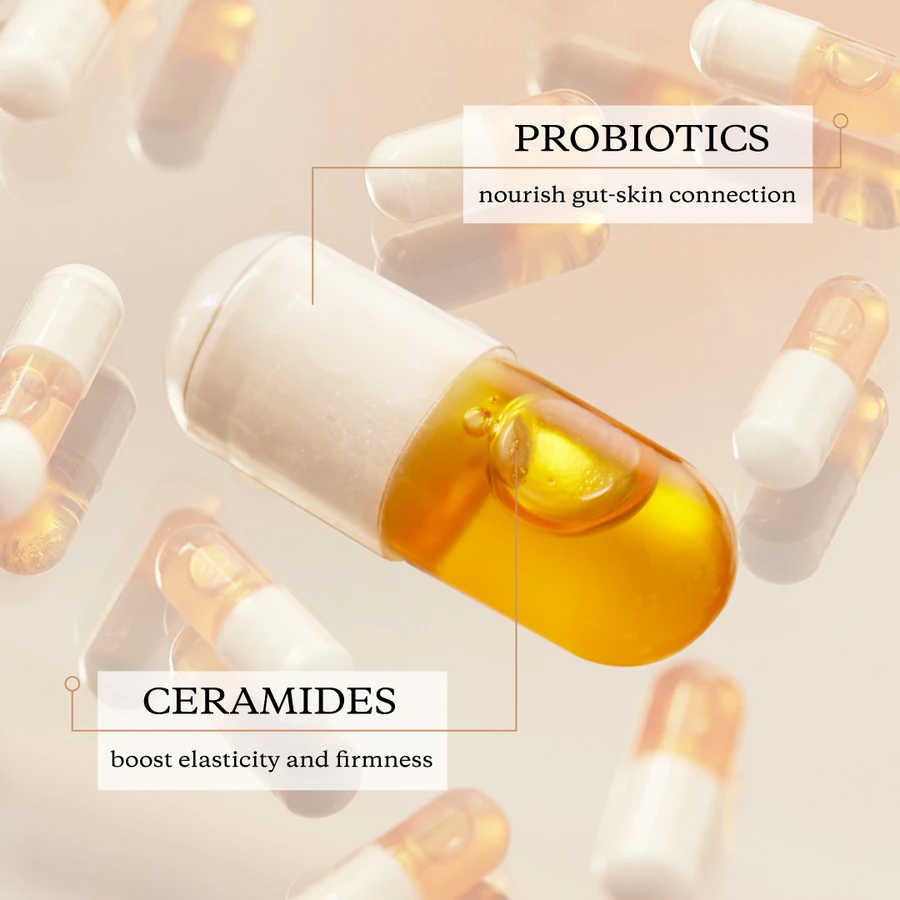 Key Ingredients Include: 
Probiotic Strain: Lactobacillus Plantarum: Known as a beneficial probiotic strain, it improves skin hydration and elasticity and reduces the appearance of wrinkles. It also helps maintain a balanced microflora.

Probiotic Strain: Bifidobacterium Lactis Known for its ability to improve digestion and enhance the immune system functions, this probiotic strain aids in the absorption of vitamins and minerals in the gut.

Probiotic Strain: Lactobacillus Rhamnosus: This probiotic is the number one clinically studied strain to aid with digestive health. It nurtures the gut-skin axis and improves your skin barrier function by suppressing inflammatory agents.
Probiotic Strain: Lactobacillus Paracasei: Improves skin barrier function recovery and reduces local skin inflammation reactions. It's known to have a positive effect on skin sensitivity and to smooth rough skin texture.
Probiotic Strain: Bifidobacterium Longum This immune-modulating strain works to temper inflammatory responses on the skin and in the gut. It increases your skin's resistance to temperature fluctuations and potential irritation. 
Ceramide Oil Extract: Making up 50% of the skin's epidermis, ceramides are a critical skin building block. They are fats in the outermost layer of your skin and play a key role in keeping skin firm, protected, and moisturized.
Why should people use microbiome-based skincare products?
Our skincare routines can impact our skin microbiome in positive and negative ways. And when you do damage to your microbiome, a lot of the supposed benefits of skincare (hydration, smoothness, wrinkle reductions) can be countered by the fact that a damaged skin microbiome can lead to water loss, aging, and irritation. 
The microbiome plays a large part in our overall skin health and appearance. It's like an invisible army on top of our skin and in our gut.  

Creating the right environment for the microbiome to be diverse and balanced, while also protecting it, leads to improved skin resilience from all stressors thrown at it, from aging to weather.  
For decades, skincare products have ignored this integral layer to your skin's health and appearance. Many products have even caused damage to your skin's microbiome by using overpowering preservatives, antibacterial ingredients, and harsh exfoliants… and so it's time for a change! 
"LAYERS believe in, and advocates for, a microbiome-based approach to a healthy appearance of the skin. Our clean, scientifically proven formulas will help your microbiome flourish, both inside and out, so these amazing bacteria will work harder than ever before, giving you clear, hydrated, and glowing skin"- Layers

* In partnership with our friends at Layers * Photo courtesy of Layers
* These statements have not been evaluated by the Food and Drug Administration. These products are not intended to diagnose, treat, cure or prevent any disease. 
* The information available on ewellnessmag.com, including text, graphics, and other materials is for informational purposes only. Reliance on any information in ewellnessmag.com is at the user's own risk. Sponsored product placement may appear in the article. The visitor of this website acknowledges that the information available on or through ewellnessmag.com is not and is not intended to be a substitute for professional medical advice. Copyright © 2021 Brawo Press, Inc. All rights reserved.
---