Article
Natural Energy Boosters
Many of us are looking at ways we can boost our energy, naturally. With modern living demanding more from us day to day, our energy levels have been left to struggle to keep up. This pressure, if it remains unchecked, can quite often lead to stress and anxiety- something that we know is highly detrimental to health and wellbeing.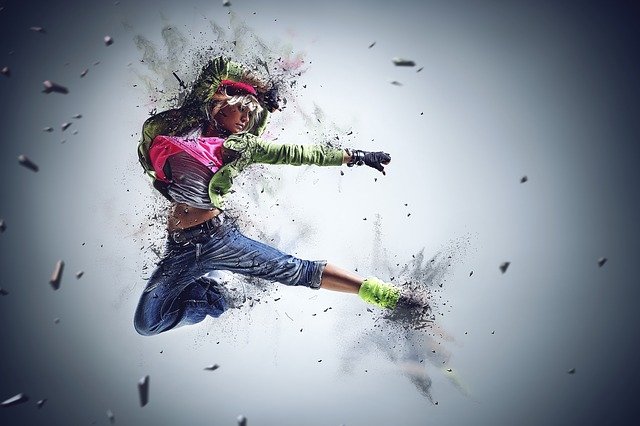 Of course, with added stress comes lowered immune function, digestive issues, and potentially heart-related problems as well as other chronic conditions. Your body just cannot function at a high speed all the time! 
That being said, there are means and methods to help promote more energy so you don't feel like you are constantly lagging. From a nutrition perspective, eating well can offer the greatest benefit to your energy levels and overall health. Although hitting the gym or an exercise class has energy-boosting benefits, without a solid nutritional focus these benefits may be short-lived. 
Eat Well, Live Better! 
So, eat well! It sounds so simple but there's a lot of room for error. Here are a few tips to help you get the most from your food! 
Eating habits. How what and when you eat can play a big role in your nutrition. If your lifestyle tends to be a bit more hectic you may miss meals or snacks too often for energy. Try to stabilize eating habits, for instance, if you are busier, try to space out your meals every 2-3 hours so you eat smaller amounts more often. Big meals take longer to digest so there are added benefits to eating little and often. 

Don't eat big too late. Eating a large meal late in the evening puts a strain on your digestive function and may impair your sleep also. Try to eat no later than around 8 pm. And always make sure you have breakfast! 
Eat a variety of foods. We are creatures of comfort and it is easy for us to build up habitual behaviors around food. Try to stay open-minded about food and experiment with new foods, spices, and flavors. Varied foods offer a spectrum of vitamins and minerals to help improve your energy, immunity, and overall health. 
Go Berry Mad 
Berries are a great example of "superfoods". Even in small amounts, these foods naturally contain a multitude of vitamins, minerals and anti-oxidants. As superfoods go, berries are versatile, tasty and highly nutritious. Here's a quick look at two great berries for energy, immunity and health!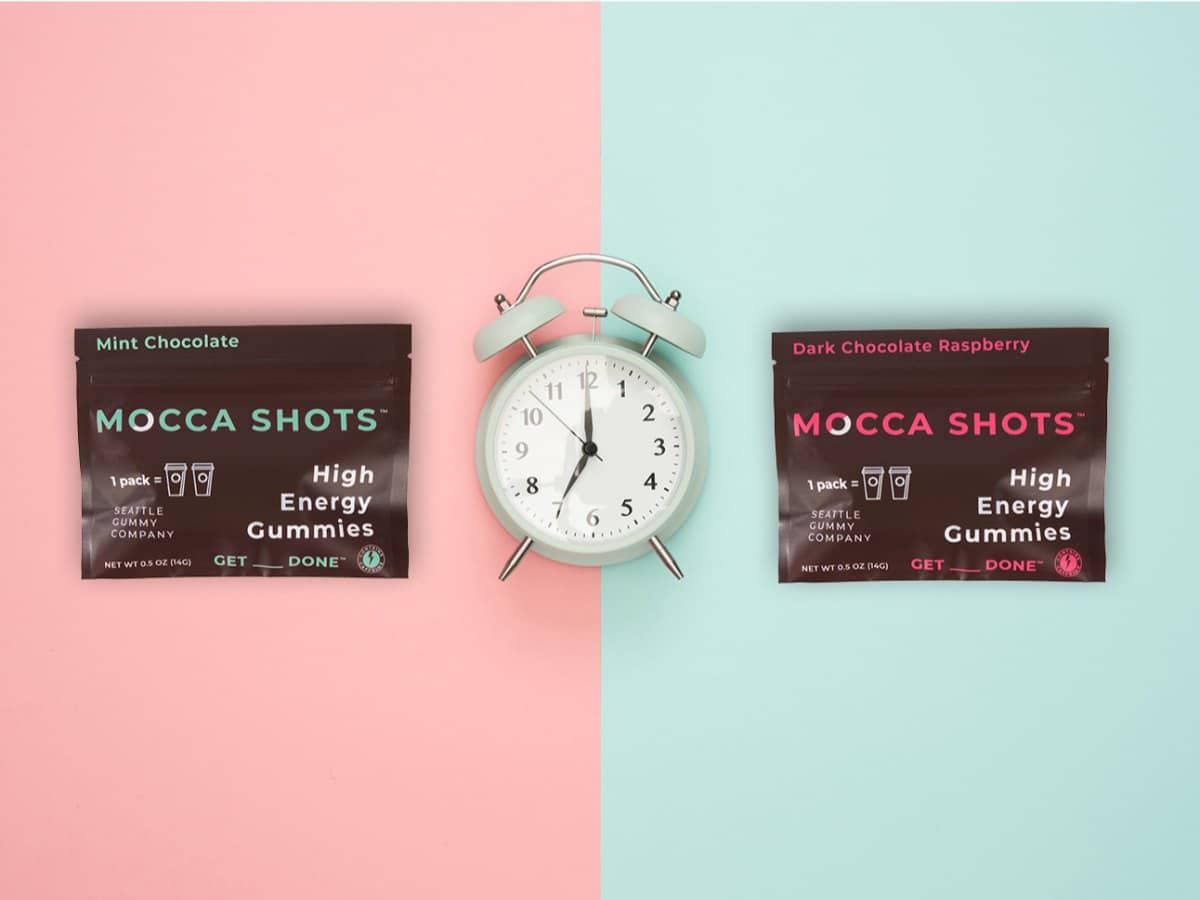 Elderberry (Sambucus Nigra) 
The elderberry is a dark purple berry from the European elder tree and has been used for centuries to fight infections, clear up complexions, and boost immunity. 
The elderberry contains certain compounds that may have a beneficial impact on health. Many of which can be attributed to anthocyanin. This powerful antioxidant works by clearing the body of free radicals that damage cells. 
It also has antiviral properties that may prevent or reduce the severity of certain common infections. 
Moreover, elderberry also has anti-inflammatory effects, reducing pain and swelling by tempering the body's immune response. 
Goji Berry (Lycium Barbarum) 
The goji berry, also called the wolfberry, is a bright orange-red berry that comes from a shrub that's native to China. In Asia, goji berries have been eaten for generations in the hope of living longer.
Goji berries contain unique compounds known as Lycium barbarum polysaccharides. Research has shown that these compounds enhance the body's ability to resist disease. 
Goji's polysaccharides have a chemical structure similar to substances found in Echinacea and Maitake mushrooms, herbs are known for their ability to support a healthy immune system.
Hopefully, these little tips can help you boost your energy levels and your health. Supplements are an additional way to close any gaps in your day-to-day nutrition. The Seattle Gummy Company offers unique health supplements; here's a peek at their story and how they can help you!  
Dr. Connie Wan founded Seattle Gummy Company because she knew there had to be a better way to deliver "active ingredients" into the body. 
When her son was young, she struggled to give him the medications he needed and never knew if he was getting the correct dosage. "The technology we're using to administer medication is from the 18th century," Wan said of traditional pills and tablets. "And yet we have driverless cars. It boggles my mind!"
Many active ingredients taste terrible, which is why they are normally taken in pill or tablet form. Pills, however, are inefficient: when swallowed, many compounds are destroyed by the stomach and/or filtered by the liver before entering the bloodstream. 
However, gummies are a great solution to this problem because when they are chewed they dissolve slowly in the mouth. The prolonged exposure to the oral mucosa allows for quick absorption and a faster-acting supplement! 
"Dr. Wan created the technology behind Seattle Gummy Company; the unpleasant taste of active compounds is isolated while improving their absorption and bioavailability. What this means is that we can pack a high concentration of functional ingredients into a gummy that is incredibly effective and delicious"- Seattle Gummy Company
Here are two of their amazing and effective gummies: Mocca Shots and Immunity Shots 
Mocca Shots (High Energy Gummies) 
Mocca Shots Caffeine Gummies work 5 times faster than coffee at half the price. These gummies have a unique combination of caffeine, vitamin B complex, and herbal nootropics which help boost energy, improve focus, and enhance cognitive performance – and without the jittery side effects known to accompany caffeine!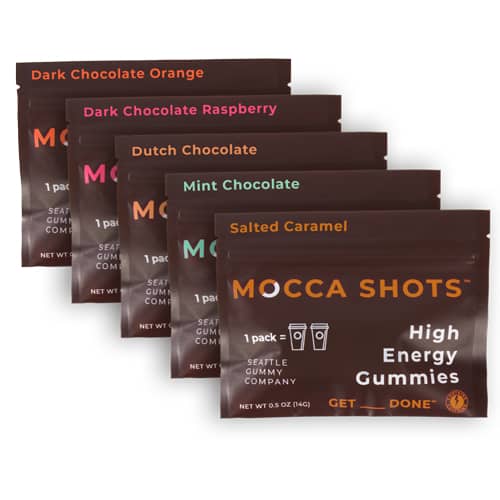 Research shows that the combination of caffeine and chocolate is perfect for keeping you more focused. A study by Clarkson University highlights that caffeine by itself can increase anxiety; however, when combined with cocoa, the anxiety-provoking effects of caffeine are significantly reduced. This helps participants to stay more alert and focused. 
Theobromine (the active compound in cocoa) acts as a vasodilator, a mild diuretic, heart stimulant, and relaxes the smooth muscles of the bronchi in the lungs. As a result, it has been used to treat high blood pressure and other circulatory problems. 
Also, cocoa has shown promising therapeutic effects on cholesterol, cognitive function, heart disease, stroke, fetal growth and development, and athletic performance.
Mocca Shots also contains Ginkgo Biloba. It is a Chinese herb often used as a dietary supplement to treat memory loss. The herb is packed with powerful antioxidants including ginkgo flavone, a family of natural antioxidants that have been shown to strengthen the cardiovascular system that boosts cerebral blood flow, and therefore include more blood supply to brain cells.
"We knew we could create a product with natural ingredients that not only tastes better but is also more effective at helping people focus without the jittery side-effects normally associated with caffeine." Mocca Shots are made from premium, high-quality, all-natural ingredients and are vegan, non-GMO, gluten-free, and made in the U.S.A"- Dr. Wan, Seattle Gummy Company 
Most energy products are chock full of artificial flavors, sweeteners, and other junk that overcompensate for active ingredients. "If you want energy fast, Mocca Shots are a much better choice," says CEO, Dr. Connie Wan. 
Focus when you need it: The caffeine gets into your blood within 3-5 minutes because it is absorbed directly through the tissues in your mouth. These mocca shots are the highest concentrated caffeine product available.
No caffeine jitters: Caffeine is combined with herbal nootropics to reduce the jittery side effects of caffeine so you can enjoy clean and focused energy.
Enhanced cognitive performance: Seattle Gummy Company's patent-pending formulation combines caffeine with herbal compounds that improve focus and enhance cognitive performance.
Convenient non-melting energy on the go: Mocca shots come in a convenient resealable pack that easily fits in your pocket, backpack, glove box, purse, or gym bag.
Immunity Shots Elderberry and Goji Berry Multivitamin
Immunity shots are a powerful, all-natural defense with full-spectrum immune-boosting vitamins and minerals. Each pack contains a 4-day supply of complete immune defense.
"Sambucus Elderberry and Goji Berry are a potent duo that has been used for centuries to support immune system health, so we've combined it with zinc and full-spectrum multivitamins to create our immunity support gummies. The result is an antioxidant-rich powerhouse packed with 500 mg of Elderberry extract (more than most on the market by over 5 times!)2- Seattle Gummy Company 
These delicious gummies work to fight off free radicals and keep your body healthy, balanced and functioning at its finest. 
They're free of gelatins and most major allergens, making them a vegan-friendly option your whole family can trust. Boosting your immunity has never felt or tasted better!
Elderberries and Goji Berries are nutritional powerhouses containing high amounts of antioxidants, micronutrients, and minerals with an abundance of health benefits. 


 
Vitamin C, which helps several important cells in the immune system (such as T cells) perform their jobs.

Vitamin A, which helps regulate immune responses.

Powerful plant chemicals (phytochemicals) called flavonoids that appear to help health in many ways. For example, flavonoids may help fight inflammation and cancer.


 
"One study published by the U.S. National Library of Medicine found that participants who consumed elderberry syrup felt relief from their flu symptoms four days earlier on average than those who received a placebo. Another NLB-published study of 312 air travelers found that when those who were sick took a 900 mg elderberry extract capsule three times daily, they recovered faster and experienced the less severe cold and flu symptoms"- Seattle Gummy Company
* In partnership with our friends at Nuvo Wellness  * Photos courtesy of Seattle Gummy Company 
* The information available on ewellnessmag.com, including text, graphics, and other materials are for informational purposes only. Reliance on any information in ewellnessmag.com is at the user's own risk. Sponsored product placement may appear in the article. The visitor of this website acknowledges that the information available on or through ewellnessmag.com is not and is not intended to be a substitute for professional medical advice. Copyright © 2021 Brawo Press, Inc. All rights reserved.
---