Article
5 Ways To Optimized You, From Inside Out
An inside to outside approach always allows for the best movement forward in any area of your life, and in terms of health, it is especially important because it is what you put inside your body that can truly make a difference in how you look and feel.
So this New Year, leave the resolutions behind and focus on a commitment to a happier, healthier you by working on the inside! Read on for ways on doing this!
The basis of good health and wellbeing always begins with your nutrition. You can't out-exercise a bad diet, or protect yourself against colds, flu, and other viruses unless the internal mechanics of your body are operating at their absolute best. And how you support your body to look after you better is simply through eating well- at the very basic level nutrition needs to be as good as it possibly can be.



 
Here is how you can develop an inside to outside approach to your health in 5 ways
Have a plan! Too often we fail at things because we have no real plan of what we are going to do. You need to have a plan or goal to focus on so that you can use that goal as a review point for how you can continue to move forward. Think about what you need to change within your diet and develop a basic plan to get you from A to B.
Grow your knowledge. Expanding your knowledge of nutrition enables you to make better choices. You can't know what is right for you unless you know what is right in the first place. It's not always about results the first time around. With greater knowledge, you will also arm yourself with the gift of the experience of trying new things to find what works well for you- for 2022 and well beyond!

Start small. A back to basics mentality can sharpen and clarify your mind as well as your intentions and actions to move forward. Life is busy. Life is complicated. Don't add more drama into the mix by doing too much at once or having an overly-complicated vision of what you want to achieve. Start at the beginning. For instance, if you tend to fry your food a lot, consider grilling or baking, and what ingredients are you using or adding to your food? Too often it is what we are actually adding to our meals that can cause disharmony and ill health. Are overloading on sugar, fats, and salt? Take time to strip things back a little!

Go natural. Keep your food and what you cook your food with as natural as possible. Don't always think about convenience or the easy way out. There is a wealth of natural foods and food products that we have barely touched the surface on that can enhance our wellbeing. Go natural with your supplements, ingredients, and cooking oils as much as possible. Yes, natural can be a little more expensive but it is well worth it and you will definitely notice the difference in your taste buds. When we feel satiated by what we have eaten we are less likely to go hunting around for more snacks to eat.

Keep challenging yourself. There is always room for improvement, no matter how great your health regimen is. Whatever your goals are, keep going back to them so that you can review if you are still on track and make necessary changes if or where needed. If you feel stuck, only you can unstick yourself!
Have these little pointers helped you to reset? We hope so! As mentioned earlier, good food requires good ingredients. And nowadays, cooking oils aren't just used for cooking. There is a wealth of benefit in virgin, cold-pressed oils such as Olive oils, Rapeseed Oil, Almond Oil, and Coconut Oil that extends to healthier skin, hair, and nails also. These types of oils, and others besides, are full of vitamins that help to replenish and rejuvenate your body.


About Extra Virgin Olive Oils 

Mr. Papou's makes simply the best! Their Extra Virgin Olive Oil is superbly produced with great passion and pride.
Mr. Papou's story begins with a grandfather and his father in the hills outside of Corinth, Greece. Through their love of the land, they began a quest to produce some of the finest natural products that Greece had ever seen.
They began small with only a few orchards and vineyards in the village of Poulitsa. Over the years, their quality product and honest characteristics became well known within the Corinthian region. They began growing their operations and producing more fresh fruit and olive oil each year. A hundred years later, the family now owns thousands of olive trees and produces ample amounts of extra virgin olive oil every season.
"The meaning of the company name "Papou" is grandfather, and the company was started by the three grandsons of a world-renounced farmer in Corinth Greece. The three young men, born and raised in the United States, began this company to honor their Greek grandfather, Dimitrios Tzanavaras. He was a farmer who had been cultivating the world's finest extra virgin olive oil for over 75 years"- Mr. Papou 
Dimitrios Tzanavaras made a significant impact during his time in Corinth Greece and it was always his dream to bring his famous extra virgin olive oil to the consumers of the United States.
"Our extra virgin olive oil is always all-natural and first cold-pressed. It is the perfect combination of the most desirable olive varieties: koroneiki, manaki, and patrinia olives. Cultivated for thousands of years, these small olives have become an important ingredient of the Mediterranean cuisine"- Mr. Papou, LLC


And here it is: Mr. Papou's Extra Virgin Olive Oil
This amazing Extra Virgin Olive Oil by Mr. Papou's is available in 250 ml. and 3 Liters.  
This product is a Greek extra virgin olive oil that is produced in the hills of Corinth, where the finest olives have been cultivated for thousands of years. Not only are there no preservatives or other substances in this natural olive oil, but the product itself is also pressed from the most desirable olive variety: the Koroneiki olive.
 




​"All of our olive oil is pressed in Corinth, Greece. This region is known for its rich soils and vast farmlands. We support the local farmers in this region by providing their authentic, pure products to consumers around the world"- Mr. Papou, LLC.
With over 2,000 varieties of olives, it can be difficult to select the most nutritional, delicious, and pure.
Mr. Papou's has studied these varieties and carefully selected the perfect olive. With its purity and dense nature, the Koroneiki variety has become well known as the most desirable in the world. When consumed as a delicacy (and olive can taste bitter) this bitterness has become a staple of fine dining olive oils.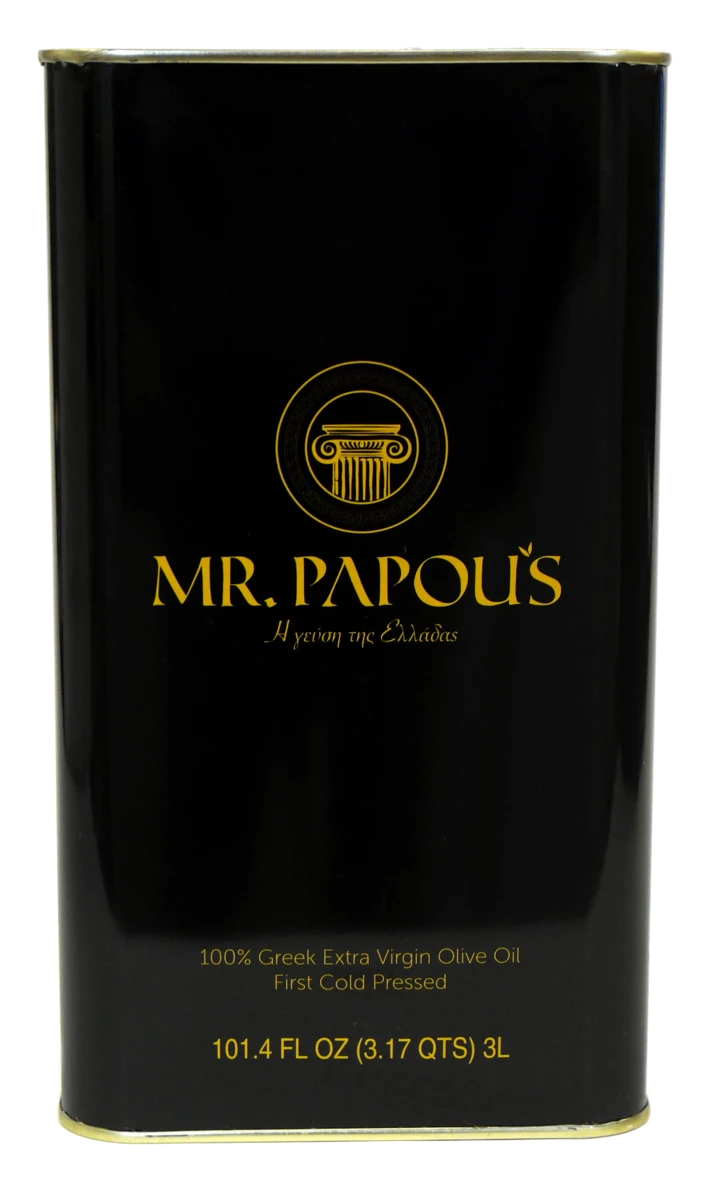 Mr. Papou's combines this bitterness with a strong fruitiness that fills the pallet. 

The relatively small size of these olives also results in a high concentration of natural nutrients. 

Their innovative "early season harvest" approach, coupled with a traditional Greek first-cold pressed methodology, enriches both the aromas and the sought-after appetizing hue. 
"Simply drip, drizzle, or pour this olive oil onto any dish and you will amaze those you cook for. No matter your level of expertise or passion for cooking, this extra virgin olive oil will take your cooking to the next level"- Mr. Papou, LLC.

Mr. Papou's Olive Oils are a great addition to any nutrition plan you have so you can keep moving forward with an inside to outside frame of mind!* In partnership with our friends at Mr. Papou
* In partnership with our friends at Mr. Papou  * Photo courtesy of Mr. Papou
* The information available on ewellnessmag.com, including text, graphics, and other materials is for informational purposes only. Reliance on any information in ewellnessmag.com is at the user's own risk. Sponsored product placement may appear in the article. The visitor of this website acknowledges that the information available on or through ewellnessmag.com is not and is not intended to be a substitute for professional medical advice. Copyright © 2021 Brawo Press, Inc. All rights reserved.
---