Article
4 Ways to Renew Wellness
Taking care of our mind, body and spirit is essential to our enjoyment of life as well as our levels of productivity. You cannot get much done if your body just doesn't feel up to it. As well-equipped as the body is to survive, each of us still has a role to play in supporting it!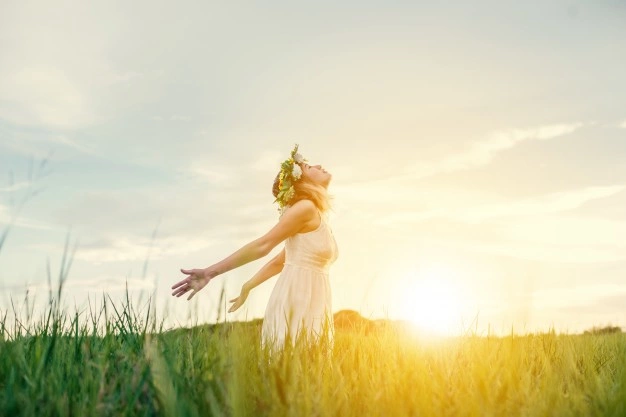 Renewing your wellness may come after a time of illness or injury, or you may just feel like you are not feeling ready and prepped for the day ahead, and you need a bit of a boost. Wellness takes many forms, the important thing to remember is that you are a whole person, this means tending to your mental and emotional needs as well as the physical- from a fundamental perspective, they are inextricably linked! 
Here are 4 ways to renew your wellness! 
Do one thing each day that promotes your wellbeing- in any aspect. Does your skin need some TLC? Do you need to get a bit more sleep? There is always at least one thing we can do differently on a daily basis that can help to rejuvenate and renew us. Make time for that one thing! 

Calm your mind. The mind is an amazing thing but sometimes it can conjure up scenarios and cause worries and stress at the slightest appearance of any challenge to your sense of comfort. Once your mind gets all chained up in worry and stress, the body is quick to follow. This can result in poor quality sleep, bad skin, low energy, and a fluctuating appetite. Stress can impede the body and its natural defenses. You may also find that your immune and digestive function is compromised. So do what you can to calm your mind on a daily basis! 

Have a mini detox. Over time, the body can get built up with toxins from the environment and the food that we eat. Having a mini detox at least once a week can help to reset your body and clear out all the unnecessary garbage. A mini detox may mean that you focus on pure, natural foods for at least a 24 hour period, and stay well hydrated throughout. 

Don't keep waiting for tomorrow. If we keep putting things off for the next day, nothing will ever get done. When we feel like we are lagging behind, this can cause stress, worries, and also impact our confidence and self-esteem to deal with things as they arise. Just as you dust off the cupboards in your home, re-arrange things that are getting in the way around your living space, do the same in other areas of your life. Take the initiative when a problem arises and you'll always be a step ahead rather than two behind. 
Make a promise to yourself and keep it! Your wellness is worth the efforts! TONIC believes in the power of the human body; through their products, they aim to help calm your mind, comfort your body, and nurture your nature with their consciously crafted CBD + botanical blends. 
TONIC is a woman-owned, farm-to-bottle CBD wellness brand rooted in quality, transparency, and sustainability. 
From their certified organic, family-owned-and-operated hemp farm and state-of-the-art, boutique manufacturing facility, to their monthly give-back initiative and industry-leading transparency tech, TONIC has paved the way for a more intentional hemp industry that operates with integrity.
The care taken at every stage of TONIC's process is reflected in the quality of their final product, which boasts hundreds of 5-star reviews - many of which describe the ability of TONIC's products to deliver results where other CBD products couldn't.
"TONIC has thousands of loyal customers across the country, earning a level of trust that isn't easy to come by in the under-regulated CBD industry"- Brittany Carbone, TONIC's Founder & CEO
 
Each TONIC blend is uniquely designed to provide targeted support where you need it the most. By combining their certified organic hemp extracts with purposeful plant-based ingredients, TONIC creates a more integrative, individualized, and effective approach to CBD wellness.
TONIC's purposeful combination of phytochemicals are carefully chosen for their ability to activate various pathways throughout the body on their mission towards a common goal.

 
Immunity pick-me-up: anti-inflammatory properties to block out the bad and help nurture cell growth.

Mind-body balance: level out and level up with an adaptogenic blend that keeps your flow strong and steady. 

Calming clarity: rise above brain fog and enjoy calm, focused clarity by mitigating stress and inflammation — the most common factors contributing to mental fatigue. 

True to Nature: All organic. All-natural and from the most carefully tended corners of the earth. 
 
Here are two of the best-selling blends from their range of products: Chill TONIC and The O.G. TONIC 
 
Relax & Restore with Chill TONIC
"Our super zen blend of CBD, ashwagandha, lemon balm, and passionflowerprovides calming, restorative support for mind and body, while the addition of. Black seed oil elevates the antioxidant, anti-inflammatory, and immune-regulating effects of each dose"- Brittany Carbone, TONIC
CBD, ashwagandha, lemon balm, and passionflower work together to provide a balanced and integrative approach to calm your mind, reduce nervous tension and promote overall relaxation.

While ashwagandha works to regulate stress levels and balance mood, lemon balm and passionflower go further to calm your nervous system, slow racing thoughts, and support a better night's sleep. Peace is always within reach with Chill. It's easy to use and works quickly!

Shake well

Fill the dropper to your preference (Standard dose = 1mL = 27mg CBD)

Squeeze the oil under your tongue and hold for at least 30 seconds before swallowing.

Repeat as necessary

Chill is a great PM solution to help you relax into a more restful night's sleep, but can also be used during the day to address moderate-high anxiety levels, loosening that tightness in your chest and unwinding that nervous tension that has you feeling all tied up
When it comes to dosing CBD, it is always best to start small and work your way up. Listen to your body and adjust your dosing as necessary!
Balance & Awaken with The O.G TONIC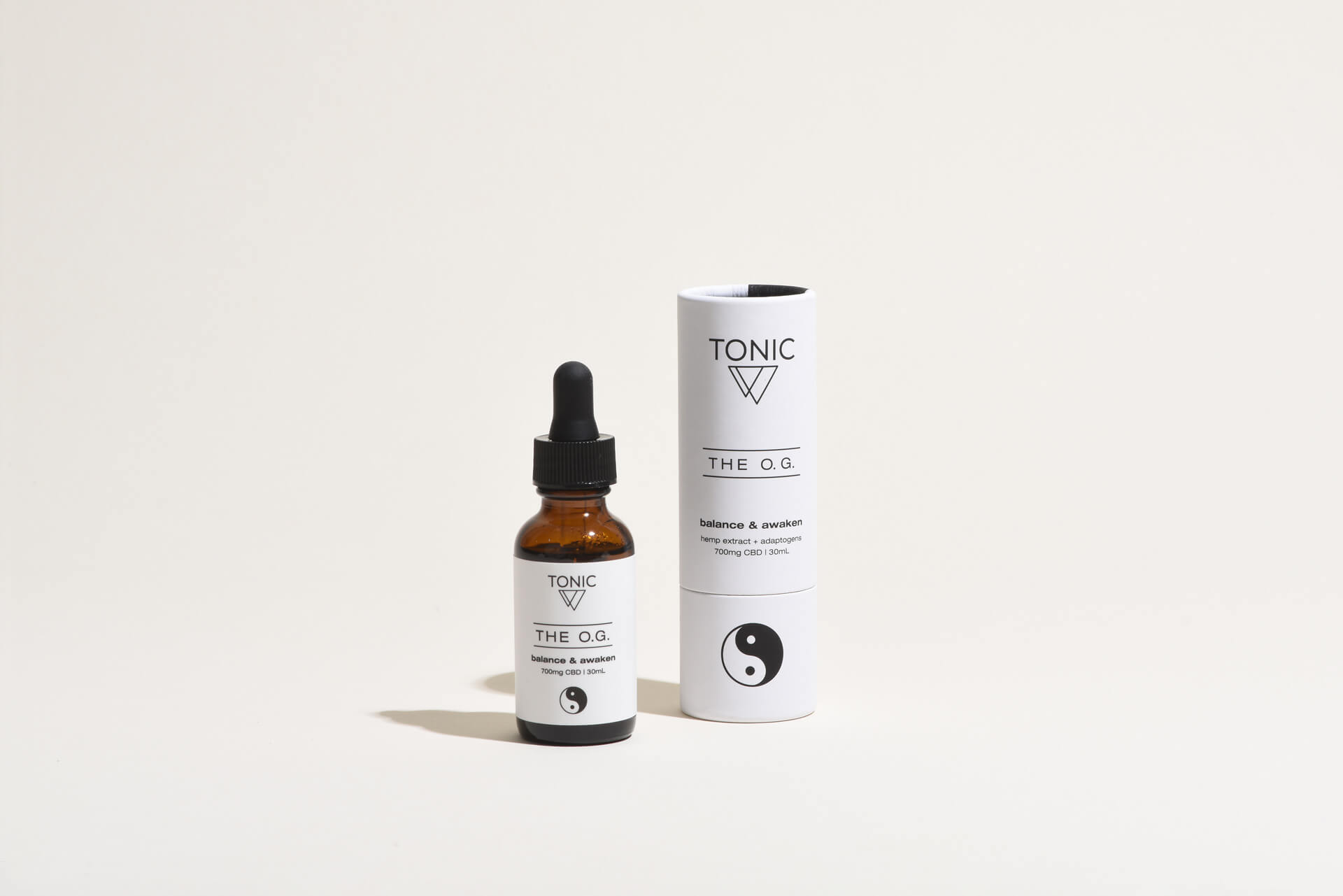 "The OG features our original mood-boosting, stress-relieving, restorative combination of CBD and ashwagandha. These powerful adaptogens work to restore and maintain your ideal state of mind-body balance while strengthening your defenses against physical, mental, and emotional stress, while black seed oilenhances the restorative antioxidant and anti-inflammatory effects"- TONIC
 
The ingredients are natural, purposeful and effective:
Full Spectrum CBD extract, sourced from Tricolla Farms' certified organic hemp flower

Organic Ashwagandha Root Extract

Organic coconut-derived MCT Oil

Organic Black Seed Oil

Food Grade/Kosher Vegetable Glycerin

Pure, Organic Maple Syrup ( 0.2g sugar per 1mL serving)

Organic Sunflower Lecithin
 
The OG TONIC is the perfect daytime stress relief solution. It isn't quite as calming as Chill, so it is best for taking the edge off anxiety, avoiding overwhelm, elevating mood and breaking through fatigue. The adaptogenic combination of CBD and ashwagandha can help: 
Increase resiliency against the negative effects of chronic stress and improve capacity to cope with mental, physical, and emotional stressors

Restore and maintain your body's ideal state of balance, known as homeostasis

Improve focus and mental clarity

Balance mood and energy levels
 
TONIC's O.G blend is a staple for everyday stress relief and overall balance, plus it's so simple to use! 
Fill dropper to your preference (Standard dose = 1mL = 23mg CBD)

Squeeze oil under your tongue and hold for at least 30 seconds before swallowing

Use it in the morning to start your day off on the right foot or during the day when you feel stress and brain fog creeping in.

When it comes to dosing CBD, it is always best to start small and work your way up. Listen to your body and adjust your dosing as necessary!
 
You can enjoy TONIC with full confidence thanks to the industry-leading authentication technology embedded in their packaging. Utilizing NFC technology, each TONIC package is equipped with a "micro chip" that allows you to simply tap your phone to the top of your TONIC tube to reveal third party lab reports that verify how much CBD is in the product and that the product is absent of any contaminants like pesticides or heavy metals.
Once you check out the lab reports you can continue to learn more about the product and how to use it, get more information about our certified organic farm, and access helpful blog posts to make sure you're getting the most from your dose!
A great 2022 begins with you! And TONIC is on hand to assist in your commitment to wellness!
* In partnership with our friends at TONIC  * Photo courtesy of TONIC
* These statements have not been evaluated by the Food and Drug Administration. These products are not intended to diagnose, treat, cure or prevent any disease.
* The information available on ewellnessmag.com, including text, graphics, and other materials is for informational purposes only. Reliance on any information in ewellnessmag.com is at the user's own risk. Sponsored product placement may appear in the article. The visitor of this website acknowledges that the information available on or through ewellnessmag.com is not and is not intended to be a substitute for professional medical advice. Copyright © 2021 Brawo Press, Inc. All rights reserved.
---