Article
3 Ways To Help Your Body Heal
Healing can be a sometimes-stressful process. It takes patience and effort for the body to heal. Whether you are recovering from a previous ailment or currently have an injury or chronic condition you are dealing with, it's important to focus on the end goal and take small, significant steps forward. Read on!
The body is an extremely intelligent thing, far more superior than we often give it credit for. But, sometimes, it just needs a bit of a helping hand to help it heal and recover. The healing process for each of us is different; the main thing is to understand your own body and what you feel works for you and what doesn't.
This way, healing becomes more like an equation; you simply learn to increase the load of things that are working and reduce or avoid the things that don't. "Listen to your body" is always a sound piece of advice!


Here are 3 ways to help your body heal:
As mentioned above, listen to your body. It's funny how frequently we deny what our body is trying to say to us. We think we are super-human or invincible, but your body will only work well for you if you take care of it and course-correct if you veer off path. So, if you feel tired, get some rest, if you are feeling sore and achy, replenish your body, if you feel like you are becoming un well, take steps to see your physician or try some natural remedies to see what works for you.

Stay open-minded. There are many avenues to explore in the world of healing and wellness. A multi-pronged approach means that you give yourself the best opportunity to find what helps you to feel better and recover well. The answers don't all sit within the conventional medicine community; look into natural treatments and vitamins, proteins, minerals that your body may actually be lacking. For instance, the global non-steroidal anti-inflammatory drug business and big pharmaceutical industry is responsible for 121.9 hospitalizations per 100,000 persons per year. This is according to a nationwide study of gastrointestinal events related to non-steroidal anti-inflammatory use. The mortality rate amongst hospitalizations is a whopping 5.62% or 15.3 deaths per 100,000 NSAID/aspirin users. That's an astounding figure to digest! But there are alternatives!

Be patient! Healing is a process. For some it can take a few days to recoup, for others it can be far longer. It all depends on what you as an individual have suffered or are suffering with. Check out case histories and do your research. Finding what works for you is worth the wait if it works!
Gorilla Healing

™

believes in the power of natural treatments, supplements, and therapies. Gorilla Healing™ offers a safer alternative to mainstream pain relief and the healing monopoly by providing a less symptomatic, all-natural peptide-based solution.
They are currently growing upon a 30,000 strong loyal customer base into the mainstream pain relief market with the drug-free peptide-based Wolverine Nasal Spray™ and other supplements.
Wolverine Nasal Spray





 A proprietary blend of synthetic peptides BPC 157 and TB 500 which are naturally occurring healing proteins that are found in nearly all human and mammalian cells.
"Wolverine nasal spray is a supercharged supplement that puts the pep into peptide. This unique healing process contained within Wolverine nasal spray consists of a peptide chain made up of 15 amino acids. BPC is short for "body protection compound" because it's derived from a protein found in the stomach where its role in protecting and healing your gut"- Gorilla Healing
BPC-157 is the ultra-concentrated version of that protein and it harnesses its vast protective power.

Once it gets into your system, studies have shown it to intensely speed up the healing of many different types of tissues—from muscles, tendons, and ligaments to gut and even brain tissue.

There are no worries because there are few reported side effects and no need for a prescription!
"Wolverine" Nasal Spray is a scientifically proven peptide blend of BPC-157 and TB-500, and the results are in. It works! As a dietary supplement, use 3 sprays daily, either at once or broken up into single sprays throughout the day. The dose may be doubled if necessary.  The average suggested length for supplementation is 30-90 days"- Gorilla Healing
BPC-157 is the most versatile healing peptide.  It is a synthesized analogue of the Body Protection Compound, which is a protein that is endogenously produced in the human stomach.  This naturally occurring protein is responsible for protecting the gastrointestinal tract from injury while promoting overall systemic healing, angiogenesis, and a whole range of regenerative effects. *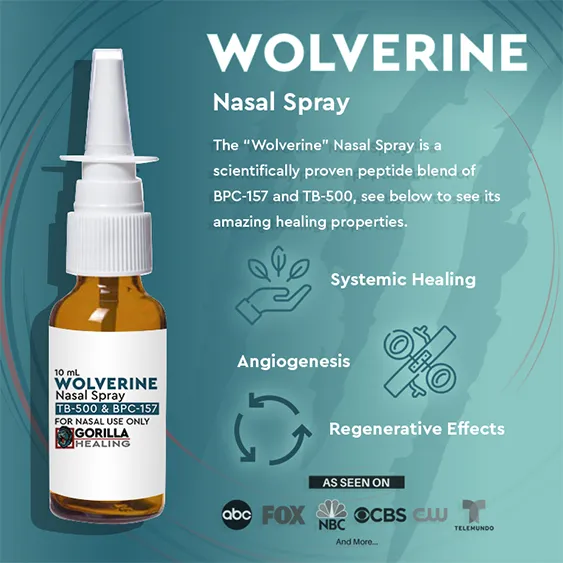 Here's what "

Wolverine"

can help with!
Promotes Gut Healing 

Back Pain Relief

Crohn's Disease

Arthritis

Induces Angiogenesis 

Repairs Muscle, Tendon and Ligament 

Wound Healing 

Reduces Inflammation

Anxiolytic 

Attenuates MA Damage

Regulates Hormones 

Generation of Nitric Oxide 

Improves Immune System 

Antioxidant 

Assists in the Production of Collagen

Nootropic Effects

Promotes Bone Repair 

Prevents and Protects against Drug Side Effects

Brain-Gut Axis Benefits

Antidepressant

Eye Healing
BPC-157 is the only peptide that can be administered orally, and as such maintains its integrity and effectiveness in the extreme acidity of the gut.

Glutathione Nasal Spray
Glutathione (GSH) is a biological antioxidant in all living cells, GSH levels naturally decline with age. However, the availability of GSH promotes lower levels of inflammation & is required to deactivate genes that accelerate aging.
"GSH deficiency is associated with a number of central nervous system diseases such as Multiple Sclerosis, Autism, Bipolar disease, Alzheimer's, and Parkinson's disease. Specifically, in Parkinson's disease (PD) a drop in GSH is often one of the first signs of the development of disease due to the fact that an absence of the antioxidant causes nerve damage, cell death, and oxidative stress"- Gorilla Healing
This antioxidant is vital to reduce the risk of conditions related to antioxidant & metabolic deficiencies, such as diabetes, cystic fibrosis, and aging.

Intranasal delivery allows for quicker access to brain cells & is more effective than other delivery methods (for instance, mouth sprays)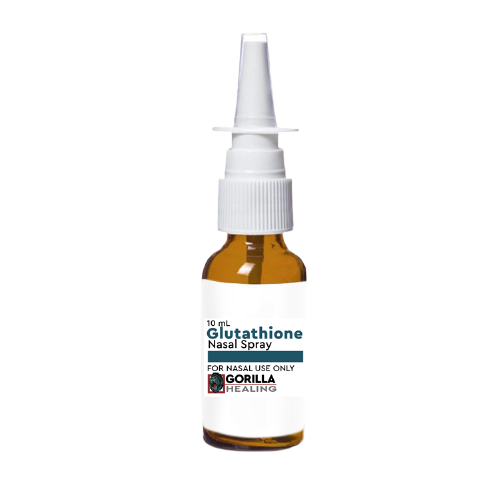 Here are some of the standout benefits!
Known as the body's "master antioxidant"

Reduces brain fog for improved cognitive function

May reduce risk of dementia & neurodegenerative disorders

Brightens Skin

Reverse Anti-Aging Skin

Powerful Anti-Oxidant

Strengthens The Liver System

Boosts Immune System
The suggested dose administered is a 1-3x daily (60mg per spray).
"At Gorilla Healing, our mission is to improve the health of every person who becomes a member of our family. Our experienced team is ready to listen to your needs and provide you with advice. Whether you want to maintain or improve your health, we're here to help you get started. After your visit, we encourage you to share your results with your primary care physician to follow up"- Gorilla Healing
 
* In partnership with our friends at Gorilla Healing * Photo courtesy of Gorilla Healing
* These statements have not been evaluated by the Food and Drug Administration. These products are not intended to diagnose, treat, cure or prevent any disease.
* The information available on ewellnessmag.com, including text, graphics, and other materials is for informational purposes only. Reliance on any information in ewellnessmag.com is at the user's own risk. Sponsored product placement may appear in the article. The visitor of this website acknowledges that the information available on or through ewellnessmag.com is not and is not intended to be a substitute for professional medical advice. Copyright © 2021 Brawo Press, Inc. All rights reserved.                                                                                                              
---