Article
2 Great Tips for Restful Sleep
The secret to good health and vitality lies in a combination of physical, mental, and emotional harmony. As a nation, we understand that diet and exercise are important cornerstones in achieving this harmony. However, there is one equally crucial component that somehow always seems to be overlooked- and that is getting a good night's sleep.
Sleep is the foundation of your body's natural repair systems. Many critical restorative processes occur during sleep including hormone balance, muscle repair and healing, and metabolic function. Sleep also preserves and strengthens your immune system. A lack of sleep puts you at a higher risk for many physical and mental disorders, like obesity, depression, and type 2 diabetes. On top of this, it also affects your natural circadian rhythm, and when this is thrown off, it can impact every aspect of your waking life. For instance, just one night of poor sleep can leave you struggling to cope with the demands of your day, making you more anxious, irritable, and lethargic, as well as significantly impacting your mental alertness and coordination. If one bad night of sleep can affect you to such an extent, imagine what a few nights of poor sleep will do!
Have you heard that we spend one-third of our lives asleep? To put that in perspective, that means if you have had your current mattress for 10 years, during this time you have spent over 3 years on that mattress! This is an astounding fact, and truly illustrates the importance sleep has on your optimal health and wellbeing.


So, here are two pro tips to ensure your beauty sleep is restorative and productive, every single night!
First, set the mood. It can be hard to disconnect at the end of the day, but finding a way to unwind and relax a little before you turn in for the night will help reduce tossing and turning, and make sure your sleep is as productive as possible. Maintaining a bedtime routine every night is a great way to tell your mind and body that it is time to turn off for the day. A soothing bath, herbal tea, listening to gentle music, or reading a few pages of a good book can help you to wind down and prepare your body for bed. About 2-3 hours before bed, avoid heavy meals, alcohol, or caffeinated drinks. Turn off your phone, and stay off social media (this is a big one!). The blue light from the screen, and the sound or vibration from the notifications will wreak havoc on your sleep.

Second, invest in yourself (you are worth it!). You need to be comfortable and properly supported at night to sleep well and gain the full benefits of rest for your health and wellbeing. For instance, if your mattress is more than 7-8 years old, or you wake up with pain, soreness, or stiffness, these are good indicators that it's time to invest in a new mattress. A new mattress can significantly affect both the quantity and quality of sleep you get- and with how much of our lives we spend in bed, it is a truly worthwhile investment. Bedding that regulates your temperature is a good idea as well, so you don't wake up at night freezing (or drenched in sweat). Last but not least, you need a good pillow! Your pillow accounts for up to 30% of your sleep surface, and works hand in hand with your mattress to maintain proper physical alignment during sleep. Pillows are often overlooked, but doing so would be a mistake- upgrading just your pillow can reduce snoring, prevent tossing and turning, and eliminate neck pain!

Honeydew Sleep is a family business dedicated to changing the world through sleep. Founded in 2017, they specialize in pillows, but also make sheets and pillowcases as well. They come from a background of brick & mortar mattress stores, with a heavy focus on alignment and the science of sleep. Their pillows are definitely unique – they are thoughtfully designed, supportive bed pillows engineered to maintain your neck and shoulder alignment, while still feeling comfortable and luxurious.
Honeydew Sleep passionately believes that you deserve a peaceful night, full of deep, restful sleep and fresh beautiful mornings, where you wake up full of energy and without pain or discomfort. That is why Honeydew's pillows are specifically designed to work for YOU. They spent years testing and developing them, and to this day still make every single one by hand in Southern California.
"On the surface, we are a small family business making pillows by hand here in our hometown in Southern California. But there is more to it than that – at the heart and soul of our company is the belief that there is nothing more important than getting a good night's rest, and we will stop at nothing in our pursuit to deliver that to the world. We are so confident that you are going to LOVE your Honeydew Pillow, that we even offer a 60-night risk-free trial on every pillow we sell"- Honeydew Sleep
The Scrumptious Side-Sleeper Pillow
This is Honeydew's most popular pillow and for good reason! The gentle curve of the Scrumptious Side Sleeper Pillow is one of those things that makes sense immediately when you lay down upon it.
"Every person is unique. We all have different bodies and sleep in different positions. Pretending that one height of pillow will work for everybody is a laughable concept - and yet one we have come to accept as "the norm". At Honeydew, we think you deserve better! That's why we have made every one of our pillows adjustable. After all, one size DOESN'T fit all, and nobody knows what you need better than you!"- Honeydew Sleep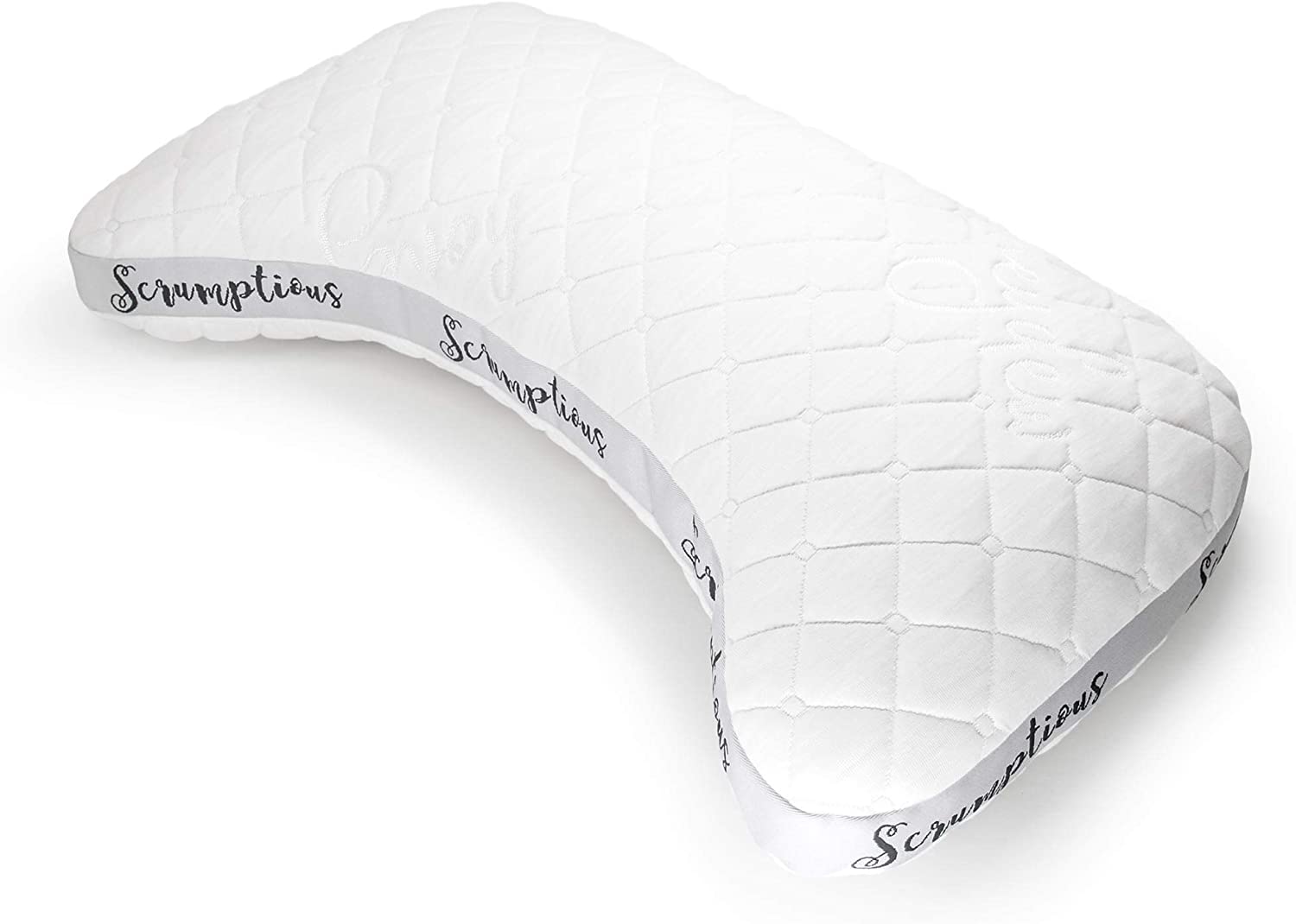 This simple change in the geometry of your pillow allows it to naturally support your neck and shoulders regardless of whether you sleep on your side, your back, or your stomach. It's not just a basic side-sleeper!

When it comes to materials, Honeydew Sleep uses only the best. Their foam is CertiPUR-US certified, copper infused, and made right here in Southern California. Honeydew Sleep's fill is cooling, hypoallergenic, and the perfect consistency - doughy and soft, yet substantial and supportive.
It took Honeydew Sleep years to craft this fill using a secret recipe; this is not your usual memory foam pillow. It is 100% proprietary, and they do not license it to anybody – what you get with Honeydew Sleep is a unique, and satisfying sleep experience.
The Scrumptious Travel Pillow
This pillow will change your entire experience of traveling, and is a game changer for those who travel for work! Honeydew Sleep created this because they were fed up with horseshoe-shaped airplane pillows, and wanted something supportive and comfortable that you could use in a hotel room as well as an airplane.
They were determined to recreate the comfort and support provided by their full-size pillows, but in a package that was easy to take with you anywhere and didn't take up any suitcase space.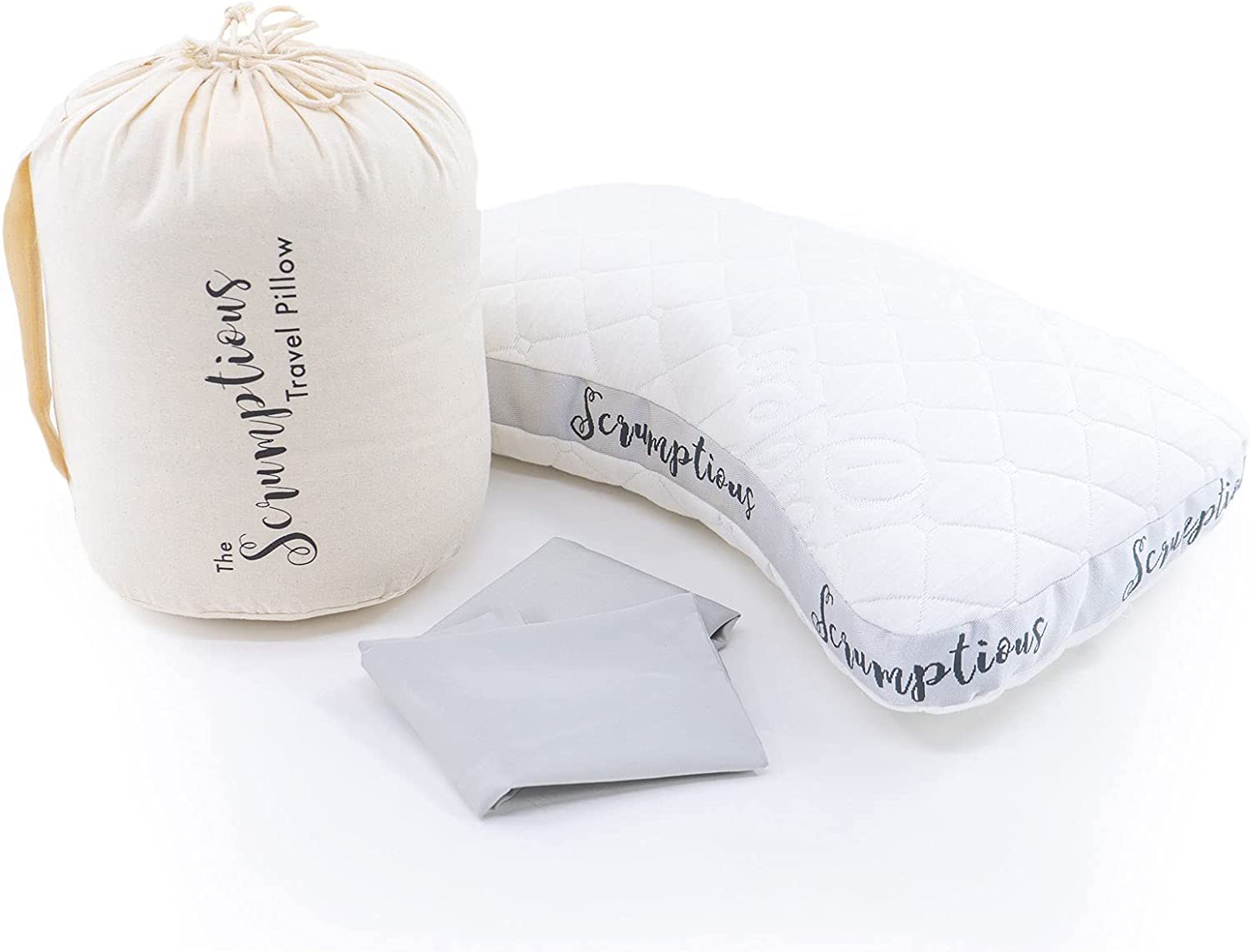 This pillow has a gentler curve than Honeydew's Scrumptious Side Sleeper Pillow but utilizes the same copper fill, which is cooling as well as antibacterial and hypoallergenic.

Like all of their other pillows, it is fully adjustable, letting you dial in the exact profile you need to provide optimal support for your specific body type.

At 21"x12", it is bigger than a typical travel pillow but comes with its custom-fitted pillowcase and a carrying bag that lets you roll it up in a small, convenient package.

This carrying bag has its own handle, which was designed to be the perfect size for sliding over your suitcase's retractable roller handle. This lets you take it with you everywhere, while not taking up any room in your suitcase or forcing you to carry it through the airport.
This combination of comfort, size, and portability is what allowed Honeydew Sleep to create a truly compromise-free experience – it feels so much like their queen size pillow that many customers report using it every night as their primary pillow!
If you travel for work or are vacationing this summer, take the Scrumptious Travel Pillow with you so you can make the most out of every day. Whether you are a road warrior or not, focusing on a great bedtime regimen and upgrading to a Honeydew pillow will provide you with sweeter dreams and a more restful sleep!

* In partnership with our friends at Honeydew Sleep Co.* Photo courtesy of Honeydew Sleep Co.
* These statements have not been evaluated by the Food and Drug Administration. These products are not intended to diagnose, treat, cure or prevent any disease.
* The information available on ewellnessmag.com, including text, graphics, and other materials is for informational purposes only. Reliance on any information in ewellnessmag.com is at the user's own risk. Sponsored product placement may appear in the article. The visitor of this website acknowledges that the information available on or through ewellnessmag.com is not and is not intended to be a substitute for professional medical advice. Copyright © 2022 Brawo Press, Inc. All rights reserved.
---