Article
Top 6 Reasons to Love Coconut Oil
Coconut oil is a truly amazing and wholly natural product. But not any coconut oil will do. There are some synthetic ones on the market, but if you are going to go nutty for coconuts- do it right with Virgin or Cold Pressed Coconut Oil!

So why is coconut oil so good for you? There are numerous health benefits, and the great thing about coconut oil is that it is extremely versatile. Its use is not just limited to actual food; you can use it topically on your body and receive benefits also.
Here are the top 6 reasons to love coconut oil!
Coconut oil is a medium-chain fatty acid. As we know, there are fats, but some fats are very good for you. So although this oil is high in saturated fats- it is the good type! The fatty acids present in coconut oil are mostly medium-chain and so they are utilized by the body far more efficiently for energy rather than being stored as fat.

As mentioned earlier, coconut oil is supremely versatile. As a food, it can be used in cooking, baking, or added to your coffee or smoothie. As a body product, you can use it as a moisturizer for your skin; you can also smooth out frizzy hair with just a touch of coconut oil to add sleekness, shine, as well as nourishment!

It's so good for you: coconut oil can be classed as a superfood! It can help to manage your weight, or act as a type of fat-burner, raise levels of HDL cholesterol (that's the good one!), and improve your heart health. Studies are ongoing about the positive potential effects of coconut oil on brain health and in stabilizing degenerative brain diseases such as Alzheimer's.

Coconut oil is a natural anti-inflammatory. As it is such a great anti-inflammatory, it may help with digestive function or just generally help to ease inflammation within the body.

Coconut oil is also anti-fungal, and anti-viral. It can be used to help keep your teeth clean/whiter and also help to protect your oral health. Have you noticed how many whitening kinds of toothpaste include coconut oil as an ingredient?!

Coconut oil is also anti-microbial, and although it is not measurable, it protects the skin from the damaging rays of the sun.  It is also considered a "dry oil" and absorbs quickly into the skin.
There is little doubt that Coconut Oil is one of nature's healing blessings. There are many more reasons to love coconut oil. Hawaiian Body Products includes it as an ingredient in a number of their wellbeing products. Hawaiian Body Products uses Organic Coconut Oil in most of their premium artisan crafted beauty products!

Hawaiian Body Products is a family-owned and operated business in Hawaii since 2005; they are committed to supporting the Hawaiian culture and the environment. 
"We are proud makers of Ola Tropical Apothecary beauty and wellness collections. Ola means "life force" in the Hawaiian language. Our products are the essence of Hawai'i!" – Hawaiian Body Products
Hawaiian Body Products are premium quality. Their Hawaiian-inspired body and skincare products help people to understand more about this powerful place by communicating the beauty and the healing properties of these islands. 
"What makes our products unique is that our products are based on a sense of place, and the synergy that is created when healing plants are blended. Our products are based on the skin healing benefits of Hawaiian plant medicine, fruit and flowers that are grown locally, wildcrafted, fresh and organic"- Hawaiian Body Products
Hawaiian Body products are all made by hand in small batches so that what you get is pure food for the skin! Fresh and potent, and direct from our farm to you! I think this needs to be part of the quote above. 
Here is a peek at two amazing products with Coconut Oil as a primary ingredient: Coconut Body Butter and Sugar Body Polish!

Coconut Body Butter 
​Ola Coconut Body Butter is a luxurious, creamy blend of tropical nut butter, infused with extracts and distillates of Hawaiian plants to repair, replenish and moisturize dry, thirsty skin. Thicker and richer than Body Lotion, it absorbs quickly leaving skin nourished and radiant, never greasy.


The Best Way to Use! 
Hawaiian Body Products body butter makes exceptional Dry Skin therapy for the whole body. Place a small amount in your hands and massage it into your skin. It can even be used on the face if you have dry skin. It absorbs quickly and will leave your skin feeling nourished and looking radiant!
Key Ingredients include:
Organic Coconut Oil, Aloe Vera, Macadamia Nut, Avocado, and Cocoa Seed Butters: Anti-aging, providing deep moisturizing and hydrating benefits, strengthens underlying tissue, and supports new cell growth. Anti-microbial and anti-fungal to keep skin clean and balanced.

Bamboo, Sweet Potato, Seaweed, and Banana: Anti-inflammatory, moisturizing, softening, and conditioning for the skin.

Organic Distillates of Mamaki Leaf, Turmeric, Ginger and Taro Root, Noni Fruit, and Sugar Cane: High in antioxidants, anti-inflammatory, exfoliating, hydrating, and moisturizing.
Sugar Body Polish  
Ola Sugar Body Polish is a gentle, natural exfoliating product combining Raw Cane Sugar with Hawaiian Honey. Its ingredients include Hawaiian plant extracts and tropical oils that will cleanse, renew and condition the skin. 
The irresistible scent
comes from blending coconut with tangy lemongrass. Creating a balanced scent that is sweet and seductive.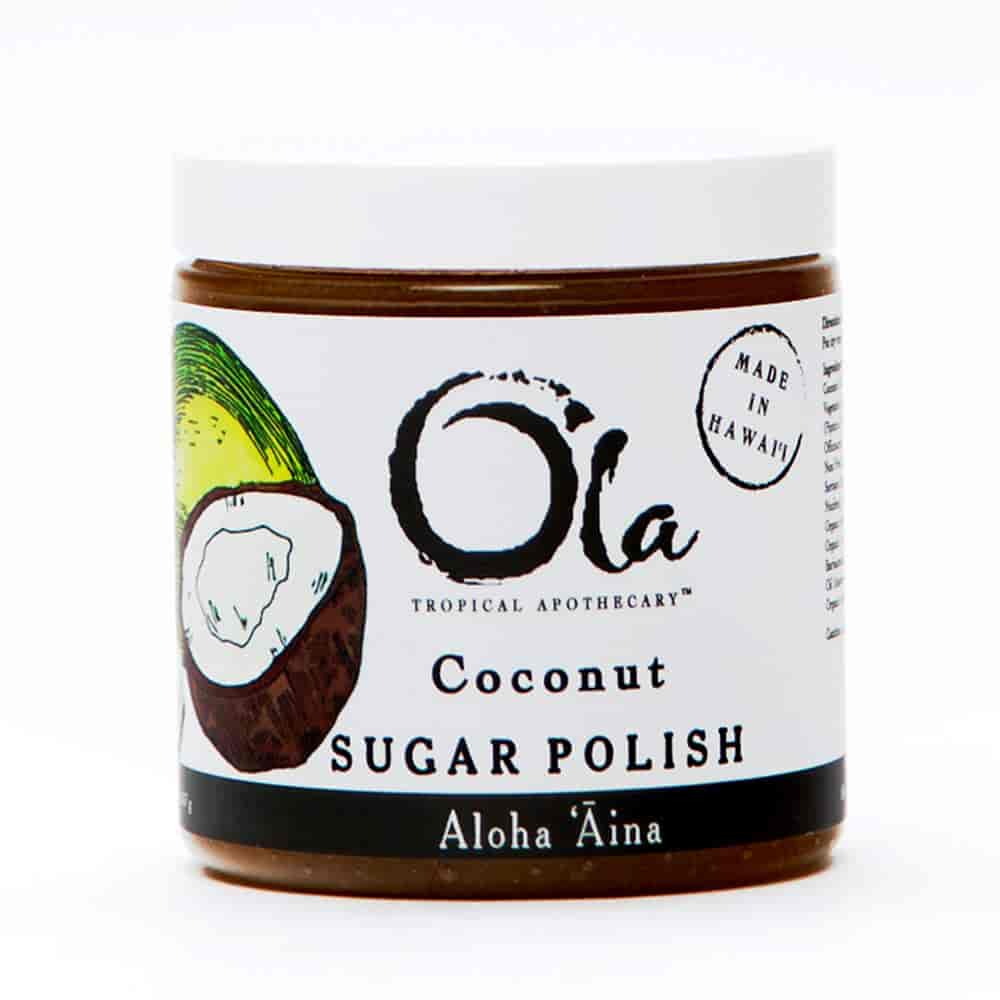 The Best Way to Use It! 
This body polish is a "one-stop-shop" product to enjoy once a week, you can use it instead of a body wash or soap to promote radiant-looking skin! Sugar has been proven to lighten and brighten skin. It is ideal for hands and feet, décolleté and shoulders, elbows, and knees, and can even be used gently on the face.
Key Ingredients Include:
SUGAR: High in Alpha Hydroxy acids that repair damaged and aging skin, and regenerate new skin. The granules help to exfoliate and cleanse the skin, and in addition, they can be one of the most effective ingredients when you are trying to lighten your skin.

HONEY: Anti-bacterial, Anti-microbial, moisturizing and hydrating, conditioning, and softening.

COCONUT OIL: Anti-aging; Provides deep moisturizing and hydrating benefits, strengthens underlying tissue, and supports new cell growth, anti-microbial and anti-fungal to keep skin clean and balanced.

Banana, Mamaki Leaf, Turmeric, Ginger and Taro Root, Sugar Cane, Aloe Vera, Noni Fruit: Anti-inflammatory, High in antioxidants, moisturizing, softening, and conditioning for the skin.
Hawaiian Body Products also support projects and education in Hawaii that promote sustainability and youth empowerment to ensure the survival of this amazing cultural landscape. All of their beauty and wellness products are 100% made on the Big Island.
"Nestled between volcanos is our factory and farm, where we grow many of the organic Hawaiian ingredients that we use" - Hawaiian Body Products
 
* In partnership with our friends at Hawaiian Body Products * Photos courtesy of Hawaiian Body Products  
* The information available on ewellnessmag.com, including text, graphics, and other materials are for informational purposes only. Reliance on any information in ewellnessmag.com is at the user's own risk. Sponsored product placement may appear in the article. The visitor of this website acknowledges that the information available on or through ewellnessmag.com is not and is not intended to be a substitute for professional medical advice. Copyright © 2021 Brawo Press, Inc. All rights reserved.
---