Article
Finding Modern-Day Calm
Calmness and serenity are two words that very few of us can use to describe how or what we are feeling. The modern age has made us busier than ever with many of us juggling the demands of work, family, and social life quite badly. And it is not for the want of not trying! 

For most of us, attempt, as we might, the balance for a healthy and well-lived life, is difficult to fathom and achieve. If anything, we end up piling more upon our daily schedule rather than less. This is why it is always a priority to make time for calmness, peace, and some well-earned rest. 
With stress one of the biggest modern-day killers, the ability to step back, find perspective, and take time for some self-care can do great wonders for your health overall. Yes, the recent pandemic may have been an opportune time to reflect and take time out, but it was not without its stresses. If anything, a situation such as this may have added more pressure on people and ripped away at their social support system due to social distancing measures. 
Rebalance and Reset
Stress affects the body in numerous ways; pretty much every fundamental system of the body is impacted once the body is in a continued or prolonged state of stress. Levels of stress do vary from person to person, we all have different qualities and attributes, and some people are better equipped to deal with stress. However, just because a person seems to be dealing with it well, it doesn't mean it isn't there! 
One of the main things stress negatively impacts is your immune function, and especially at this time, our immune system needs support to keep us well. Here are a few things you can do to destress, strengthen your immune system and keep your wellness in check! 
Whatever your stress threshold is, always be realistic about what you can manage mentally, physically, and emotionally. Don't try to be a hero at the risk of your health! Manage your daily schedule in a way that allows you some free time to catch up with yourself. Be objective and make a time management focus point for your day. 

Nutrition. Your body needs good nutrition to function at its best. This is even more important if you are fairly busy because the tendency to snack, overeat or under eat may be more apparent. Ensure you are eating well and include superfoods such as berries, greens, nuts, and omega 3 rich fish in your diet. Supplements can help balance out your nutrition, but you need a good baseline level of nutrition from which to start! 

Stay active and keep moving. The benefits of exercise are immense on all functions of the body; staying active can help to reduce or manage stress significantly. Keep it simple and go for a walk daily- this can also help to boost your mental focus! 
Looking after yourself requires a rebalance and reset from current or past behaviors around your health and wellness. The first step is to acknowledge what needs to change and then set a plan in motion! Empowering yourself to take charge of your health is a valuable step forward, and

Magic ImmuneATea™

can help you to take that initial stride toward better wellbeing by providing a broad array of nutritious adaptogens in a convenient, delicious tea!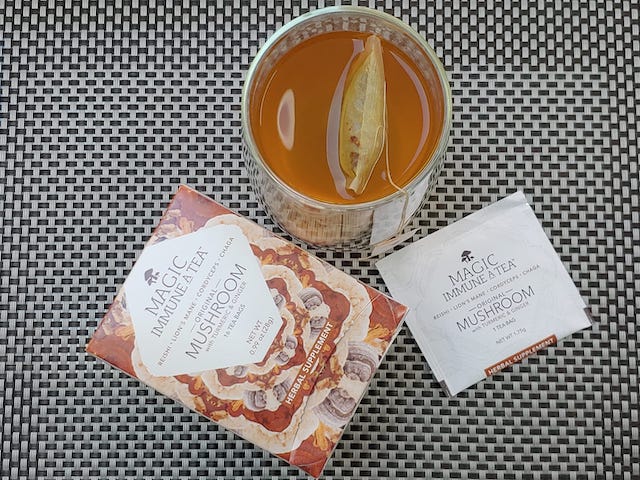 15% extra Savings Coupon applied at checkout!
Based in wellness mecca, Boulder, Colorado, 

Magic ImmuneATea™

 is focused on empowering others to improve their health and wellness.  They provide products that feature the amazing wellness benefits of Reishi, Lion's Mane, Chaga, and Cordyceps mushrooms, along with other adaptogenic herbs and spices. Beyond enjoyment and relaxation, the benefits of drinking

Magic ImmuneATea™

 include supporting:
A healthy immune system & lung function

A healthy heart

Improved digestion & gut health

Neuro optimization providing natural, focused energy, a calm brain, and a better mood
"At Magic ImmuneATea™ we believe that everyone deserves to feel good and enjoy life! We believe that there is nothing more important to achieving those goals than what one puts in one's mouth. Diet is everything. You are what you eat, and all that you ever will be is limited when you make the wrong nutrition choices. We are a family company, and our family has always been focused on the benefits of healthy living including exercise and diet"-

Magic ImmuneATea™
The company founders were raised in the Midwest growing and preserving their own food.  Later they supported local co-ops and local health food stores to make sure their kids had the best nutrition before "organic" was cool or widely available! 
"We met a holistic energy healer who helped us understand the benefits of certain supplements which, when coupled with our commitment to improving our diet, helped us solve a variety of health issues we were facing. Our healer also introduced us to the benefits of medicinal mushrooms as he drank a tea daily which included a variety of natural supplements, immune-boosting mushrooms, and other adaptogens"- Magic ImmuneATea™
Mushrooms are Magical! 
Mushrooms have been utilized for centuries in holistic health as an immune system booster and also for maintaining healthy lungs, a healthy heart, a healthy gut, and for neuro-optimization to center and calmly focus the brain. 
Increasing numbers of people are becoming aware of the immune-boosting benefits of Reishi, Lion's Mane, Chaga, and Cordyceps mushrooms, and sales of mushroom beverages are growing rapidly. Given all of these amazing benefits (plus many more), Magic ImmuneATea™ developed an easy to make, delicious immune-boosting mushroom tea blend featuring Reishi, Lion's Mane, Chaga, and Cordyceps mushrooms. 
The unfortunate events of 2020 gave the family no choice but to bring their adaptogenic, immune-boosting mushroom tea to the market to give people an easy and enjoyable way to build a strong immune system and to hopefully help calm their brains all of the anxiety. If ever there was a need for a delicious, neuro-optimizing, and immune-boosting tea, now has to be the time! 




15% extra Savings Coupon COUPON applied at checkout!
"We like to say that Magic ImmuneATea™ is Packed with Life given that it is loaded with the Reishi, Lion's Mane, Chaga, and Cordyceps mushrooms along with 12 other organic adaptogenic herbs and spices including Cacao, Turmeric, Cinnamon and Ginger"-

Magic ImmuneATea™
The ritual of having or sharing a cup of tea has existed for centuries, likely because teas are an enjoyable social ritual and are also associated with superior nutritional absorption. 
When

Magic ImmuneATea™

launched, two specific characteristics of a great tea were the focus: Taste and Convenience. This is because most mushroom beverages don't have a pleasurable taste and require elaborate mixing equipment and extensive clean-up. 

Magic ImmuneATea™

is different!
What makes Magic ImmuneATea™ different ?
An absolutely delicious, great taste either hot or over ice!

It comes in a box containing 16 easy-to-use teabags.  No messy preparation or clean-up required!

Good to the last drop with no sediment that most mushroom beverages leave behind at the bottom of the cup! 
Unlike other adaptogenic beverages, loose leaf teas or powders, with

Magic ImmuneATea™

you don't need a French press, tea infuser, or blender. Just put a bag into a cup, fill with boiling water, multi-task for 4-5 min, then enjoy with no clean-up! Pro tip:  After brewing, add to a water bottle full of ice for on-the-go health!
"Stress is everywhere around us and it can be all-consuming. The good news is that our bodies are naturally designed to adapt to these external stresses if we give them the right nutrition. Magic ImmuneATea™ mushroom tea delivers 16 powerful adaptogens to deliver all in one support for your immune system, lungs, heart, brain, digestion, energy and mood!"- Magic ImmuneATea™
* In partnership with our friends at Magic ImmuneATea™
*
 Photos courtesy of 
Magic ImmuneATea™
* The information available on ewellnessmag.com, including text, graphics, and other materials are for informational purposes only. Reliance on any information in ewellnessmag.com is at the user's own risk. Sponsored product placement may appear in the article. The visitor of this website acknowledges that the information available on or through ewellnessmag.com is not and is not intended to be a substitute for professional medical advice. Copyright © 2021 Brawo Press, Inc. All rights reserved.
---