Kalahari
- Zero Sugar
- Air Dried Beef
- Gluten Free!
Prosciutto Style Seasoned Sliced Beef. A tender flavorful experience that is a unique cross between jerky, slow-roasted beef, and the finest Italian prosciutto!
Order

now

to save

15% off
Your discount code is: WELLKB15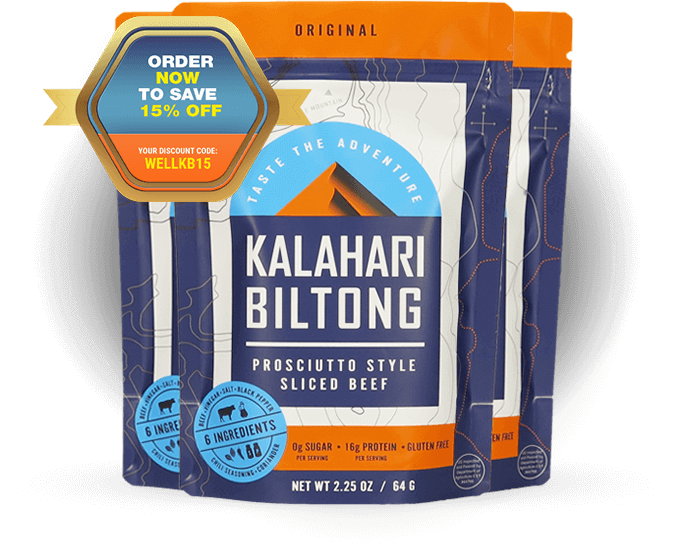 Sliced beef made of 6 simple ingredients that we air-dried for 18 days using a traditional South African method


Awesome company with an awesome product! DELICIOUS. I can't get enough of it. The texture is similar to prosciutto. It's perfectly spiced: every bite is flavorful but not overpowering. This is way better than any jerky you've ever tried. It's in a different league entirely
Jesse Gildesgame

satisfying snack for active enjoyers of life! Forget Power Bars, Larabars, Kind Bars, & Lunabars, instead choose a *real nutritional, satisfying snack*: Kalahari Biltong!!
James Twark

The folks at Kalahari Biltong went out of their way to ensure that I was a happy customer. The communication was excellent and I am now a loyal customer. Their product is delicious and will be a staple at my house for a long time to come. Way to go, Kalahari Biltong!
Stacy Petruzzi
1
GLUTEN FREE and ZERO SUGAR
2
LEAN: 37g Protein | 0g Sugar | 2g Carbs
3
SIMPLE: 6 Ingredients | All Natural
4
CLEAN: Paleo | Soy-Free | Gluten-Free | Sugar-Free
5
HIGH PROTEIN - Air dried top round American Beef!!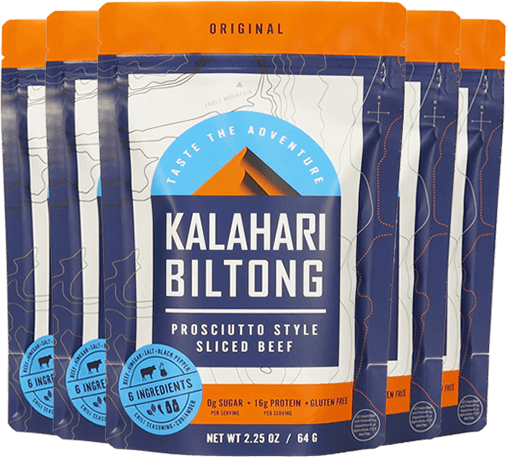 We believe Less is Always More… that's why we are proud that each batch of Biltong is made with only 6 ingredients. From the cut of our beef to the selection of our ingredients, all have an intended purpose, whether preservation, nutrition, or flavor accent.
By refusing to hide behind high heat, sugar, sauces or artificial preservatives the quality of each of our ingredients is more important than ever. From the farms our cattle are raised, to a specific cut of top Round American beef that we use -- we never stop looking for the best of the best.
We promise to stand by our claim of never adding ingredients that don't belong for the sake of cutting costs or pleasing investors, ever...
Order

now

to save

15% off
Your discount code is: WELLKB15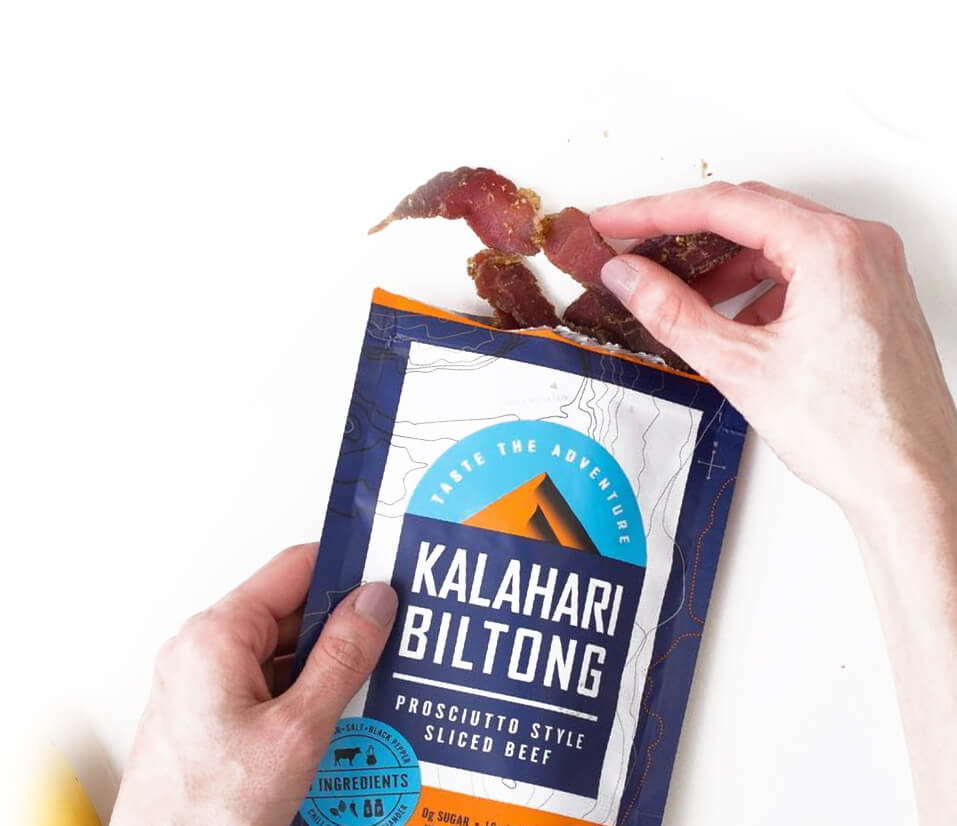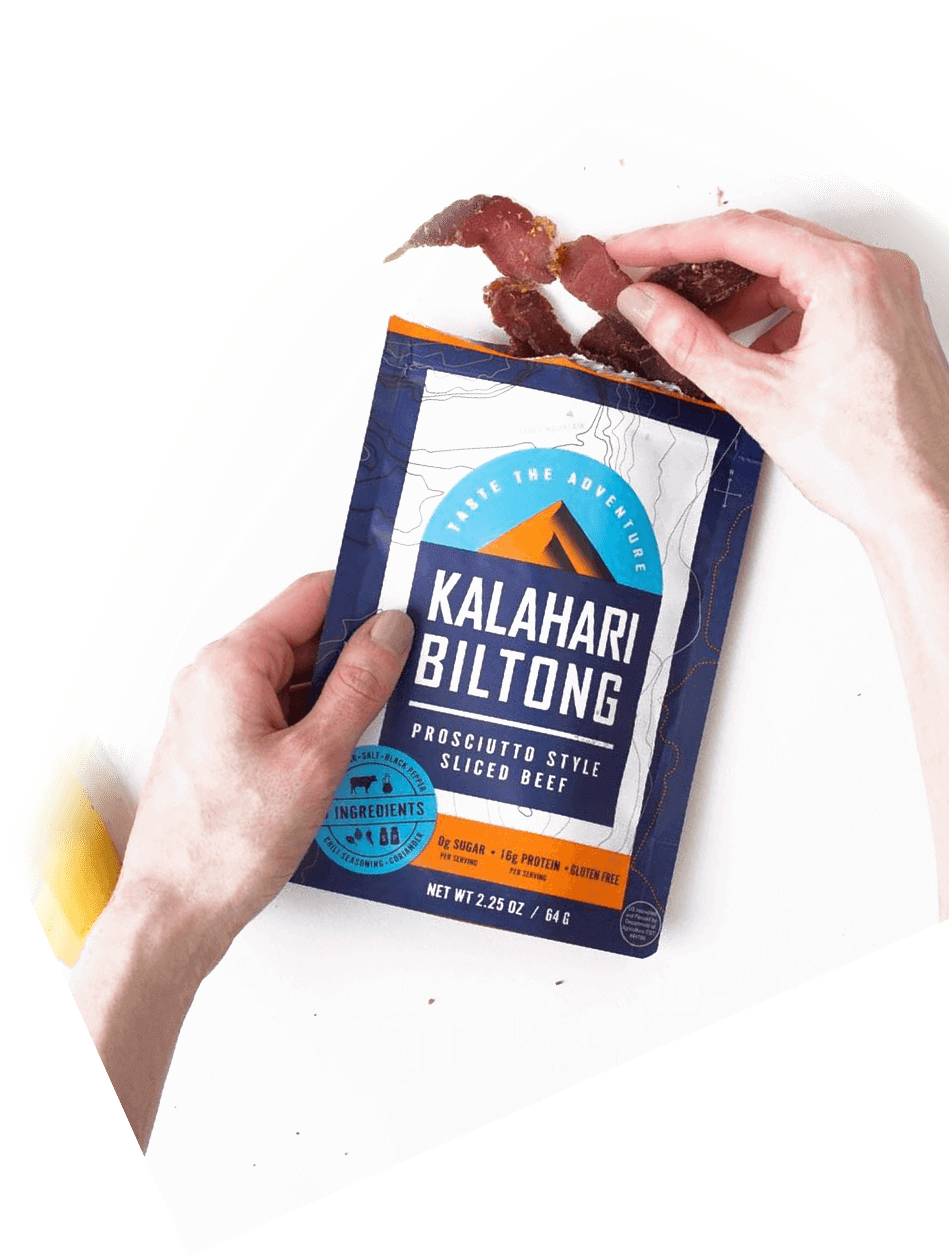 Frequently asked questions
What is Biltong?
A Century old South African tradition of naturally air drying meat with simple ingredients, creating a cross between dry-aged beef, and prosciutto.
Is it Jerky?
No! Jerky is typically blasted with high heat, and pumped full of sugar, artificial ingredients and sodium, resulting in a tough, leather experience. Biltong, unlike Jerky, is air-dried for 3 weeks, similar to the style of a prosciutto, resulting in thin, sugar-free ten-der slices of beef.
How do I Enjoy?
Biltong can always be enjoyed as a healthy snack on your next adventure, but why stop there! Try Biltong with: Omelettes, Pizza, Salad, Beer, Wine & Cheese or simply Biltong on its own!