Article
SLIMMER YOU WITH HEALTHY, FIBER-FILLED CARBS
Summer is a great time to enjoy the bounty of the season, and the warm weather calls for refreshing dishes. When you eat foods that are in season, they are not only more affordable, they are also fresher and packed with the highest amount of flavor and nutritional value. What means the dishes for your holiday party should be even healthier and more delicious than last year. 

It's also a great time to consider shedding those extra stubborn pounds. Summer is actually the best time to find foods that are packed with fiber – a weight-loss superstar. You can still have your carbs and slim down if you choose the right ones.
The following fat-burning foods are good choices to keep you fueled and full all day that are low in calories but packed with taste.
LENTILS - Although lentils include all the beneficial nutrients like fiber, protein, minerals, and vitamins, they are still low in calories and contain virtually no fat. One cup of cooked lentils only contains about 230 calories, but still leaves you feeling full and satisfied. They are great for blasting belly fat.
CHICKPEAS - Super affordable and tasty, chickpeas deserve a spot in any health-conscious kitchen. Each serving comes packed with nutrients, from iron to B vitamins. And chickpeas have plenty of nutrients that can help you lose weight, too. How? Chickpeas are a great source of protein. Your body burns a lot of energy - in the form of calories - to help break down the protein.
QUINOA – Quinoa is higher in protein than any other grain, and it packs a hefty dose of heart-healthy, unsaturated fats. Quinoa is also a great source of fiber and B vitamins, and it's gluten-free.
KANIWA -  Baby quinoa, also known as Kañiwa, is predicted to become the next 'new' ancient super food. Kañiwa is called quechua, cañahua, and baby quinoa because it looks and tastes similar to quinoa, and us its botanical relative is loaded with lots of good nutrients. It cooks up with a crunchy texture & makes a nutrient-rich, delicious breakfast or dinner.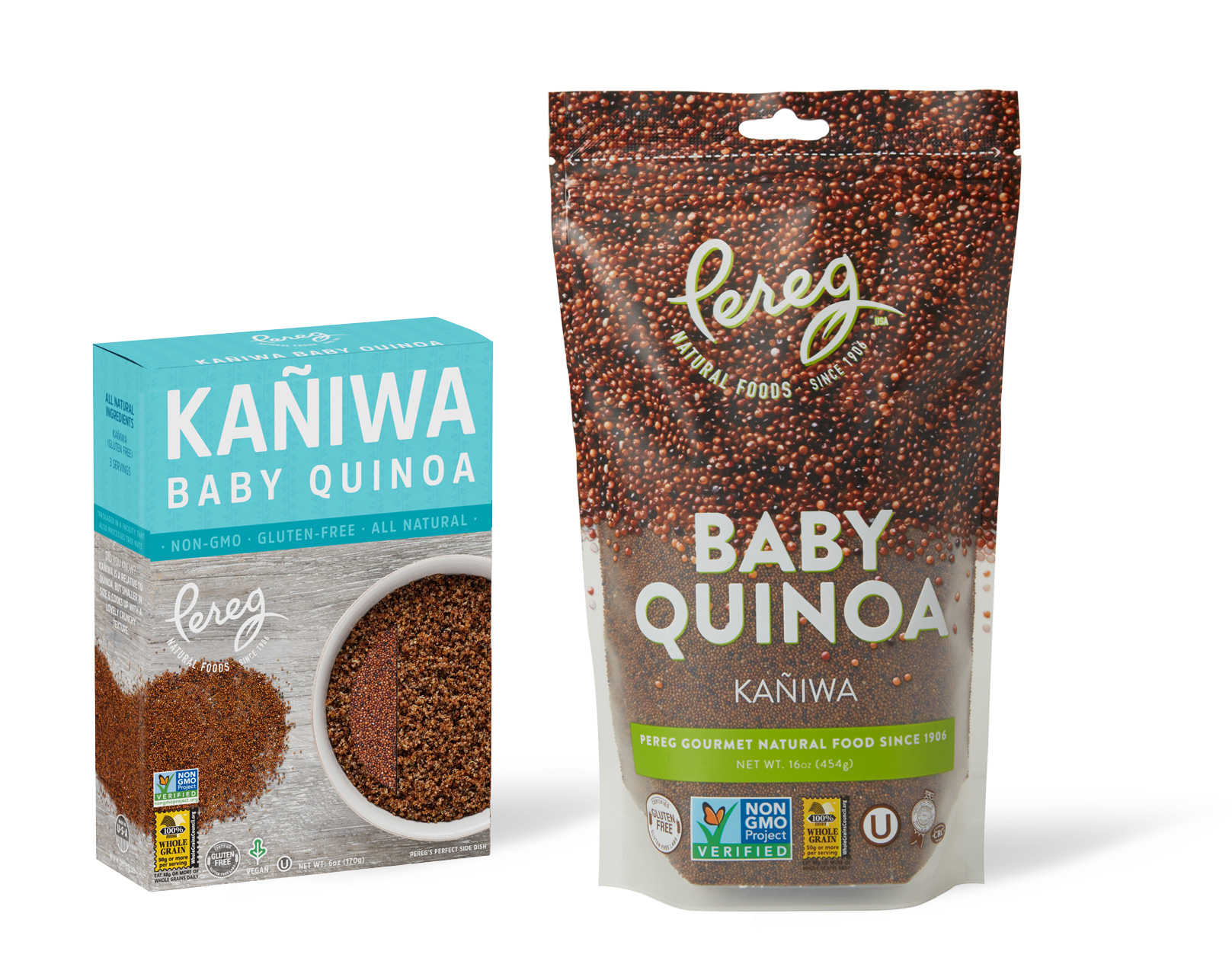 QUINOA FLAKES -  Quinoa flakes are made from pressed quinoa. You get all the health benefits of quinoa with a more familiar breakfast texture and a quicker cooking time. Use it as a great alternative to oats for a quick breakfast.
KAMUT – Kamut is rich in heart-healthy omega-3 fatty acids, and it's also high in protein while low in calories. A half-cup serving has 30% more protein than regular wheat, with only 140 calories. Kamut helps to reduce cholesterol, blood sugar and inflammation.
BANANAS – Bananas help reduce stomach bloating and are a good source of potassium, which can help lower water retention and prevent muscle cramping during a workout. Bananas are also rich in glucose, a highly digestible sugar, which provides a quick energy boost.
SWEET POTATOES -  Sweet potatoes are loaded with fiber, nutrients and can help you burn fat. The magic ingredient here is antioxidants - they stabilize blood-sugar levels and lower insulin resistance, which prevents calories from being converted into fat. They provide a great energy boost before a workout.
BROCCOLI – Broccoli is a cruciferous vegetable that's rich in Vitamin C. Vitamin C builds collagen, which forms body tissue and bone, and helps cuts and wounds heal. It has nearly 1 gram of fiber per 10 calories. Fiber helps keep you regular and helps maintain healthy bacteria levels in the intestines. Broccoli also aids in digestion by helping to keep your stomach lining healthy.
BUCKWHEAT - Like quinoa, buckwheat is gluten-free and a complete source of protein, which means it supplies all nine-essential muscle-building amino acids the body cannot produce on its own. It is also high in magnesium and fiber.
TEFF – Teff is a mild, nutty whole grain and a complete protein that's rich in vitamins and fiber. It is also rich in calcium and iron. Diets rich in calcium have been associated with lower body weight and reduced weight gain over time.
BLUEBERRIES - A cup of blueberries has 21 grams of carbs, but they couldn't be better for you.  They are loaded with polyphenols—chemical compounds that prevent fat from forming— and that actively burns belly fat.
By incorporating these high fiber carbohydrates into your diet, you'll feel fuller longer, get many of the vitamins and nutrients your body needs, and burn fat while enjoying good, healthy food.
Pereg Natural Foods (www.pereg-gourmet.com) offers an extensive line of all-natural grains and ancient grains including quinoa, teff, buckwheat, kamut, lentils, and chickpeas, among others. They manufacture all their products from start to finish, controlling the quality from the sourcing until the product is packed and ready for the consumer.
Enjoy these delicious recipes
KAñIWA BURGER
This recipe incorporates many of the fiber-filled, fat burning foods that will help you spring forward to a healthier, slimmer you!

Ingredients:
2 cups water

½ cup raw Pereg Natural Kañiwa

1 cup water

1 cup cooked chickpeas, smashed, with the skins removed

½ cup gluten-free Panko breadcrumbs

1 large egg, whisked

1 garlic clove, minced

¼ cup white onion, minced

¼ teaspoon smoked paprika

½ teaspoon kosher salt

¼ teaspoon cracked black pepper

2 tablespoons coconut oil
Directions:
Prep time: 10 minutes 
Cook time: 30 minutes 
Serves: 2 big burgers or 4 smaller burgers


*Estimate Only
STEP 1
Combine kañiwa and water in a medium saucepan and bring water to a boil. Lower to a simmer, cover, and simmer for 15-20 minutes or until tender and the water is absorbed. Remove from heat and let cool. You should have 1 cup cooked.
STEP 2
Combine kañiwa with smashed chickpeas, breadcrumbs, garlic, onion, and spices. Form into two big patty or four smaller patties.
STEP 3
Fry 4-5 minutes per side in coconut oil over medium heat until the outside is brown and inside is heated through.
BABY QUINOA SALAD WITH ROASTED VEGETABLES
This quinoa salad is perfect for the person who thinks they don't like quinoa. It's sweet and tangy and full of nutrition from the roasted veggies, plus the fiber and protein from the Baby Quinoa. You can serve it as a side or as a lunch main. I tend to triple the recipe and keep it in the fridge to grab as a quick healthy breakfast or lunch.

Ingredients:
1 cup Pereg's Baby Quinoa

1 sweet potato

1 small red onion

1 red pepper

¼ cup olive oil, plus more for veggies

¼ cup balsamic vinegar

2 TBSP honey

Salt and pepper
Directions:
STEP 1
Preheat oven to 425 degrees
STEP 2
Prepare Baby Quinoa according to package directions
STEP 3
Dice the onion, sweet potato and pepper into small pieces
STEP 4
Put on a sheet pan, coat with olive oil, salt 

and
pepper
STEP 5
Roast veggies till golden brown and soft (about 25 minutes)
STEP 6
Mix honey, ¼ cup of olive oil and balsamic vinegar in a container, until completely mixed
STEP 7
Once the Baby Quinoa has cooked and rested, mix with the roasted veggies and dressing
STEP 8
Enjoy this dish at room temp



*Recipe developed by Shoshie Steinhart for KosherMoms 
 


About Pereg Natural Foods
All Pereg products are certified Kosher by the OU and CRC and are 100% natural, free from preservatives and additives. They are also dairy and lactose-free. Pereg is available at leading supermarkets, health food & kosher food stores and online for direct consumer purchase.  Find recipes at https://www.pereg-gourmet.com/blogs/recipes.
Recipes and photos: Courtesy of Pereg Natural Foods
Segment: "Healthy 4 of July" part 1
---