Article
MARROW TRANSPLANT RECIPIENT TO MEET LIFESAVING DONOR FOR FIRST TIME
More than 160 student leaders from over 100 colleges and universities in 32 states will gather on August 5 to kick off the Gift of Life Marrow Registry Campus Ambassador Symposium at the Boca Raton Marriott. On August 7, featured speaker Jesse

Horwitz ,

Co-CEO

and

Co-Founder of Hubble, will discuss entrepreneurial spirit and corporate responsibility.
Horwitz, who was named to Forbes Magazine's "30 Under 30" annual list of top young entrepreneurs, co-founded Hubble, America's first direct-to-consumer subscription contact lens brand, which has acquired hundreds of thousands of customers globally since its launch in 2016. Hubble is also the official sponsor of the Campus Ambassador Program.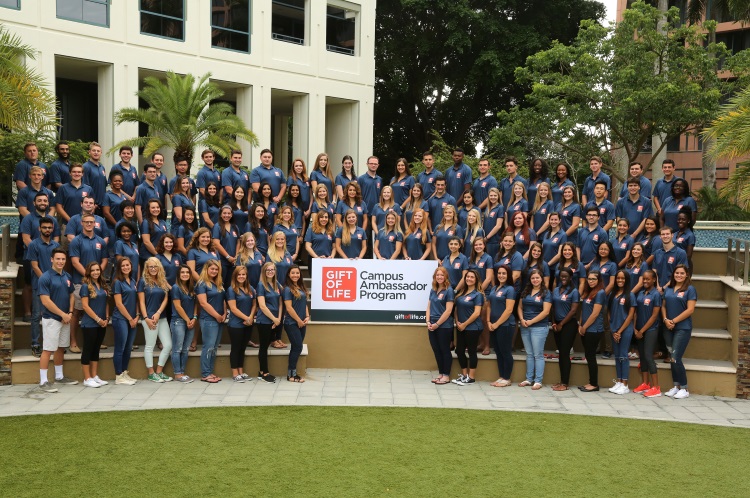 Gift of Life Campus Ambassador Program interns for the 2016-17 academic year attended a three-day training symposium in Boca Raton, Fla., in August 2016.
Also during the symposium, a Gift of Life donor and their marrow transplant recipient will meet in person for the first time. Under current regulations in the United States, the donor and recipient may only exchange anonymous letters for the first year, with no direct contact.
The Campus Ambassador Program brings together student interns to recruit marrow donors at campuses nationwide. Since launching in 2014, 361 campus ambassadors have volunteered more than 11,800 hours to add 32,787 people to the registry, resulting in 45 life-saving matches.

About 80 percent of donors, like Ryan Corning, are asked to give peripheral blood stem cells through a process similar to donating platelets.
Campus ambassadors are a key force in the campaign to find matches for those with blood cancer. Doctors of patients needing transplants seek samples from donors between the ages of 18-25 more than 90 percent of the

time,

because this demographic produces the most stem cells and is the healthiest population.
Since its start in 1991, Gift of Life has engaged with more than 304,000 individuals who have joined the marrow registry. In the process, Gift of Life has facilitated over 15,000 matches for those with a range of blood cancers, resulting in over 3,200 life-saving bone marrow and stem cell transplants.
About Gift of Life Marrow Registry:
Gift of Life Marrow Registry is a 501(c)(3) nonprofit organization headquartered in Boca Raton, Fla. The organization, established in 1991, is dedicated to saving lives and facilitating bone marrow and blood stem cell transplants for patients with leukemia, lymphoma, and other blood-related diseases. To learn more about Gift of Life Marrow Registry, visit www.giftoflife.org.
About Hubble:
Founded in 2016, Hubble is America's first direct-to-consumer contact lens brand, dedicated to making it affordable and convenient to purchase high-quality contact lenses for a fair price. Through a subscription service, Hubble is able to offer consumers affordable, high-quality, FDA-approved contact lenses with minimal hassle and maximum convenience. Hubble's contact lenses are available at www.hubblecontacts.com 
---