Article
Elevate your Health with CBD
CBD, also known as cannabidiol is rising through the wellness market rankings as an alternative health remedy. It is not to be confused with marijuana; we will touch on that a little further along in this article! In order to embrace the benefits of CBD and how it can positively affect our well-being, we first need to keep an open mind and dig a little deeper into its origins and the biological science behind how and why it works. Modern life seems to keep pulling us farther away from the inner balance that many of us seek and the picture of health we all aspire to. In order to rein things back, we need to take responsibility for our health and vitality and begin to gain some momentum that propels us forward. CBD can offer us a remedy that is totally natural and chemical free…and that is always the best place to begin! 
Here are some benefits that have been noted with the use of CBD as a health remedy:
Pain relief for chronic conditions such as Multiple sclerosis and Arthritis

An alternative treatment for anxiety and depression

CBD is a natural anti-inflammatory and can ease/reduce the appearance of acne and other skin conditions

Can be potentially effective in treating certain neurological conditions such as epilepsy

Can potentially aid in improved heart health by lowering blood pressure, more studies continue on how CBD can benefit heart health
Here we look at the dynamics of CBD and how it can help you elevate your health! 
CBD Is Legal and Won't Make You High
The federal Farm Bill passed in 2014 distinguishing hemp from marijuana. CBD (cannabidiol) oil is derived from industrial hemp, a strain of the Cannabis sativa plant. It is non-psychoactive and does not make you high. Hemp is cultivated to produce high levels of CBD and low THC (tetrahydrocannabinol). THC is the component that induces the psychoactive-classic-marijuana "high". CBD products must contain less than 0.3% THC to be sold legally. 
Our Bodies, Our Endocannabinoid System – Where the Magic Happens
Our bodies are hardwired into a complex, biological network called the Endocannabinoid system. Within the network are cell receptors, similar to the plant-derived cannabinoids in hemp oil that oversee our elemental bodily functions such as pain sensation, emotions, appetite and digestion, and sleep. When our endocannabinoid system operates at its optimum or in homeostasis, our bodily functions become in sync and thrive. Scientists have found that if we lack cannabinoids, physical and emotional problems may develop.
When plant-derived CBD oil is introduced to our endocannabinoid system, sparks fly! The union boosts the mitochondria, the power source of our cells. Scientists say this match-up increases homeostasis to our network helping bring balance to biological processes, such as sleep, inflammation, pain, digestion, and cognitive function as well as repair damaged cells. In essence, the plant-derived cannabinoids provide support to weakened cells and enhance the healthy ones.
Dynamic DUO: Full Spectrum and Entourage Effect
If this wasn't enough, research has shown that the abundance of hemp cannabinoids and terpenes extracted from the entire hemp plant or full spectrum, works with our entire body's endocannabinoid cell receptors producing an "Entourage Effect" or magnification of the CBD's beneficial qualities. CBD oil provides a natural, holistic alternative to pharmaceuticals; relief with emotional and physical issues; and calm and renewal of our modern, hectic lives.
The CBD journey: 
Life is built in with its ups and downs, twists and turns, the better we can navigate through times of seeming chaos, the better equipped we are to gain a healthy resilience that keeps us looking forward to the best that life can offer us. A healthy balance is something that we mindfully work to achieve for our well-being and CBD can help! 
There is an enormous amount of information regarding hemp oil and the benefits of CBD products out there. If you are new to CBD and are seeking holistic ways to bring calm and well-being into your hectic life, Upstate Elevator's products offer you transparency and confidence in your journey into CBD oil. 
Upstate Elevator Supply Co. offers premium full spectrum CBD products that aid in establishing inner equilibrium and improving your health. Upstate Elevator Supply Co. is a CBD brand based out of Burlington Vermont. The company's product line is built around the goal of helping people find balance and comfort in their day-to-day life, free of stress and anxiety.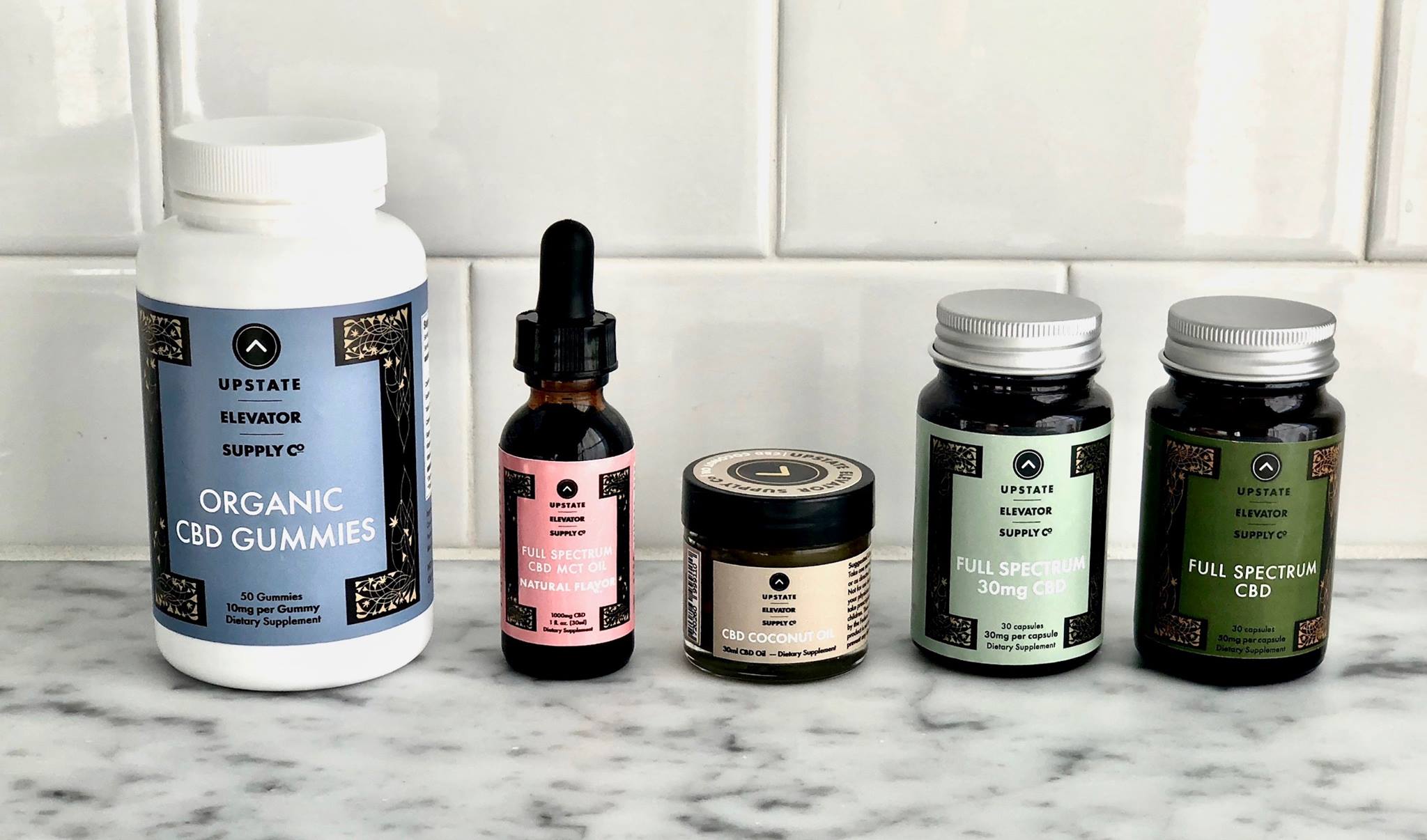 CBD MCT Oil (Regular and Lemon)
While many market available CBD oils contain only isolated or synthetic CBD mixed in with a base oil, this lipid extracted full spectrum formulation contains a multitude of naturally occurring cannabinoids and other plant constituents for maximum entourage effect. 
MCT is a virtually colorless, odorless and rapidly digested carrier oil. MCT's are readily absorbed by the gastrointestinal tract and are easily metabolized by the liver, where they encourage the use of fat for energy rather than for storage.

When combined with MCT, our Full Spectrum CBD is highly bioavailable. For best results, Upstate Elevator Supply Co. suggests holding the oil under your tongue for faster absorption and maximum bioavailability.
Pesticide Free

Non-GMO

Full-Spectrum Cannabinoid Extract

1000mg CBD per 30ml bottle dosed at 40mg CBD per dropper full
Ingredients:
Lipid Extracted Hemp Extract

Organic Coconut Fractionated Medium Chain Triglycerides 



Full Spectrum CBD Capsules: a flagship product by Upstate Elevator Supply Co: 
Upstate Elevator Supply Co. CBD capsules are formulated in 30mg and 50mg dosages. These simple and potent hemp oil capsules are made from 100% organic high CBD hemp. They are vegan, gluten-free and non-GMO.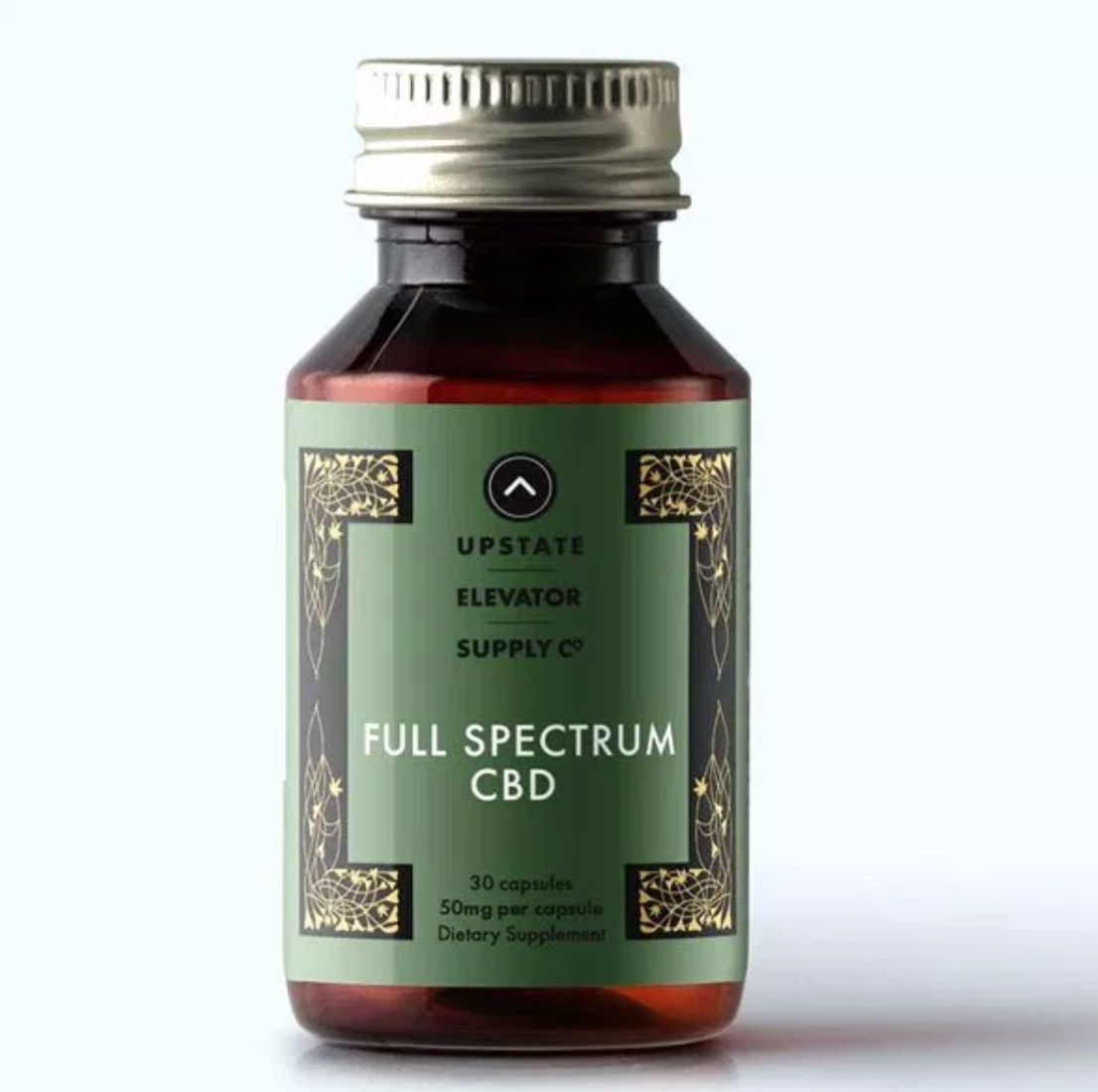 Full spectrum capsules might just be the most convenient and pure way of bringing the benefit of CBD into your life; our proprietary extraction process guarantees that our capsules contain nothing but the purest and most potent product possible. Containing only two ingredients; organic coconut oil and pure CBD extract, our capsules have nothing to hide.
In addition to high levels of CBD, the whole plant lipid extracted capsules also deliver a diverse array of naturally occurring terpenes, flavonoids and secondary cannabinoids including CBC, CBN, and CBG. 
While many market available CBD oil capsules contain only isolated or synthetic CBD in a carrier oil, these full spectrum formulations contain over 80 naturally occurring cannabinoids and hundreds of other plant constituents for maximum entourage effect.
Pesticide Free

Non-GMO

Full-Spectrum Cannabinoid Extract
Ingredients:
Organic Coconut Oil

Lipid Extracted Hemp Extract

Vegetarian Capsules


 
Quality and Potency of Upstate Elevator's CBD products: 
As you venture deeper into the world of CBD products, quality and potency become the next priority. The Upstate product line has been carefully developed for quality and effectiveness. Each batch is independently tested to ensure consistency, proper labeling and dosage. Sustainably sourced, organic ingredients are an integral part of every Upstate recipe. 
The company uses a proprietary lipid extraction method for its full-spectrum capsules, tinctures, and topical treatments that guarantees each product contains nothing but the purest and potent CBD possible. This unique extraction process maximizes the Entourage Effect by migrating virtually all of the available cannabinoids, terpenes, flavonoids and myriad other plant constituents out of the hemp and into the lipid carrier (MCT oil or Coconut oil respectively.) The potency and purity in Upstate CBD products can empower the endocannabinoid system. 
Elevate, uplift and bring vibrancy back into your life by using Upstate Elevator Supply's fine, high-quality hemp oil products.
* The information available on ewellnessmag.com, including text, graphics, and other materials are for informational purposes only. Reliance on any information in ewellnessmag.com is at the user's own risk. Sponsored product placement may appear in the article. The visitor of this website acknowledges that the information available on or through ewellnessmag.com is not and is not intended to be a substitute for professional medical advice. Copyright © 2018 Brawo Press, Inc. All rights reserved
---