Article
How to shine this springtime with collagen!
After the winter hibernation period, we welcome the freshness and sparks of spring- we stop hiding! Spring and summer is a time to look and feel our best, to soak some warmth into our bones and begin to shine! Spring/summer is a great time to take a closer look at our health and well-being habits so we improve our immune system, support our digestion, and nourish our body- our health needs support all year round. An important factor is the effect the change of seasons has on our skin, hair, and nails; in winter they will often dry out, leaving us feeling pretty much the same- lacking in luster, but in spring/summer we can adapt our nutrition, health and beauty regimen so we effectively "spring clean" our body! So what are the best ways to embrace and maintain wellness through spring? The answer lies in keeping things simple, yet extremely effective, small spoiler alert, it all starts with collagen.  Here we look at a few ways you can radiate wellness for spring.
1.    Sleeping and summer nights
Warmer nights can interrupt us with restless sleep as we toss and turn to get comfy or set the right temperature in our bedrooms. The ideal temperature for sleep is around 16-18 deg Celsius. As we lay down to rest, our body temperature naturally falls; the best sleep is supported in a cool, dark environment. Our body needs solid and sound sleep to rejuvenate and for our all-important hormones to set to the task. If getting a full 8 hours is not feasible then aim to take a short power nap at some point in the day where that works for you. We tend to deny rest because we are always on the move with so much to do, but unless we listen to our bodies the chances of burnout substantially increase. Sleep isn't just valuable to our physical health; we need adequate rest to stay mentally and emotionally healthy too.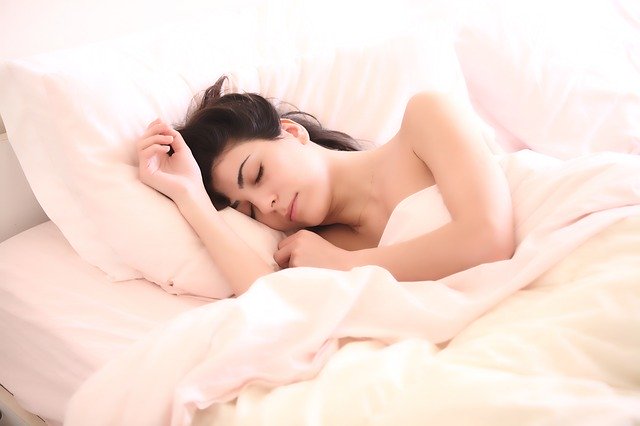 2.    Activity helps us shine
Hitting the gym or your favorite exercise class may feel like more of a struggle over spring/summer season- it's a social time where our calendar becomes busier with birthdays, weddings, and other social engagements. Rather than missing out your workout routines, adapt them. Maybe skip the treadmill and go for a lovely outdoor walk instead! Maintaining activity helps to keep us energized, aids in our digestion, and provides a boost to our circulation. Exercise also helps to replenish and balance our skin moisture, vitalizing our inner cells and structures so we shine outwardly. And for the times when you feel like you want to take it a little lite - that's all-OK. Try lower intensity activity or more restorative exercise such as yoga- ideal for flexibility and leaner muscles.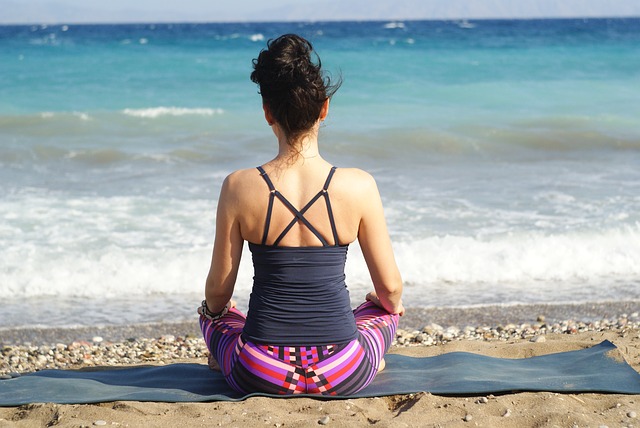 3.    Amend your beauty routine
As we age we lose skin elasticity and suppleness- so we need to help boost it. Skin tends to have a glow during warmer months, yet loses moisture quite rapidly if we don't aim to protect it. The rays of the sun can be notably damaging to the skin so we need to adapt how we care for our skin in hot weather. Protect your body with light clothing, always carry a moisturizer with you to soothe and support your skin, and avoid long periods out in the sun when it's at its strongest. In addition, ensuring that we feed our body on the inside with good nutrition enhances it on the outside. Include power-foods like Omega-3 rich fish, colorful fruit, and cruciferous vegetables. Springtime is great for reinvention!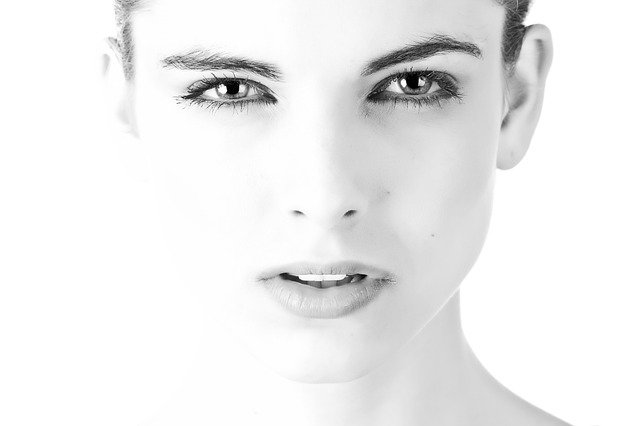 Our skin regenerates every 28 days or so, this highlights that smart changes we make can and will make a difference, and fairly swiftly too. Xtend Life Skin Support is an exclusive collagen supplement for skin nutrition that works to promote smooth, youthful looking skin, aiding with issues such as the appearance of spots, dryness, stretch marks, fine lines, and wrinkles. It is comprised of two key ingredients. The first is Collactive™, Xtend Life's collagen supplement that is a special form of marine collagen and elastin polypeptides with the same ratios of collagen and elastin found in the dermis. The other gradient is a very special form of New Zealand grape seed extract.
Collactive™ Marine Collagen and Elastin Polypeptides are key nutrients to Xtend Life's skin support product. This is

largely

because, from the age of 25, your body depletes collagen at approximately 1.5% each year. (By the time you reach 45, you will have lost 30% of your body's collagen!) 
Collactive

is a clinically proven, highly purified, no GMO form of collagen and elastin polypeptides that exist in the same ratio as found in the human dermis – a combination of predominantly type 1 collagen (85 to 90%) and type 3 collagen.

These two main constituents of the extracellular matrix work together to reduce wrinkles. In addition to anti-wrinkle benefits, it also stimulates the lifting and toning of skin and increases skin moisture retention. 

Low molecular weight makes it water-soluble and highly bio-available

Wild harvested extract of fish from the far north Atlantic is a pure, sustainable by-product of the fishing industry, using only the skin, not the scales.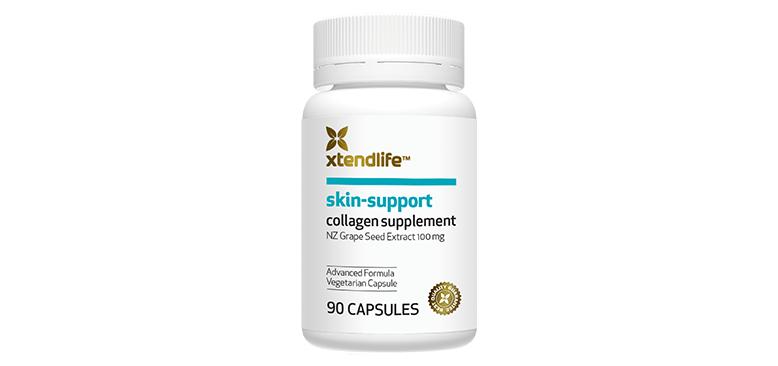 Skin Support contains all Natural ingredients which are also are gluten-free!
Like the rest of our body, our skin does the bulk of its repairing, restoring and regenerating while we are asleep. Xtend Life's Restorative Night Cream with Kanapa™ is a deeply hydrating night time formula containing powerful, slow-absorbing moisturizers that work to penetrate the skin over the course of several hours. 
This night cream is one of the bestselling skincare products at Xtend Life. It is a nourishing and hydrating skin rejuvenator. This cream uses their registered Kanapa blend; an anti-aging ingredient clinically proven to reduce the appearance of wrinkles and keep skin smooth. After using the products for six weeks, the independent consumer testing panel felt that Xtend-Life Kanapa™ formulations:
Provided sufficient hydration without oiling up throughout the day

Was easily applied and absorbed

Left skin softer and smoother

Improved skin hydration, firmness, and elasticity over six weeks
70% and 80% of females and males respectively said they would continue use of the product after the trial and recommend it to others with a similar skin type.
Kanapa™ 
Benefits include: 
Reduce the appearance of fine lines and wrinkles

Increase suppleness and elasticity

Enhance natural nighttime repair processes

A non-oily formula which hydrates without clogging pores 

Re-energize for naturally radiant morning skin
As with all Xtend-Life skin care products, Restorative Night Cream with Kanapa™ contains no BPA, parabens, petroleum-based ingredients, or mineral oils. It is infused with essential fatty acids, antioxidants, and vitamins; all working to restore the skin throughout the night while building reserves for tomorrow.

 

Kanapa™ Key Ingredients are: 
Manuka Honey – Revered for generations for its ability to absorb and retain moisture, honey is rich in natural sugars that help to create a moisture-preserving veil over the face.

Nano-emulsion CoQ10 – This powerful antioxidant is wrapped in a 'nano-shell' to ensure deeper penetration beneath the skin's surface and enhanced anti-wrinkle results.
Xtend Life aims to lead the way in helping you achieve vibrant health and longevity through the use of pure and natural products… helping us to prepare for all seasons! 
*The information available on ewellnessmag.com, including text, graphics, and other materials are for informational purposes only. Reliance on any information in ewellnessmag.com is at the user's own risk. Sponsored product placement may appear in the article. The visitor of this website acknowledges that the information available on or through ewellnessmag.com is not and is not intended to be a substitute for professional medical advice. Copyright © 2018 Brawo Press, Inc. All rights reserved.
---